McDonald's Canada has launched its specialty coffee brand — McCafe — at retail locations throughout the country, as the company hopes to compete with other specialty coffee giants such as Starbucks.
According to a recent survey conducted for McDonald's Canada by Ipson Reid, 1.5 million Canadians said they'd rather give up  a year of retirement than sacrifice their favorite specialty coffee. The study also showed that  88 percent of Canadian coffee drinkers consume specialty coffee beverages.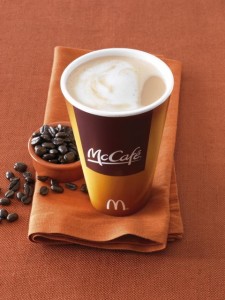 "McDonald's has recognized that Calgary like other Canadian urban markets has a firmly established coffee culture as competition in the premium beverage range reaching a fever pitch. The Golden Arches joins Starbucks, Tim Hortons, The Good Earth Cafe, The Second Cup and others in this brutally competitive category," Michael Kehoe, an Alberta-based retail specialist with Fairfield Commercial Real Estate Inc., told the Vancouver Sun. "The premium coffee brands such as Good Earth Café and Starbucks have raised the coffee bar and now McDonald's and other quick-service food chains follow suit upgrading their coffee offerings to drive sales, retain and often win back customers."
The move by Starbucks has the potential to hurt a lot of smaller cafe's that may currently be struggling in Canada's competitive specialty coffee market.
"The coffee business is a Darwinian struggle driven by the rising costs of labour, rents and ingredients," Kehoe said. McDonald's has a distinct advantage with its excellent store network, serious marketing muscle and the firm's ability to control the daylights of absolutely everything in their supply chain and operations. This is good news for coffee lovers and will squeeze the smaller, local coffee shops in an already competitive market."
The full story: Vancouver Sun
Nick Brown
Nick Brown is the editor of Daily Coffee News by Roast Magazine. Feedback and story ideas are welcome. See the "About Us" page located at the bottom of this site for contact information.