In the spirit of fun competition, local baristas have been gathering once a month in the Triangle area for latte art "throwdowns."
"It's industry kids getting together," Zach Neuman, coffee director at Raleigh's Cafe Helios recently told the Raleigh News & Observer. "We're all here to have fun and steal each other's money away."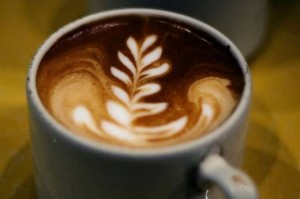 The throwdowns take place at different coffee shops each month and feature baristas of all skill and experience levels. According to the News & Observer report:
The winner of each face-off is determined by a panel of judges, who may or may not be swayed by the opinions expressed by rowdy onlookers fueled by the free lattes handed out. Each cup is judged on color contrast, definition of the design, use of space, symmetry and overall impression.The winner takes home the pot of $5 entry fees as well as venti-sized bragging rights.
While fun, entertaining and perhaps even therapeutic for participating baristas, the competition is surely beneficial to Triangle-area coffee drinkers:
"I don't think, though, they appreciate what goes into it," Ian Dunn, general manager at Helios, told the paper."Pouring latte art is a lot like throwing pots," he said. "You see a potter at the wheel, and he's throwing a pot, and you're like, 'Wow, that looks cool, that looks really easy to do, let me try!'"And then you get on, and the thing flies off. It's similar in that the skill involved in it is not as visible. There's a lot of subtle dexterity that goes into crafting it you don't see."
The full story: Raleigh News & Observer
Nick Brown
Nick Brown is the editor of Daily Coffee News by Roast Magazine. Feedback and story ideas are welcome. See the "About Us" page located at the bottom of this site for contact information.