Coffee and espresso machine manufacturer Krups USA has announced the winners of the company's second annual "Best Brew Awards" for 2012. The awards were determined by public votes on Krups' Facebook page and go to one winner in each of 10 predetermined United States markets.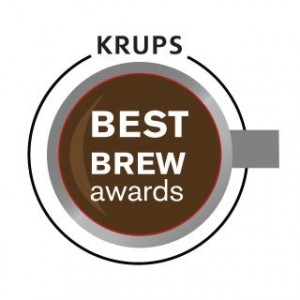 "We were so thrilled with the response we received last year, and look forward to bringing these well-deserving coffee shops the attention they have earned," said Michele Lupton, Marketing Communications Director for the brand.
This year's winners are:
Atlanta, GA – Condesa Coffee: Condesa Coffee is a cafe and espresso bar located in Atlanta's Old Fourth Ward that specializes roasting-great counter culture coffee.  They are very bike friendly and accessible, offering discounts to people who bike over. (480 John Wesley Dobbs Avenue)
Boston, MA – Thinking Cup: Since opening its doors in December 2010, Thinking Cup has proven their commitment to providing the premier coffee experience in Boston.  Located just steps from the Boston Common, Thinking Cup is the first coffee shop in Downtown Boston to serve "Stumptown Coffee," exclusively named "Best Coffee in the World" by NPR, TheNew York Times, Food & Wine Magazine, and USA Today. (165 Tremont Street)
Chicago, IL – Metropolis Coffee Co.: The second win for the Windy City shop, the Metropolis Coffee Co. aesthetic is rooted in the belief that great coffee comes from a line of respect, beginning with the farmers and their respect for their land. Founded by a father and son team, the small batch artisan roasters have been serving the area since 2003. (1039 West Granville Avenue)
Dallas, TX – White Rock Coffee: Taking home the title for Dallas two years in a row, White Rock Coffee is a locally owned coffee shop specializing in hand crafted, small batch, micro-roast coffee, freshly roasted on the premises. (10105 E Northwest Hwy)
Washington, D.C. – M.E. Swing Co.: Another repeat winner, the legendary M.E. Swing Co. was opened in 1994 at 1702 G Street, across from the historic Old Executive Office Building. Filled with the original mahogany and mirrored fixtures, vintage burr grinders, wooden coffee bins, and counter-weight scales that graced the Mesco Building on E Street, their Mesco Blend coffee was given a patent in 1918 and is still one of Washington's best selling coffees. (1702 G Street Northwest)
Los Angeles, CA – Cafe Dulce: Home to such creations as green tea and bacon donuts, Cafe Dulce knows the importance of pairing pastries with the best coffee available. The shop brews their drip coffee cup by cup, offering single origin coffees and exclusive blends expertly roasted LAMILL Coffee, purveyors of the world's finest organic coffees & green beans. (134 Japanese Village Plaza, Bldg E)
Miami , FL – Tinta y Cafe: Miami Cuban cafe meets bohemian coffeehouse at Tinta y Cafe. Outside, an unassuming window dispenses powerful Cuban coffee to daily commuters in need of a morning jolt. Inside, locals enjoy lazy afternoons sipping coffee in the living room like setting filled with mismatched couches and bookshelves. (276 Southwest 8th Street)
New York, NY – 9th Street Espresso: With a short, yet worthy drink menu, 9th Street Espresso proves why its no-nonsense approach to coffee has become a staple for New Yorkers. Located in Chelsea Market, in Alphabet City (its most popular blend is named after this neighborhood) and in Tompkins Square, Ninth Street Espresso serves up intense cups of coffee that look like little works of art. (Various locations in New York City, flagship location at 700 East 9th Street)
Philadelphia, PA – Elixr: Located in Center City, Elixr has become a mecca for desperate coffee lovers. Though relatively new, this coffee shop has already developed a reputation for serving real deal coffee in a modern, yet relaxed atmosphere.(207 S. 15th St)
San Francisco, CA – Four Barrel Coffee: Serious about sourcing the best beans for their brews, Four Barrel Coffee goes to great lengths to obtain the most flavorful beans from farms in Colombia, Costa Rica, Sumatra and more. Four Barrel roasts on the premises, and also offers classes for customers who want to learn how to brew better coffee at home. (375 Valencia St.)
Nick Brown
Nick Brown is the editor of Daily Coffee News by Roast Magazine. Feedback and story ideas are welcome. See the "About Us" page located at the bottom of this site for contact information.