Guest post by Jack Groot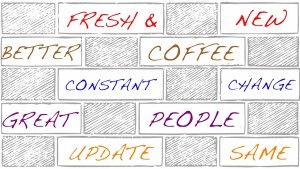 Relevant (ˈre-lə-vənt)
Definition: closely connected or appropriate to the matter at hand: having social relevance.
With today's educated consumers, constant competition, increasing coffee prices, workforce issues, aging equipment, easy access to review websites and more, staying relevant is essential to ongoing success. What was good enough yesterday may not be good enough today.
To start, let's look at a few stats:
What is the survival rate for new firms?
"Two-thirds of new employer establishments survive at least two years, and 44 percent survive at least four years, according to a recent study. These results were similar for different industries. Despite conventional wisdom that restaurants fail much more frequently than firms in other industries, leisure and hospitality establishments, which include restaurants, survived at rates only slightly below the average."¹ (bold mine)
"According to some estimates, four out of five small businesses fail in their first five years of operation."²
"Eight out of 10 new businesses fail in their first five years – in any industry, not just high tech."³
Essential items to staying relevant
So how do we stay relevant to our customers, our location and our demographic? There are a number of things that your customer wants from you, and of course great coffee tops the list, but there are many items critical to customer longevity and thus your business longevity.
Coffee/espresso beverages: Quality, consistency and convenience top the list, but innovation and popularity may be important to your customers as well. The odds are that your quality will wane as time goes along. An involved, systems oriented, passionate, detail-minded and friendly owner assures tomorrow's coffee tastes as good as or better than today's.
Food: Again, quality, consistency and convenience are critical. New menu items also help maintain and build sales. Rarely can businesses survive on the same food menu for decades. Keep tabs on what is new and popular and blend that into proven and quality menu items.
Atmosphere: Business wisdom says that a store should be refreshed every 5 years. Updated colors, paint, tables and chairs, artwork and decorations, menu boards, signage, logo, seating and more will all need updating or replacing. Make a conscious effort to update these regularly. This makes a customer feel good and shows them the owner cares.
Staffing: It's the people, it's the people, it's the people. Everything in business is about relationships and successful businesses recognize that. Finding and keeping quality people is Job #1 and making sure employees have a safe environment where they love to come to work and love what they do is the lifeblood of any business. And how does one do this? Combine initial success with passionate, caring and diligent boss who hires bright, happy coffee people and has fun and works hard at what they all do. Simple, right?
Location: It is possible that you opened your business in a good location…that is no longer a good location. Although moving the business is not on the top of your list, it may be required for your longevity. If the growth of your city is on the other side of town you may need to make a move. Or you may have leased a location where the developer promised all kinds of business and residential growth around you that never materialized.
Pricing: Although price is important to customers, it is even more important to you. You must have a correct pricing strategy to insure profitability, for without profits longevity is impossible. Raise prices every year and don't apologize for it. Don't even mention it to your customer base; let it be an expected thing. Also, don't compete with other local retailers on price. Try to be in the highest price category…and make sure you deliver.
Online presence: First, on social media. Although a Facebook  page is pretty important today, make sure to keep it fresh and updated. Second, Yelp, Google, Foursquare and other reviewer-oriented websites allow anyone to put a review of your business online for the world to see. And many people today use those reviews to decide whether or not to go to your business, especially if they have never been there or are visitors. Do regular searches on your business. Use Google, Bing, Yahoo and other search engines to look up your business name and see what, if anything, people are saying about you.
Training: Your training materials need to change over time. As things in your business change so must your training program. Make sure your staff has updated handbooks, training materials, recipes, work lists and more.
Debt and savings: If you've been in business for any length of time you have seen the ebb and flow of cash flow. From being so tight you can't pay all your bills on time to being flush with cash. Top on your list of financial goals should be to get and remain debt free. Goal number two is to create and maintain business savings. Cash in the bank is the best hedge against an emergency, the best way to expand and helps you get through lean times.
Outdoor presence: How long has it been since you've updated the outside of your building? Signage, outdoor cafe, windows, paint and other visible features represent who you are and what your business is like. People walking or driving by have a perception based on what it looks like. It may be time for an outdoor investment.
People love a business that changes
However you look at it people respond to businesses that invest back in themselves and I think the numbers show it. If it's true that 80% of businesses don't make it past 5 years, or even if the number is closer to 60%, it's obvious that somewhere along the line people got disinterested in the business. What was cool or new or fun is no longer. What started well, finished poorly. What had good oversight at the beginning lacks it at the end. People also tend to get bored with the same o', same o'. They like fresh and new and updated – something they can say, "Hey, that wasn't here last time I was" or "Wow, that looks different and great".
People love a business that stays the same
Consumers, while they love change and different and new, also love consistency, predictability and quality. Consistency and quality both come with hard work, training, updating, re-investment and employing great people. Predictability comes from people trusting that a business is quality or fresh or always good. Predictability can also stem from being known for regular updating, ongoing refreshing and constant change. Not change for change's sake, but changes that benefit the business and thus the customer.
Sources
1 – "Survival and Longevity in the Business Employment Dynamics Database" by Amy E. Knaup, Monthly Labor Review, vol. 128, no. 5 (May 2005), pp. 50-6; "Redefining Business Success: Distinguishing Between Clo­sure and Failure" by Brian Headd, Small Business Economics, vol. 21, no. 1 (August 2003), pp. 51-61.
2 – BUSINESS INCUBATORS by Sen. John Breaux
3 – Original article appeared on CBS MarketWatch, June 6, 2001, by Scott McNealy
Jack Groot is a coffee shop owner, educator and consultant who currently runs JP's Coffee and Espresso Bar in Holland, Mich., The Midwest Barista School and OnTrack Coffee Consulting. 
Nick Brown
Nick Brown is the editor of Daily Coffee News by Roast Magazine. Feedback and story ideas are welcome at publisher (at) dailycoffeenews.com, or see the "About Us" page for contact information.