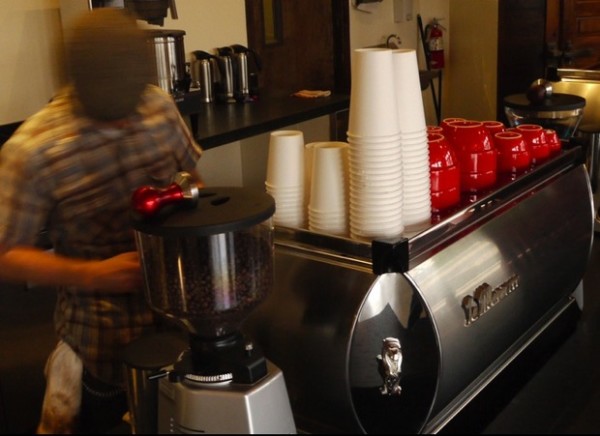 A new report from Canadian business news source Maclean's says baristas and other beverage industry specialists may be leaders in a fight for fair wages in the North American service industry economy.
The story cites pushes among baristas for unionization at at least three Halifax, Nova Scotia coffee bars, including Just Us Coffee Roasters Co-op, and two locations of the chain Second Cup. It explores the growth of lower-wage service industry jobs available to young, college-educated professionals, combined with the dearth of traditional middle-class manufacturing jobs.
Here's more from the piece:
"We're not part-time transient positions anymore," says Shay Enxuga, 23, one of the baristas who organized the Just Us union drive. Last year, facing the prospect of racking up $30,000 in student loans and watching friends graduate without jobs, Enxuga dropped out of Dalhousie University to work full-time as a barista. "We have a whole generation of youth who are entering the workforce and are finding themselves working service jobs," he says. "So I think the model of what it means to work in the service industry has to change."
Unfortunately, that model may not be changing on a large scale, but the high-end beverage industry — including mixologists and baristas — may be on the front edge. Here's more from Maclean's sources:
Changes are already under way in the beverage industry, where consumers have proven they are willing to pay a premium for products such as fair-trade coffee and artisanal cocktails, spawning demand for latte artists and mixologists. Experienced baristas can command as much as $17 an hour in some cities (the equivalent of roughly $33,000 a year), says Vida Radovanovic, who runs a barista training school and espresso bar in Toronto. "My sales go up when that person is behind the bar," she says.
Read the full story: Maclean's
Nick Brown
Nick Brown is the editor of Daily Coffee News by Roast Magazine.