The Travel Channel has announced the Season 2 schedule for "Dangerous Grounds," the reality show hosted by La Colombe founder  and general adventurer-type Todd Carmichael, who is followed by a film crew as he scours the planet with cash in search of wild and largely undiscovered coffee farms.
The show hinges on the concept that Carmichael is putting himself at great danger to source rare coffees, with sightings of rebel groups, drug cartels, dubious road blocks, strange and venomous animals, etc. While the "danger" element of the show may come off as a bit contrived, Carmichael's adventures nonetheless provided an entertaining look into some of the excitement and exoticism of traveling to source. After all, any television about coffee is better than any television not about coffee.
The first episode of Season 2 will air Jan. 28 at 9 p.m. EST. Here is the action-movie-like plot synopsis from the TC:
In the one-hour premiere episode of "Dangerous Grounds," Carmichael heads to Mexico to find a rumored wine-like coffee in order to retain one of his key clients, Jean-Georges Vongerichten, a premiere culinary talent in New York City. Carmichael's Philadelphia-based company, La Colombe, regularly does business with Jean-Georges. When he is suddenly on the verge of losing the account of his single biggest restaurant client, he must travel to Guerrero, the most dangerous region in Mexico ruled by a ruthless drug syndicate known as Los Zetas. Carrying $20,000 in cash to purchase coffee from local farmers, Carmichael seeks out a local vigilante that can guide him to the special coffee. But when his vigilante contact ends up allegedly murdered, Carmichael quickly learns he must blend in with the locals to avoid a similar fate. With everything on the line, he must rely on new Mexican allies to discover the legendary coffee and return home with enough of it to close the deal with Jean-Georges.
Carmichael clearly has a flair for drama, one that incidentally will be on display this weekend at the Big Eastern regional U.S. Barista and Brewers Cup Championships in Durham, N.C. In one of the event's most highly anticipated story lines, the seasoned veteran is throwing himself into the Brewers Cup ring with some of the east coast's top young coffee pros.
Let's just hope: a) he gets to Durham, N.C., and not Durban, South Africa; and b) he doesn't get into fisticuffs with boisterous coffee personality Nick Cho: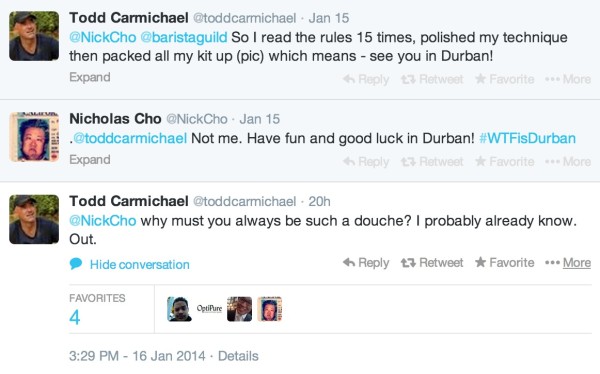 Nick Brown
Nick Brown is the editor of Daily Coffee News by Roast Magazine. Feedback and story ideas are welcome at publisher (at) dailycoffeenews.com, or see the "About Us" page for contact information.