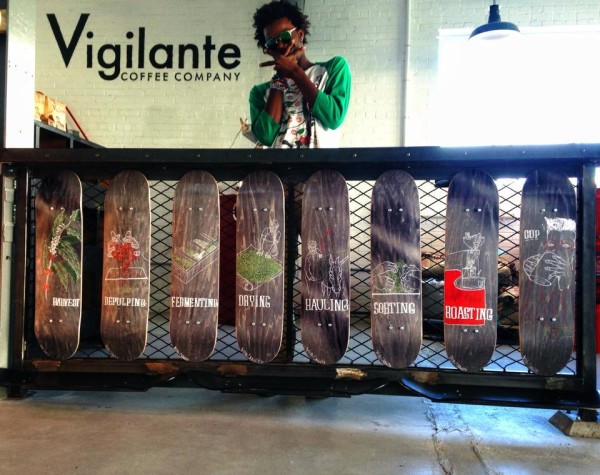 After two years of building wholesale accounts and putting in time at farmers markets, flea markets and pop ups, Washington D.C.'s Vigilante Coffee is opening a brick-and-mortar roastery and small bar in Hyatsville, Md. The grand opening is scheduled for tomorrow, Saturday, July 19, at the Vigilante Coffee Co. Roastery and Cafe, located in a former Ford Model-T dealership at 4327 Gallatin Street in the Hyatsville Arts District.
Vigilante is the brainchild of owner and founder Chris Vigilante, who got his start in coffee while living and working in Hawaii, where he developed relationships with farms on Maui, Oahu, Kauai and the Big Island. When back to D.C., Vigilante launched a micro roastery in the basement of his home, beginning with Hawaiian coffees and soon-after expanding the coffee roster to include other origins, primarily through Cup of Excellence program relationships. The company now maintains more than 30 retail accounts with restaurants and cafes in the D.C. area.
(related: Mayorga Coffee to Nearly Double its D.C.-Area Production Facilities)
The menu at the brand new Vigilante HQ is broken into four sections: Black (one blend espresso and one single-origin espresso, an Americano and a Red Eye; White (Macchiato, Cappuccino, Flat White, Latte and Mocha); Filter (pour over, Iced Brew, Japanese Cold Brew); and tea. These plus fresh pastries can be ordered behind a custom skateboard-lined bar that illustrates numerous steps in the farm-to-cup chain.
(related: Gelato and Coffee to Marry in this Stunning D.C. Space)
While the shop will be primarily a roasting space with some retail elements, Vigilante has future plans for a retail flagship at the also forthcoming Maketto "communal and lifestyle brand" retail development created by Erik Bruner-Yang of Toki Underground and Will Sharp of the Durkl street clothes brand.
Nick Brown
Nick Brown is the editor of Daily Coffee News by Roast Magazine.