Despite its approximately 13 million inhabitants and place as the economic and cultural center of Russia, Moscow has historically had some difficulty establishing itself as a great coffee city. Until recently, the city was dominated by a few large local chains, such as Kofe Khauz and Shokoladnitsa, although unique, quality-focused upstarts are now finding room to bloom.
For some Moscow cafes, certain logistical, financial and labor challenges create an uphill battle for any kind of prolonged success. Extremely high rent, high prices for top-quality ingredients, a very small pool of experienced baristas and difficulties in keeping fresh-roasted coffee delivery schedules are all significant obstacles. Thankfully, an increasing number of quality-focused trailblazers are accepting these challenges head-on.
Many Moscow cafes succeed in offering coffees and experiences that are both distinctive and inspired by influences not often found in the US or other traditional consumer markets. The following places are among those pushing the Moscow scene forward in quality, service and overall experience.
Double B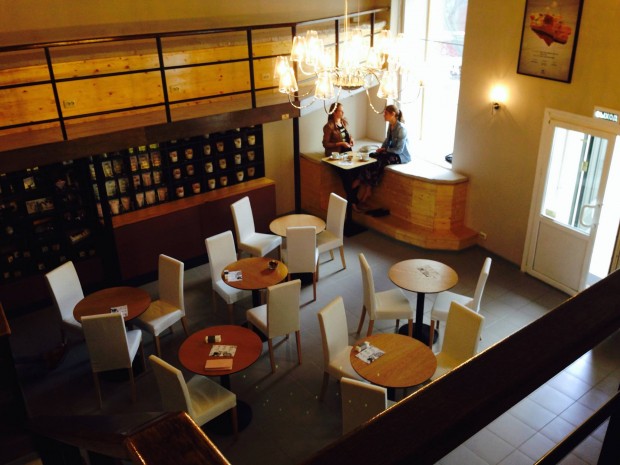 The standard-bearer for modern third-wave coffee in Moscow, Double B was founded in 2012 by Olga Melik-Karakozova (read our recent profile of her here) and Anna Tsfasman, two coffee veterans with experience in respected local chains Kofein and Coffeemania. In three short years, the Double B brand has extended to over 20 outlets in Moscow, St. Petersburg and Nizhniy Novgorod, ranging in size from business center coffee stands to full-fledged cafes, some of which are franchises. There's also one in Kazakhstan and one in Prague.
Double B's consistent line-up of diverse and seasonal single-origin coffees, mostly sourced by Nordic Approach and mostly roasted in a light Scandinavian style makes the shop a must for any discerning coffee drinker. Visit the flagship cafe on Milutinsky Lane (Milyutinskiy Pereulok) and try a single-origin coffee or the espresso/milk drink called Lavender Raf, which is sweet and balanced without being cloying. Raf coffee is a Moscow original espresso drink, featuring espresso mixed with 11 percent cream and vanilla sugar.
Camera Obscura
Camera Obscura originated as a seller of roasted coffee only, to wholesale clients and through a retail subscription service. They have since expanded into cafe service with multiple brick-and-mortar cafes, including two locations that share space with the well-regarded Burger Brothers restaurant, plus a kiosk inside the legendary Danilovsky market. Their coffee, also sourced by Nordic Approach and roasted in a mostly light Scandinavian profile, general includes a few single-origin pour-overs as well as espresso-based milk drinks.
LES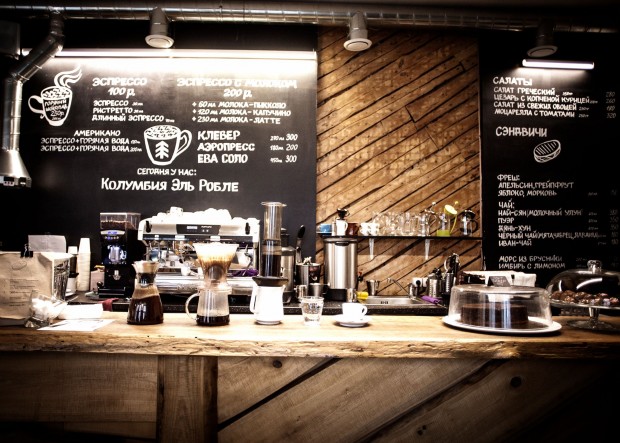 The name doubles as the Russian word for forest, les, as well as the acronym for the Lower East Side of Manhattan. Despite the tendency of certain Moscovite hipsters to fetishize New York City landmarks, one LES café is located in an old neighborhood in central Moscow while the other sits in the courtyard of the Moscow Museum, both of which wonderfully far from anything resembling New York. The museum cafe is raw with brick walls, a library of Moscow history books, and old chairs and tables that look like they were repurposed from a Soviet classroom. A small deck provide outdoor seating in the summer months. LES roasts their own coffee and serve several single-origins among their brewed and espresso offerings. Cakes and other sweets are also usually on offer, along with accessories such as Keep Cups, which are rarely seen in Moscow retail.
Cooperative Chernyi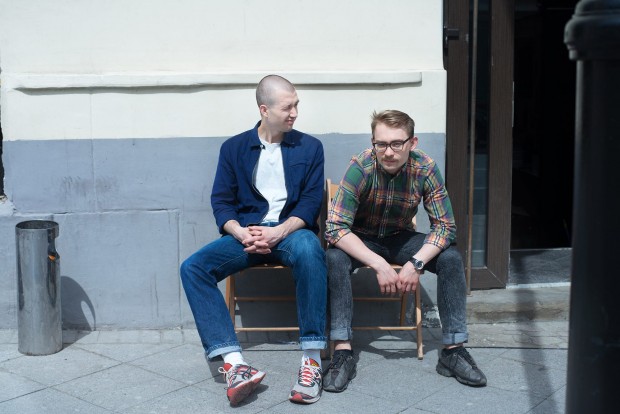 Currently the coffee evangelists at Cooperative Chernyi (read our profile on them here) have set up shop in conjunction with the craft beer bar Sosna and Lipa. The space is tiny, but certainly worth a visit by anyone interested in the Moscow scene. They roast their own coffees, served as pourovers and now also espresso-based milk drinks. Go for a coffee, and stay for a great Russian craft beer.
Caffe del Parco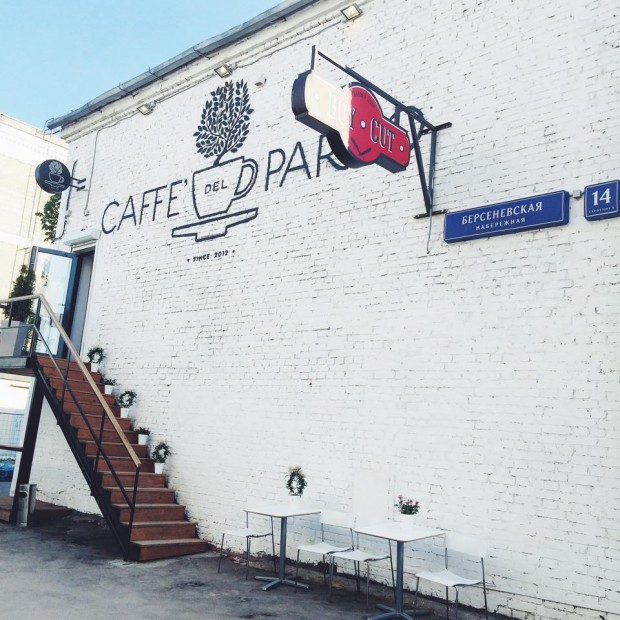 Currently this mini-chain has extended to four Caffe del Parco locations around Moscow and boasts a coffee program devised and sourced by Moscow coffee superstar Olga Melik-Karakozova. On a recent visit I enjoyed a Brazilian single-origin pourover, while espresso drinks and desserts are also fixtures on the menu. The newest outpost Komsomolsky Prospekt includes a full food menu and was named one of Moscow's best breakfasts by Russian lifestyle magazine Afisha.
West 4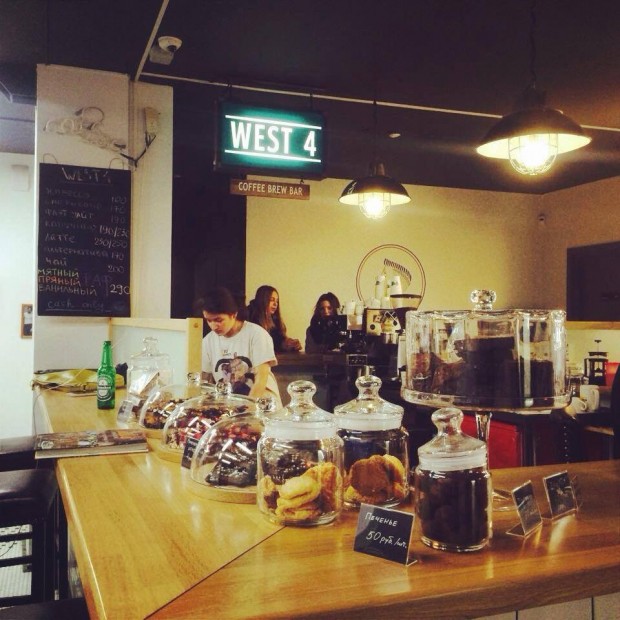 The original West 4 cafe sits right off Ostozhenka Street, a posh neighborhood known for its history and wealth. The space tries to evoke a somewhat romanticized vision of old-time New York with exposed brick walls, a revolving art collection and a regular schedule of live jazz concerts. The coffee is roasted by West 4, and includes a variety of single-origins served as pourover or espresso. Their second outlet recently opened as a counter inside Chop Chop, one of Moscow's many retro-hipster-style barber shops.
Nook Coffee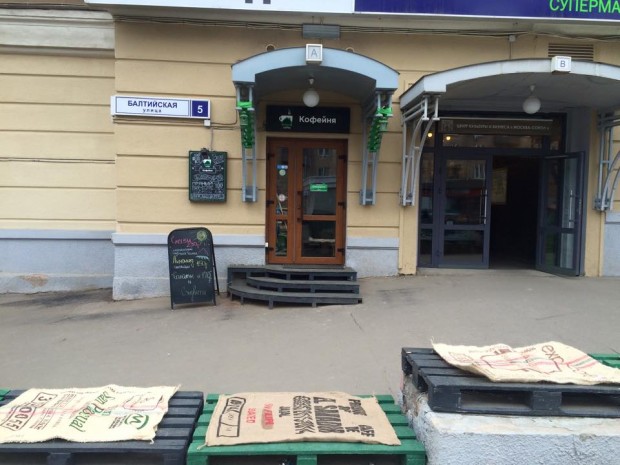 Located slightly farther afield than other cafes on this list, the tiny Nook Coffee is tucked away inside a commercial and business park. The coffee is sourced through the Scandinavian company Johan & Nystrom, roasted by Moscow-based Coffee Owl and is served as pourover or espresso, including milk drinks. A full selection of smoothies and other food items fill out their extensive menu. Anyone that wishes to sit outside is free to grab a jute coffee bags to sit on, although the busy city street is not exactly the most conducive to relaxation.
Cezve Coffee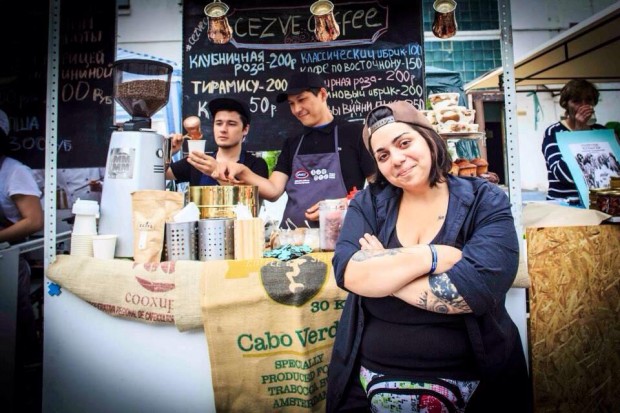 With a small counter inside a recently-opened food hall, Cezve Coffee is somewhat unique to the Moscow scene, as it is centered on Turkish coffee as prepared in a cezve. The beans here are all roasted in-house, and options beyond Turkish include single-origin pourovers, espresso-based milk drinks, cold-brew on tap, and a concoction of stout beer mixed with Turkish coffee and sweetened condensed milk. A small food and dessert menu is also on offer.
Coffeemania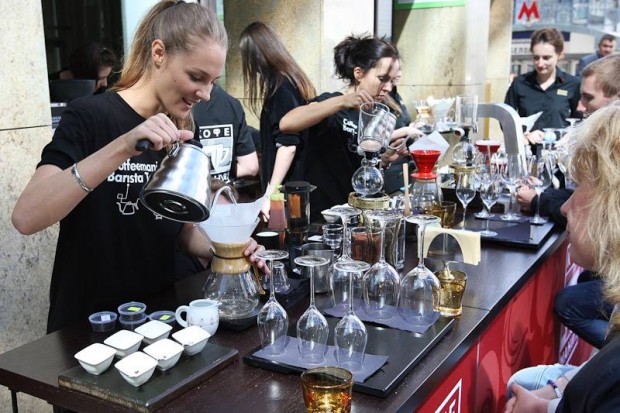 Coffeemania, which launched in 2001 and has grown to 20 outlets, is very different from the other cafes listed here, or anywhere. Its design, while tasteful, also sometimes feels closer to that of a Luis Vuitton boutique rather than a coffee shop. Moscovite nouveau riche abound, including well-heeled businessmen whose drivers keep Bentleys idling outside, and a dinner hour attended by fur-clad women with surgical enhancements. The food and beverage menus are extensive, and prices befit the clientele. The coffee, roasted by Coffeemania, served as pourover and espresso, sells for roughly twice what average café charges. Yet in spite of all that, or perhaps because of it, Coffeemania consistently delivers some of the best coffee and best-made drinks Moscow has to offer.
Hardie Duncan
Hardie Duncan writes about Russia, food, and culture. Tweets @HardieDuncan