Few cities can claim as celebrated a spirit of manufacturing as Detroit. The Motor City is for makers, where craft and production are the cathode and the anode whose interaction welds society together. A new roastery and apparel shop downtown at 1555 Broadway called ASHE Supply Co. taps into that culture with its well-wrought coffee experience alongside its line of in-house designed clothing and accessories.
Next door to Detroit Beer Co. and across the street from the Detroit Opera house, the craft coffee purveyor has been soft-opening for a few weeks to iron out the kinks, and just went grand this past weekend. Behind the bar stands a 5-kilo US Roaster Corp roaster, through which rolls a concise lineup of coffees comprised of Ethiopian beans sourced through Zephyr Green Coffee Importers, an El Salvador sourced through Bridgeport Coffee and a Nicaragua from Gold Mountain Coffee Growers.
"We're trying to keep everything as small as possible, especially on our first go," said ASHE Supply Co-Founder AJ Nichols, whose company's first couple years consisted of trade shows and pop-ups, while a following has picked up for the past eight months or so. Word traveled fast, and with the establishment of a brick-and-mortar location, the roaster is already hitting numbers well beyond early projections. Said Nichols, "I'm roasting daily right now, in the just the few weeks that we're open."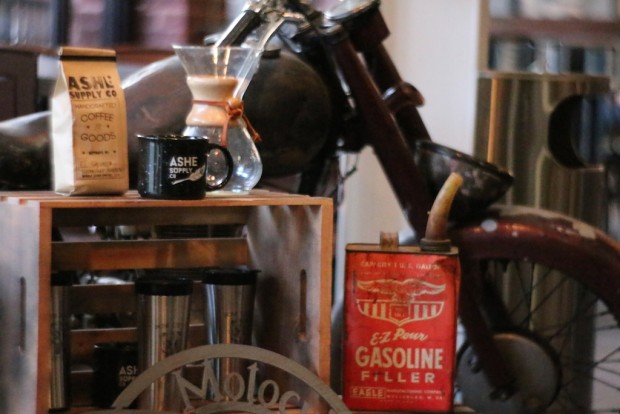 For ASHE Supply, the coffee and the fashion aspects smoldered together in the brand's primordial furnace, an attempt to set the nascent company apart from others. "We were doing it all together at the same time but we started rolling some of our other products out earlier just to start raising awareness," said Nichols. The earliest roasts, on home-style equipment, occurred about four years ago, and it simply took longer to hone the skill and acquire the machinery they needed to achieve their goals for quality in coffee.
Nichols and fellow co-founder Mike Kennedy were buddies through high school and college, and neither of them had roasted or served coffee professionally prior to ASHE Supply. "My business partner and I have been homies since we were 14 years old and had always wanted to make something together," said Nichols. "His background as a pharmacist and my background in the arts allowed us to blend those skills into a unique understanding of roasting and brewing."
Their entry into specialty coffee came as home baristas over the past 10 years, although Nichols' sensibility was particularly keenly honed through travel and time spent picking the brains of working baristas and café managers in shops across the country.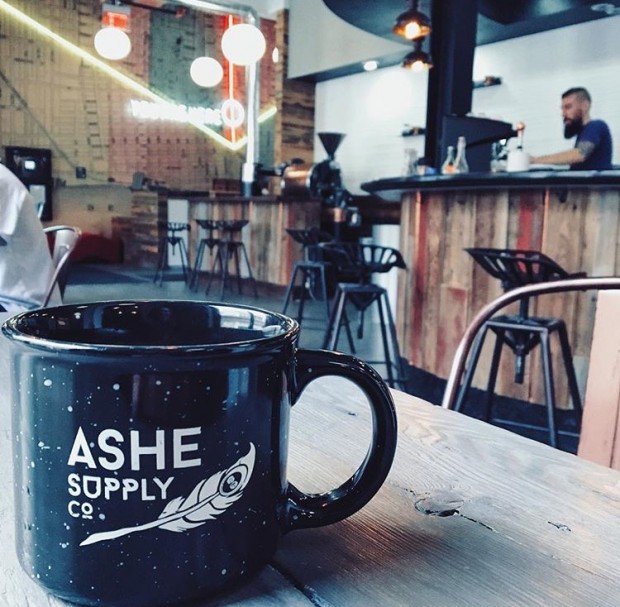 Previously the owner of a sales agency in the surf and snow industries, Nichols' escapades on the surfing and snowboarding circuits not only exposed him to a variety of coffee styles and markets, but also awakened in him the desire to settled down and start a business that would keep him in one spot for long enough to call it home. Inspired especially by the coffee he enjoyed up and down the West Coast, Nichols partnered with Kennedy with the goal of creating a grounded lifestyle brand that incorporated the stylish, active outdoorsiness he'd championed for years as well as a top-shelf coffee program that both mirrored and fueled the adventure.
Motorcycles, too, have been a long-running passion that informs the ASHE Supply aesthetic. "If I'm not here, I'm usually building a motorcycle," said Nichols. "In our shop right now we have a torn-down 1949 Indian Arrow, with all kinds of old-school helmets and things surrounding it."
Additionally pleasing to Nichols and company is how ageless the community of motorcycle enthusiasts is, which helps invite older customers into the relatively newfangled world of top-quality coffee that's already known to attract younger artists and professionals. "I'm so about community, I want it to be for everybody," said Nichols, adding, "I just had a conversation with a 55-year-old man, about how he rode his motorcycle from here to Alaska."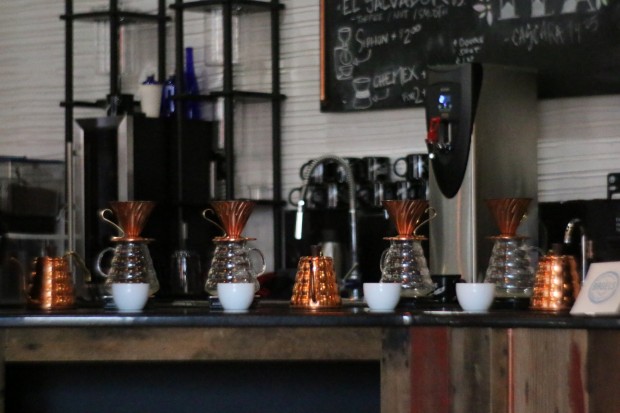 Nichols, who does all the roasting, design and screen-printing himself either in the shop or in his apartment above the shop, takes pride in all elements of the business being as hand-crafted as possible. "We did the buildout ourselves — all our wood tables, all our copper, we built everything," Nichols said of 855-square-foot space with seating for 27 people, including seats that form an audience for the roaster at work.
The surface of the bar is copper, and the bar-front features Michigan reclaimed wood, including some reclaimed from within Detroit. An all-Hario, all-copper array of four V60s and two siphons constitutes the brew bar. "We're actually killing it with siphons right now because no one in the city of Detroit does a siphon," said Nichols. "I'm so big into it, I'm trying to push as much education out as I can."
Grinding for espresso is handled with a Mahlkoenig K30 Air, paired with a cost-effective Rancilio Classe 7 that got the doors open with the funds that remained after investing in the roaster and everything else. "I've been pumped with it so far," Nichols said of the espresso machine. "It's holding its own, and we're actually pulling more than we thought we were going to."
Howard Bryman
Howard Bryman is the associate editor of Daily Coffee News by Roast Magazine. He is based in Portland, Oregon.