The specialty coffee scene in San Antonio, Texas, is like a smoldering dragon just waiting to spread its wings, with a growing battalion of Slayers at the ready to embrace the fracas. There's a Slayer-made espresso machine on a bar downtown, another heating up Southtown, and now the east side has a Slayer-armed roastery of its own. In the freshly renovated 1,200-square-foot building at 1320 E. Houston St, the Estate Coffee Company is firing up its 11-kilo Toper to begin online whole-bean sales this week, and will open its doors to the public this weekend.
"San Antonio's a booming coffee culture right now. Shops are opening up all the time, competition is getting hotter every day," Estate Coffee Head Roaster Alex Dyck told Daily Coffee News. Dyck attributes the recent surge in part to the spread-out geography of the city having prevented too much of a dominance by Starbucks or other chains, leaving plenty of pockets open for independents to spring up now.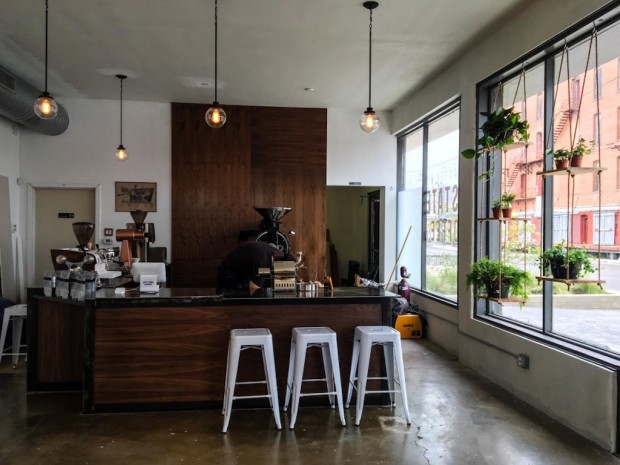 "We saw an opening to provide true quality coffee — coffee that's not only great for the consumer, but also the people who make it, all down the line," said Dyck. "We're hoping we'll be able to show people a whole new side of coffee."
Splitting the open layout 50/50 with artisanal spice and food retailer Oak & Salt, the creatively walnut-bedecked, raw-steel-accented Estate Coffee flagship consists of an L-shaped bar behind which the Toper stands in full view of patrons and upon which the single-group Slayer holds court. Brewed options in the opening stretch are exclusively via Chemex and V60, backed by a Mahlkonig EK43, although in time a Fetco may join the lineup for bigger batch efficiency.
Estate founder Brian LaBarbera is a carpenter by trade, and his background in woodworking came very much in handy throughout the buildout. "The Slayer, as well as everything in the space, we built ourselves," said LaBarbera.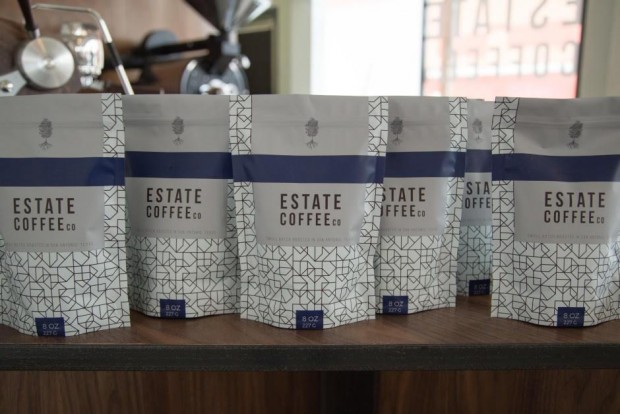 LaBarbera finished the walls and the bar paneling in American black walnut, and though the Slayer was of course hand-built in a factory in Seattle, Wash., LaBarbera customized it himself with white powder-coated accents a more exotic claro walnut finish.
"Each panel is made up of seven or eight different pieces of claro walnut, and it has a much more unique look, it basically has a kind of holographic-like effect," said LaBarbera. "It's so rare, you actually buy it by the pound, you don't buy it by the foot or anything. It's pretty neat."
Beyond the retail component, Estate aims to make an impact on the San Antonio wholesale market as well. "A main part of this business is going to be wholesale roasting," said LaBarbera. "We'll have an online shop where you can buy retail bags, but we're also going to do a wholesale program that's based on same-day shipping, so we can get everything there nice and fresh."
Owner Brian LaBarbera and Head Roaster Alex Dyck met on the job at Brown Coffee Company, one of San Antonio's scant few preexisting quality-oriented independent roaster/retailers, working together there nearly a year before striking out on their own. To this point the duo has been setting profiles by sample-roasting on a Huky 500, with the Toper and the rest of their gear just recently brought online.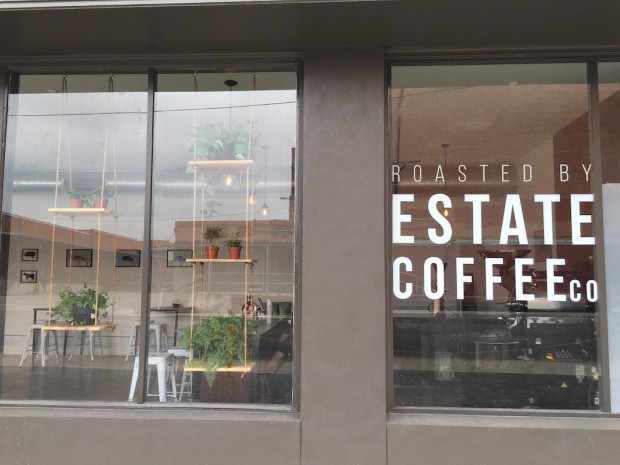 "This is a new part of town for a coffee shop like us," said LaBarbera, whose next step for the business is just to gain steady footing and see how it goes, then ramp up wholesale as much as possible. Looking ahead, Estate hopes to plan trips to origin, in pursuit of true direct trade relationships with growers.
"Eventually were hoping to start sourcing our own greens, not always relying on places like Onyx or Royal, but actually going to origin and trying to figure things out that way," reported Dyck. "We're already making headway with a family in Guatemala, and hopefully we'll expand from that."
Howard Bryman
Howard Bryman is the associate editor of Daily Coffee News by Roast Magazine. He is based in Portland, Oregon.