At age 31, Lucky Rodrigues is already nearing his sixteenth year in specialty coffee. He and the industry as it is known today have essentially grown up together, therefore it's not that big a stretch for him to consider those he's worked with — whether in his home base Sacramento, Calif., Central America or anywhere in between — to be like family.
While that might seem to some like an awfully large family, it's also true that Rodrigues and his wife have six young children. "Company and family, it's kind of all one thing to us," said Rodrigues, a self-described builder, "coffee lifer" and co-founder of a new Sacramento coffee company Identity Coffees.
Rodrigues's extended family home is now inside a 4,500-square-foot building at 1430 28th Street, in the Midtown area of Sacramento, which has been built out as the flagship roastery and café of Identity Coffees, which officially opened for business last month following a January Kickstarter campaign that raised more than $11,000.
That space is divided roughly in half, with one side occupied by a retail café in which all the tables, counters and poured concrete were done by Rodrigues himself, exemplifying the passion for woodworking and metal fabrication that drew him away from Insight Coffee Roasters, the company he founded in 2011.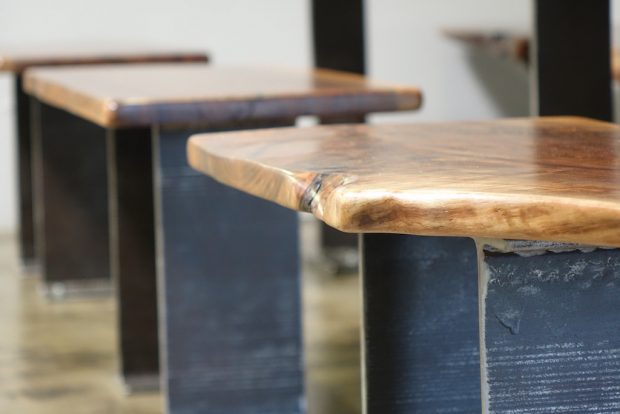 With three successful Insight retail locations and a well established wholesale department, Rodrigues was satisfied enough with the state of Insight to walk away from it in October of 2015 for a change of pace and to follow his calling to building and design work. Yet when his friend Ryan Rake approached him a few months later about returning to coffee and presented him with the opportunity in the vacant space on 28th Street, Rodrigues couldn't resist.
Rodrigues's one condition was that he not only be able to design and build the new café, but also maintain a wall of gallery space inside it to display and sell the wood slab art pieces he intends to continue making, all of which has now come to pass.
The handsomely cut and surfaced gnarled wood slab benches and their welded metal supports in the Identity café are all by Rodrigues's own hand. Meanwhile a classic La Marzocco Linea now turns out straightforward espresso drinks from behind the bar, where house-made cold brew and hot Kalita pourovers are also on offer. Teas are brewed in eye-catching Hario Globes.
The other half of the space houses the roastery, green coffee storage, cupping lab, office and training center, all visible to the public. Production is centered on a Probat P5 and is a duty split among all workers. Every Identity barista is also a roaster, and every roaster also has the opportunity to cup and curate coffees. The intent is for each Identity roaster to ultimately handle his or her own specific wholesale accounts, so that every client has direct, personal interaction with a single, dedicated roaster.
"We're starting up a wholesale program that's relatively unique right now," Rodrigues said. "Every single staff member roasts. They're a part of buying, selecting coffees, creating profiles. It makes the most sense to help our employees really bring those coffees all the way to market."
Rodrigues's goal is to diversify every worker's engagement with every aspect of the industry, to do away with narrow, dead-end single-task positions and open wide the spectrum of skills and connections a job in coffee can provide. This means workers follow coffees from the incoming samples at the cupping table straight through to the physical delivery of finished product to clients.
"It gives them a weekly chance to drop off the orders, see how everything's going, see if they want to tweak things a little bit, make sure that everything's good. It gives them a direct connection to where the coffees are ending up," explained Rodrigues. "And vice versa, giving all the wholesale accounts direct access to the person that's a part of curating the cup that they serve."
Furthermore, Rodrigues hopes to bring at least one worker with him on every origin trip to meet the farmers and see and experience the work done and lives lived at mills and in farming communities. Presently, Identity is focusing on direct relationships with specific growers in El Salvador, Guatemala and Nicaragua that also happen to be mill owners.
"Mills are the central hubs where all coffees need to pass through," said Rodrigues, explaining that mill owners generally also own and operate farms. Rodrigues spends time learning as much as possible about each farmer and their families, as well as their growing operations, striving to understand what variables may be affecting cup quality. He works to help identify where improvements might be possible, and endeavors to help each farmer more consistently achieve the kind of quality that attracts buyers that are willing to pay prices that improve life overall.
And by virtue of these mills, Identity also discovers many other farmers, large and small, from around the region. "We're at the forefront of a lot of farmers that don't have any kind of direct relationship to the consumer market," said Rodrigues, adding that in a lot of cases, farmers, including those with very small farms, bring their coffees in without yet knowing whether they'll be selling it to a coop, to the mill-owner, or just holding on to it for sale later.
"Part of what we're moving into now is curating green coffees, getting them over here and then finding them homes. You could call it importing, that's technically what we're getting into, but our focus is going to be on a pretty micro level of importing. We're going to focus on small independent family farms and family-owned mill operations," said Rodrigues. "What we enjoy doing is the discovery of these awesome coffees, from really beautiful, smart, hardworking people, and trying to curate a more sustainable financial model."
Rodrigues recognizes that simultaneously working to help farmers achieve access to lucrative markets while also helping Identity workers to access more areas in which they can work within the industry is a lot to bite off at once.
"It doesn't need to be so mysterious. These are smart capable people. Teaching them about the coffee trade and origin and getting them on the roaster — these are teachable things in coffee, I think that they've been behind a mystical curtain for a long time," said Rodrigues. "Our whole investment is simply to expose people to the reality of the whole coffee trade."
Howard Bryman
Howard Bryman is the associate editor of Daily Coffee News by Roast Magazine. He is based in Portland, Oregon.