Approximately 4 billion people —  some 57 percent of the world's population — remain offline, without access to basic internet service. The goal of getting that number down to 40 percent will likely be unachievable until 2021 at the earliest. This is according to the latest annual report from the United Nations Broadband Commission, established six years ago to promote internet access throughout the world, to stimulate global development.
While there are no readily available statistics related to internet access specifically among farmers in the coffee sector, we can assume the numbers are even more pronounced, with the vast majority of the world's coffee being grown by smallholder farmers in some of the most remote areas within developing countries.
Where internet has arguably failed, cell phones have flourished, with other studies showing that more people in the world have access to cell phones than to toilets — a problematic statistic in its own right.
Recognizing these numbers, a young UK company called WeFarm is pitching itself as a provider of "the internet for people without the internet," with a particular focus on smallholder farmers, many of whom are coming from the coffee sector in the company's initial countries of Peru, Kenya and Uganda.
"We started as a kind of charity project with the Cafédirect Producers' Foundation, so a lot of the farmers we launched with were from coffee, tea and cocoa," WeFarm Communications Manager Zoe Fairlamb recently told Daily Coffee News. "We worked with a lot of farmers, and they said the thing that would help them the most is a way to contact other farmers."
The solution was to incorporate SMS (cell phone messaging) into a broader internet-based framework led by WeFarm that allows messages in the form of questions from individual farmers to reach WeFarm's social network, where they can be viewed and replied to by other farmers. Messages are translated by volunteers, and Fairlamb said WeFarm is constantly tweaking algorithms for translating messages composed in the irregular shorthand of text-speak, as well as for how messages are disseminated throughout the network.
Imagine this: A question about intercropping from a farmer in Kenya might first be viewed by other farmers locally or regionally, or by others globally who have asked about intercropping, all of whom can reply through a simple text.
"We have a complex algorithm for all the data that sends all the coffee information to people first locally, with a smaller percentage regionally and then nationally," Fairlamb said. "We're always working on the technology and they hope to eventually be able to teach the algorithm to send stuff locally better."
In late 2014, WeFarm won the Google Impact UK challenge, receiving a financial reward to further the development of the technology and grow the organization. It was also around that time that WeFarm transitioned from essentially a charity endeavor into a for-profit business, with the idea that the company doesn't want the service to simply dissolve when charitable funding runs out.
With a team of eight based in London, WeFarm recently launched its two initial money-making products to help support the business: WeFarm Insights and WeFarm Reach. While farmers are able to register and use the core WeFarm service for free — and more than 52,000 have done so to date, the company says — the Insights and Reach products are being pitched to actors at the other end of the supply chain.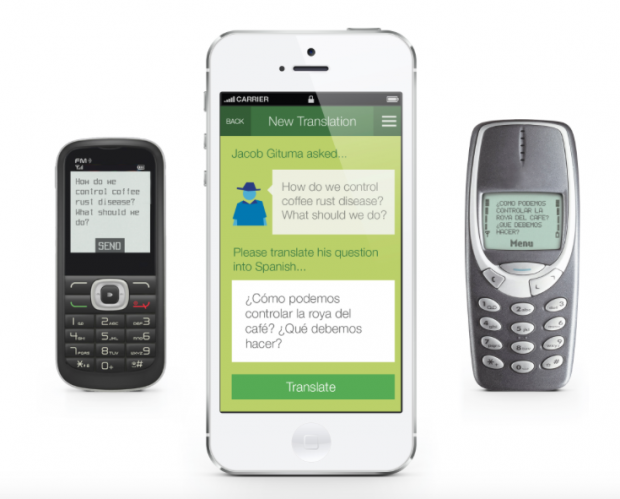 WeFarm Insights involves the WeFarm team disaggregating all of the raw information received through the network from farmers to produce monthly or quarterly reports that can be shared with clients wishing for more insight into the supply chain. The company provides these examples of what the tailored reports might cover:
Data on farmer usage and interaction with the system
Information on key trends and most discussed issues including disease, droughts or crop diversification
Example questions and identification of best farmer practices to be shared
Disaggregated data by gender, age, location, crop
WeFarm Reach, which can be tied in with WeFarm Insights, allows for communication to run the other way, from WeFarm clients in consuming countries to subscribing farmers within the network. Here's how the company is pitching that service:
Tailor the content of SMS to address the issues identified in the monthly reports
Share tips and best practices from successful farmers
Support training programs with SMS
Raise awareness of key issues
The company also says the Reach product can allow organizations to connect with, or even advertise to, producers who are otherwise isolated, not connected to other networks. Fairlamb said a goal of both products is not only to provide practical reports today, but help build long-term awareness of the most pressing issues faced by farmers within existing and potential supply chains. Said Fairlamb, "The value comes in being able to analyze their trends over a number of years."
Asked whether the service might allow otherwise isolated farmers to be manipulated or taken advantage of by corporate clients through such top-down information sharing and potential advertising, Fairlamb said that defies WeFarm's founding principle.
"The way we see it is that the data provides a win-win in these situations," said Fairlamb, noting the value of peer-to-peer information sharing among farmers. "The companies we are working with are really interested in a transparent, sustainable supply."
Nick Brown
Nick Brown is the editor of Daily Coffee News by Roast Magazine. Feedback and story ideas are welcome at publisher (at) dailycoffeenews.com, or see the "About Us" page for contact information.