After deciding to combine their respective and complementary talents to open a roastery in their home province of Quebec, Holly and Paul von Hoyningen Huene pondered a thoroughly perplexing question.
"When we were thinking about a coffee company, we were thinking about what we wanted to be able to contribute to specialty coffee," Holly recently told Daily Coffee News. "Is there a way we can get it to more people and make it more accessible?"
In an attempt to answer that question, the von Hoyningen Heunes have developed Kaito Coffee Roasters, incorporating a simple color coding system of three primary colors to help customers identify and build upon their own preferences. The colors jump off their otherwise black-and-white bags, appealing while also engaging.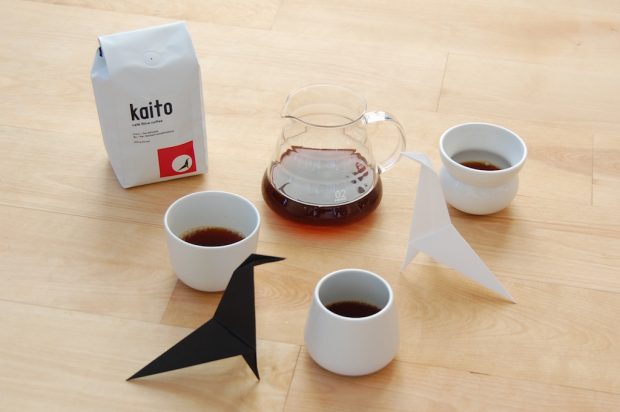 Coffees in the blue collection are described as generally low in acidity, with notes predominantly in the nut, dessert, spices and subtle fruit categories. The yellow collection features coffees with brighter acidity and varying mouthfeels, with notes more in the fruit, dessert, flower and subtle herb categories. Finally, coffees in the red category are described as offering "a unique, exotic taste experience" for people seeking a wider, brighter range of coffees.
"For people who are coffee nerds, they might not need the colors — they have the processing methods, elevation, tasting notes to guide them," Paul told Daily Coffee News. "With the colors, someone newer to specialty coffee might not remember the specific country [of origin], but they can return for a similar experience just by remembering the color."
As a freelance pilot in Berlin, Germany, seeking extra side work, Paul was hired at a roastery, where he was trained from the ground up, eventually developing enough skill and passion for the craft to consider striking out on his own. Holly, meanwhile, was in Berlin working for an online furniture store startup, bringing with her a range of experience in marketing, branding and commercial work. The two returned to Hudson, Quebec, after five years together in Berlin, to launch Kaito.
The company draws its name from the English pronunciation of the Japanese word for kite, which is also the name of the first origami fold used to create the company's bird mascot, named Wazo.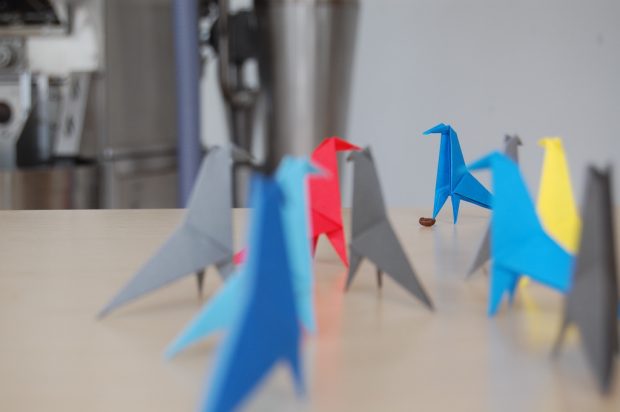 The beautifully designed, many-windowed Kaito production space is centered around a 15-kilo Loring roaster, which the von Hoyningen Heunes favored over a "more romantic" yet less energy-efficient vintage Probat roaster, as Holly described it. Paul handles the roasting, while both partners are involved in sourcing, cupping and quality control. The bright, clean roastery and cupping area is in some ways a direct reflection of the company's ambition to make specialty coffee more accessible. Said Holly, "It sort of translates to our philosophy in the sense that we want to make specialty coffee simple, and make it transparent."
The color coding element doesn't necessarily affect Kaito's sourcing and roasting operations, although they try to have at least one coffee in each category on offer at any given time. Paul said he's largely sourcing through Minneapolis-based Cafe Imports, seeking coffees of the highest quality and interest. While the blue category currently has two blends, and the yellow and red have only single-origin offerings, they are all going out at similar price points, and Paul said there are no set rules about where blends may be categorized or which colors may be associated with countries of origin or processing methods.
"We find a coffee we love, we want to source it then we ask ourselves, 'where does it belong?" Paul said, with Holly adding, "It all depends on what we taste when we're going through our samples."
Since officially launching in January of this year, Kaito has been growing its online sales and wholesale business in and around Montreal through accounts such as The Crew Collective & Café and Kaito neighbor Mikko Espresso & Boutique. In March, a third member came aboard the Kaito team, baby Leo, although he's still waiting for his business cards to be printed.
Nick Brown
Nick Brown is the editor of Daily Coffee News by Roast Magazine. Feedback and story ideas are welcome at publisher (at) dailycoffeenews.com, or see the "About Us" page for contact information.