The convenience of bottled RTD cold brew coffee is one of its most compelling features, particularly among consumers familiar with the many hours it takes to make it in the conventional method.
Yet while a bottled beverage is always immediately ready, that instant gratification does come at the expense of the control, creativity and freedom of coffee choice available to people who prefer make the effort themselves. A new cold brew coffee-maker currently in pre-manufacturing development is poised to bridge that divide, employing vacuum-pressure technology into a procedure that yields anywhere from five to 25 ounces of ready-to-drink cold brew coffee in as little as ten minutes.
The Prisma cold brew coffeemaker by Firstbuild won both the Best New Product and People's Choice awards at Coffee Fest Dallas this past June. The company, though backed by GE Appliances, is not a conventional one itself, acting as more of a "community" of makers, designers and engineers dedicated to the development of new home appliances.
We took note last year when a Firstbuild "hackathon" was devoted to the development of a tool that would streamline the process of roasting coffee in a home convection oven, although that product did not wind up coming to fruition.
"We built working prototypes and tested in homes. However, during the exploration phase, we developed a passion for cold brew and pivoted," Firstbuild Senior Design Engineer Justin Brown told Daily Coffee News, adding, "we are still interested in roasting. There could be more home roasting in our future."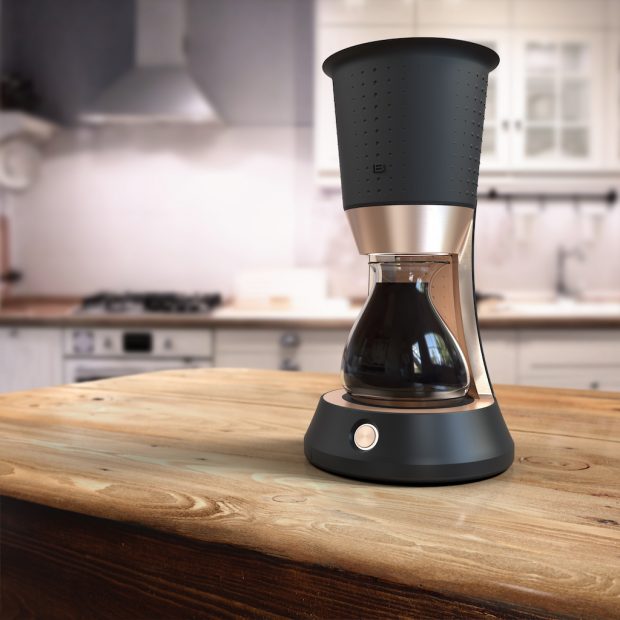 The sleek black machine with copper accents and contoured glass carafe that they built instead stands roughly 17.25 inches tall by 9 inches wide and 9 inches deep, and weighs about 9 pounds. Brown stated that the machine performs best with a fine grind as opposed to the coarse grind usually recommended for the old-fashioned low-tech overnight method, and that users can control the brewing time and other features of the Prisma via smartphone app.
"We use a vacuum-infusion technology and algorithm to expedite the extraction process. By removing air from the chamber we are allowing the coffee to have good contact with the water and increasing the solubility of the mixture," explained Brown.
The Prisma is slated to reach the public in the summer of 2017 after first passing through a round of crowdfunding on IndieGoGo. As for why a GE-backed company would need to turn to crowdfunding to bring a product to market, Brown explained that it was not so much a financial requirement as it is an awareness-raising launchpad.
"We believe crowdfunding is a great way to validate products with the early adopter community," said Brown. "If a product is successful with that audience, we have confidence that has potential to grow in the mass market."
Howard Bryman
Howard Bryman is the associate editor of Daily Coffee News by Roast Magazine. He is based in Portland, Oregon.