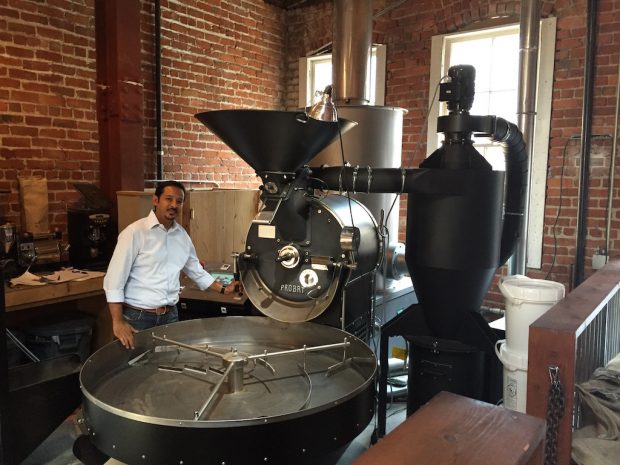 On a square city block of SoMa that is otherwise dominated by the somewhat odd combination of auto body shops and tech startup offices, San Francisco's Sextant Coffee Roasters has been bustling since its 2014 opening, a trajectory that has inspired founder and owner Kinani Ahmed to explore new business through wholesale, additional retail, and even vertical integration back to Ethiopia.
For now the business is supported by a refurbished, decked out Probat UG-22, which just came to the roastery and flagship café this summer, replacing a Probat L-12 that Ahmed used to develop his craft while at Chromatic Coffee Co. in San Jose before eventually buying the machine to launch Sextant.
"I love Probat," Ahmed recently told Daily Coffee News. "I've roasted on a lot of machines, but when I roast on Probat I always feel good with the results."
To his knowledge, Ahmed is the only Ethiopian roasting coffee in the United States, despite the country being famously regarded as the birthplace of coffee itself. His profile and that of the business recently received a significant boost when StarChefs named him the Bay Area's 2016 "Rising Star Roaster."
Ahmed's coffee reflects his roots, with a predominantly Ethiopian selection of roasted single-origin coffees, with green sourced through Ethiopian specialists such as Keffa Coffee and Atlanta-based Lean Coffee Imports.
Ahmed said the recent traceability requirements by the Ethiopia Coffee Exchange (ECX) have complicated his Ethiopian sourcing in some ways, although he credits his trade partners working on the ground with keeping the quality greens coming. "Things are definitely more difficult than before — just tracing the coffee to its origin has been really difficult," he said. "But I'm working with some people in Ethiopia who can at least get access to some of the coffee directly from the farm."
Although he returns to Ethiopia at least twice a year to visit family and take care of some coffee business, Ahmed said he hopes to soon forge an even deeper connection to his home nation by establishing multiple operations there.
"I want to integrate vertically," he said. "I want to go back to Ethiopia and do a farm, and also do something like what I have here over there — a roasting facility, teaching people how to roast, and showcasing roasted coffee over there."
Back in the U.S., Ahmed said the UG-22 has lent itself to some new bigger wholesale accounts, and he'd like to further expand the Sextant brand in the Bay Area by adding some retail fronts.
"Over here my idea is to expand to a kind of kiosk model of coffee shops," said Ahmed, who has creatively fit the UG-22, bags and greens just below a makeshift elevated office at the Sextant flagship. If all goes as planned, Ahmed sees adding even more roasting machines for the purposes of duplication and simply meeting production demand.
"Definitely in the near future I see myself moving into a larger warehouse-type building," said Ahmed. "I'm already looking."
Nick Brown
Nick Brown is the editor of Daily Coffee News by Roast Magazine. Feedback and story ideas are welcome at publisher (at) dailycoffeenews.com, or see the "About Us" page for contact information.