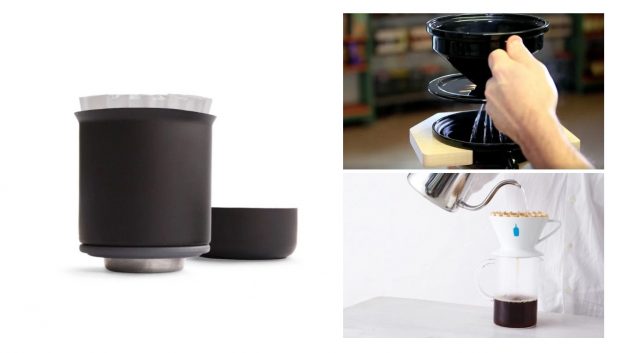 It seemed somehow unfulfilling to let 2016 wind down having only reported on only about half a dozen new manual pourover brewers this calendar year, and so we before we turn the page, here are three more worthy of attention: There's the Stagg Pour-Over System, which launched back in August but only hit U.S. soil last month; Blue Bottle Coffee's own more recently announced Dripper; and the MultiBru, a versatile system heading into its final phase of production with the boost of a successful Kickstarter campaign.
The Blue Bottle Coffee Dripper
The BBC Dripper is an in-house reinvention for which the company spared no expense in terms of R&D, according to information on their website and in the press. Blue Bottle Vice President in charge of Coffee Technologies Neil Day roped in MIT graduate engineer Jeremy Kuempel, who's also founder and CEO of Blossom Coffee, makers of the Blossom coffee machine, to consult on the project. The resultant flat-bottom single-holed brewer, made from heat-retaining porcelain by Japanese ceramics manufacturer Kyuemon, features precisely 40 vertical interior ridges to encourage downward flow of coffee.
The single hole and vertical ridges are reminiscent of the Kono dripper, which has only recently landed in its first stateside distribution agreement by way of Idaho-based Orphan Espresso but has been enjoyed in Japan for generations, predating even the Hario V60. Yet while the Kono utilizes flat, Hario-like filters, the Blue Bottle plays nicely only with its own fluted proprietary bamboo paper filter, which Blue Bottle retails in packs of 30 for $5.00 and which reinforce a certain geometric and filter-style commonality with the Kalita Wave.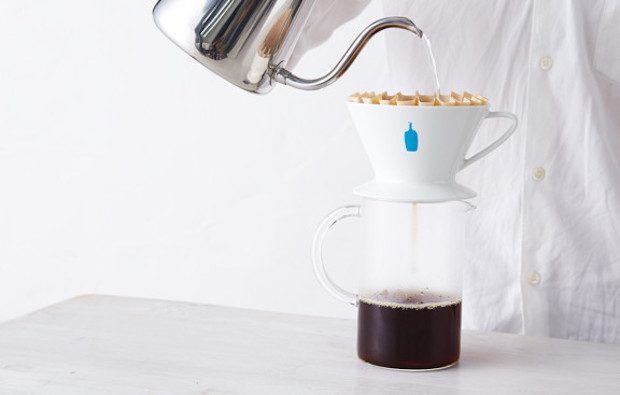 To this point, the Bay Area-based roaster/retailer has favored Bonmac pourover brewers in all of its cafes, though they've now switched over to their own "entirely new" design.
The Stagg Pour-Over Dripper
Fellow Products — another very design-conscious company — also recently spent about 10 months getting from first sketch to final manufacturing to join the pourover fray. "We already make a badass pourover kettle, so we want to complete the process," Fellow brand manager Hanna McPhee told Daily Coffee News, adding that they also wanted to go beyond just an aesthetic accompaniment to their existing products, to provide a genuine improvement to the process as well.
To that end, the Stagg Dripper is a double-wall vacuum-insulated stainless steel cup-shaped brewer in a sleek, intentionally masculine matte black, much like the Stagg kettle. With an 80-degree angle to its interior brewing column, it's steeper than Saint Anthony Industries' 70-degree Phoenix70 brewer, though not as steep as the 90-degree vertical cylinder of the Proper Pourover design. The theory is that a steeper brew column enhances flavor and extraction efficiency through increased coffee-to-water contact.
The column comes down to a flat, circular bottom with ten drainage holes (seven more than a Kalita Wave brewer) and uses its own taller-than-average fluted paper filter that's prevented from adhering to and clogging the drainage holes by a system of raised bumps. McPhee reported that Kalita filters will also work, though they'll hold less coffee.
Superior heat retention was the goal in their material and construction choices, while the interior design aims for versatility, offering experienced users the ability to tinker with a nuanced pour while less committed (or more rushed) users can also simply use the interior marking to measure out their beans and then fill the brewer to the top with water for an immersion-style brew.
The MultiBru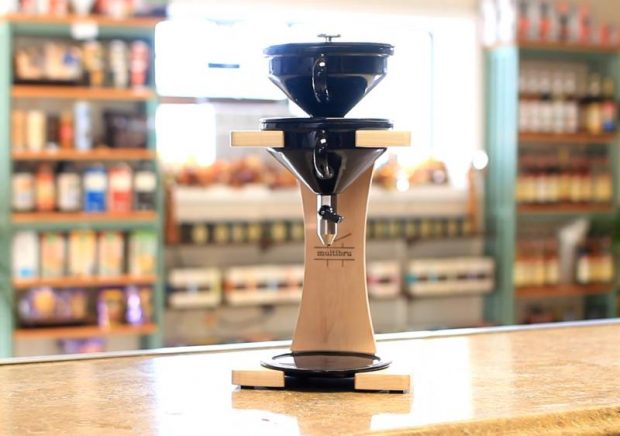 Rounding out this emergent flat-bottomed trifecta is the upstart MultiBru, a system that facilitates a variety of brewing methods and techniques, including straightforward pourover, immersion brewing, and slow-dripping for cold brew, thanks to an adjustable food-safe stainless steel valve at the exit of the brewing cone.
Of particular note is the MultiBru's included ceramic "Water Kone," which provides a spray-head with six precisely angled holes into which less experienced or less patient users can quickly dump hot water in however many rounds are needed for a consistent, skill-free method of evenly saturating the grounds. The Water Kone has a capacity of 20 ounces and a demarcation at the 12-ounce level, alleviating the need to pour by weight or by premeasured volume.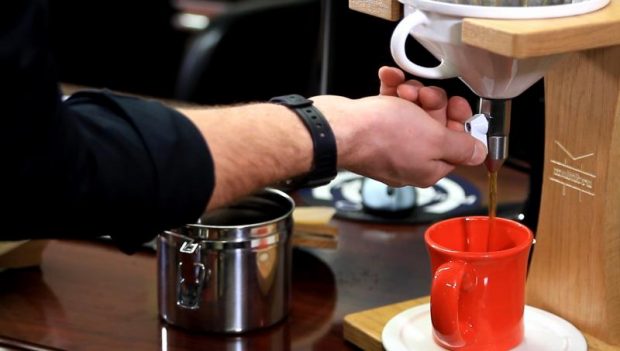 MultiBru inventor Mike Lancey told Daily Coffee News that the device can mimic results from various brewers through adjustments to the valve. A tightened valve restricts the flow for a Melitta-style brew, whereas an open valve frees the flow for a Hario-like performance. The ideally fitting paper filter is a Bunn or generic 8-10-cup paper filter found in any supermarket, or for a oilier French Press-style brew, close the valve for an immersion period and use the included custom metal mesh filter designed specifically to let some fines through.
Said Lancey, "To replicate a true French Press, I had to put some muck in your cup."
Based in Hampstead, N.H., Lancey is also founder of Global Bean Coffee Company, which started as an equipment importer about 14 years ago and then started roasting for wholesale and retail on a pair of Sonofresco fluid bed roasters roughly four years later. With the roastery situated in a strip mall, Lancey set out to provide brewed cups to walk-in customers and had an arsenal of different brewing gadgets on hand in order to help potential patrons sample his products using the methods they were familiar with and would be able to replicate at home.
"Everybody makes it different," noted Lancey. "I had pourovers on the counter. I had the Hario, I had the Melitta, I had a French press, I had a little four-cup coffeemaker. I said, 'Tell me how you make it. I'll make you a cup just like that, so when you go home it'll taste exactly the same.'"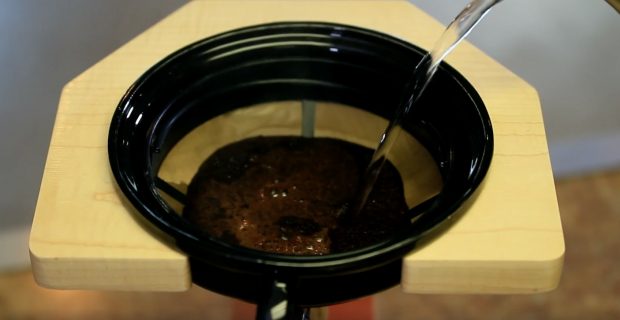 It didn't take long for the earnest effort to prove to me more trouble than it was worth. "I did that for like three weeks, and then I said 'forget it,'" Lancey said of the frustration. "I scrapped the whole café. That was about two years ago. Cleared everything out, took the signs down, didn't sell a cup of coffee for two years."
He knew there had to be a better way. He needed one device with the versatility to hit all the most familiar bases. Flash forward to today and Lancey, with help from local craftspeople, developed the ceramics and the hardwood stand, sourced and manufactured the other components, and has all the pieces and materials necessary for production in boxes currently in his New England warehouse. Orders have poured in, including from a buyer in Canada that purchased 30 units for use in restaurants and cafes.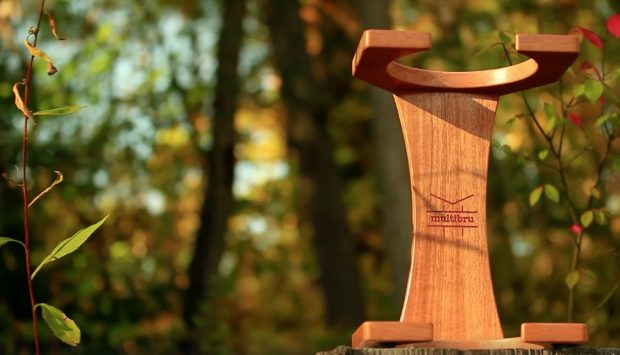 The purpose of the MultiBru Kickstarter campaign was to fund some production equipment upgrades and additional material purchases. At press time the campaign has raised almost twice its goal. Lancey envisions expansions to the MultiBru line as time goes by with the addition of accessories such as a higher capacity Water Kone and perhaps an attachment that enables Kyoto-style slow-drip brewing from above. But for now, he's confident that the introductory product will be in the hands of backers within a month from now, and available for purchase by the general public thereafter.
Howard Bryman
Howard Bryman is the associate editor of Daily Coffee News by Roast Magazine. He is based in Portland, Oregon.