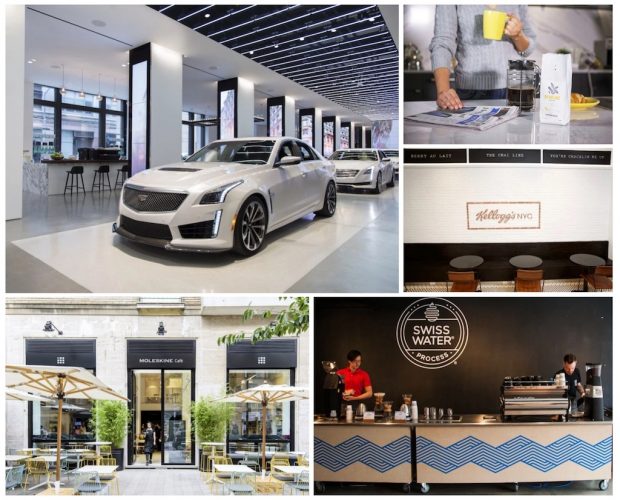 Branding, that critically important marketing branch of any commercial enterprise, has an especially impactful role in specialty coffee, where differentiation is hampered by the relative similarities of the finished product. Yes, your washed, medium-roasted Ethiopian Guji might have bright lemony notes not found in your competitor's spicier Harrar, but that's a far cry from Oreos vs. Fig Newtons.
Packaging naturally often creates the first impression of a brand, and for more on that we have dozens of stories published this year in the Unpacking Coffee with Kandace and Ray series.
Beyond the bag or box this year, we saw coffee and the companies that roast it play key roles in several nontraditional retail collaborations in which their own brands existed only in name as a supplier to higher-profile non-coffee brands. In most cases, these partnerships built upon specialty coffee's growing reputation as an upscale lifestyle product, using the drink as an elixir to grease the wheels of commerce for brands such as Moleskine and Cadillac, which both opened their own cafés in 2016.
Similarly, the year saw creative shop openings from specialty coffee industry-related brands that don't typically cater directly to consumers, including the La Marzocco café in Seattle and Swiss Water Decaf popups, which have served to raise both brands' profiles to a wider audience.
Traditional marketing channels such as video provided a platform for some playful experimentation in 2016, including an English coffee company's rap video, and what is in this humble staff's opinion the funniest coffee marketing video since the birth of YouTube, while one small coffee roaster managed to land a prime TV spot during the NFL Superbowl.
As is the case each and every year, there were also the persistent questions among CEO types in 2016 regarding what messages coffee companies should be sending, and to whom, specifically. To answer those questions, several organizations published market research reports, with a strong focus on the relationship between marketing and consumer trends, especially among the demographic often referred to as millennials. Through these came some confounding, and perhaps comical, realizations, such as certain demographics think it's important to buy "sustainably" sourced coffee, despite admitting to not knowing what "sustainable" means in that context.
Here are some of our top specialty coffee marketing stories of 2016, presented loosely by marketing channel:
Nontraditional Retail Brands
The La Marzocco Café and Showroom Opens in Seattle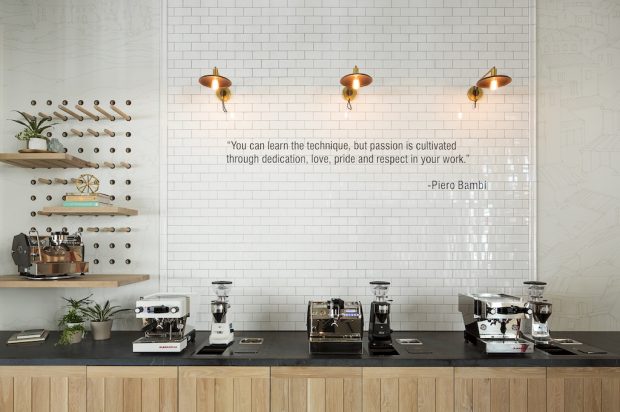 "The La Marzocco espresso machine manufacturing company has earned more than respect from the industry over the past 90 years for its line of long-lasting, dependable and innovative products. It has earned the loyalty and affection of legions of baristas, shop owners and roasters all over the world whose careers started and continued on LM machines."
Four Barrel and The National Team Up for Grateful Dead Tribute Release
"Four Barrel Coffee has teamed up with The National and their influential British record label, 4AD, for a limited-edition coffee blend to coincide with one of the most ambitious albums in the history of recorded music: the 59-song "Day of the Dead" Grateful Dead tribute."
Cadillac Enlists Joe Coffee as Partner in Multi-Retail Concept Cadillac House in NYC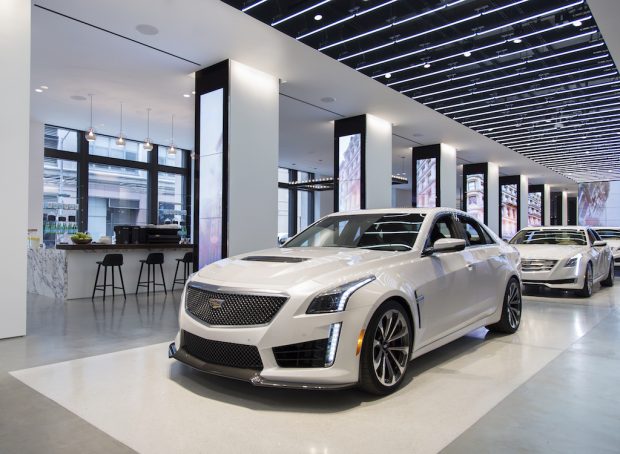 "The classic American automaker Cadillac moved its headquarters from Detroit to New York City in 2014 as part of an effort to revamp its image and revitalize sales. This summer the company is inviting the luxury-friendly Big Apple public in to experience the new face of the old brand by way of a groundbreaking multi-retail concept called Cadillac House, an expansive 12,000-square-foot exhibit that occupies the ground floor Hudson Square lobby of their SoHo headquarters."
Kellogg's NYC a Wacky Testament to the Power of the Café Experience
"Right now, just off Times Square in New York City, there are grown people paying good money to eat Kellogg's brand cereal in bowls with milk. The Battle Creek, Mich.-based cereal giant has partnered with New York-based restaurateurs Anthony Rudolf and Sandra Di Capua to open Kellogg's NYC, a colorful breakfast-all-day joint with Kellogg's-based creations designed in part by celebrity chef Christina Tosi of Milk Bar."
Moleskine Opens Upscale Café for the Creative Class in Milan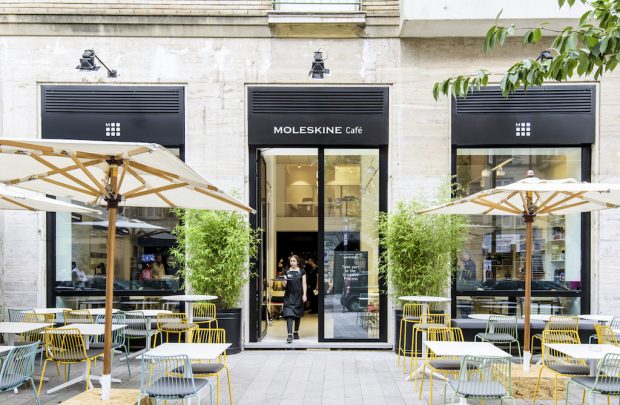 "Coffee's latest luxury lifestyle branding endeavor comes from notebook maker Moleskine, which today unveiled its first standalone café in the company's home city of Milan, Italy, with plans to develop future Moleskine cafés across the globe."
Hello Kitty Café Opens with Portola Coffees and an Explosion of Pink
"Now, finally, the continental United States has a semi-permanent Hello Kitty café, which opened last Friday outside the Irvine Spectrum Center in Irvine, Calif., to exceptionally long lines of Hello Kitty fanatics, according to local reports. In a repurposed shipping container, the café will be open at the outdoor shopping center through 2017."
LA Pop-Up, Web Marketplace, Cafes in Japan: Swiss Water Gaining Major Ground for Decaf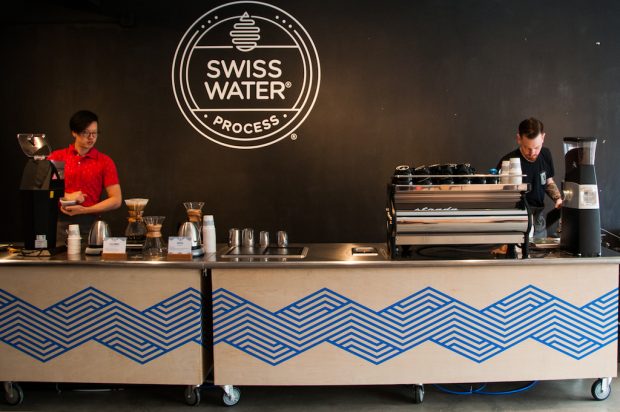 "About a year ago the Swiss Water Decaffeinated Coffee Company staged a generous and innocuously disruptive event in the heart of New York City: A full-service pop-up dispensing high-quality coffee, completely free of charge, in the form of carefully crafted drinks prepared by skilled local baristas with a backdrop of vibrant art and live music."
Extra, Extra: Toronto Star Newspaper Company Launches Headline Coffee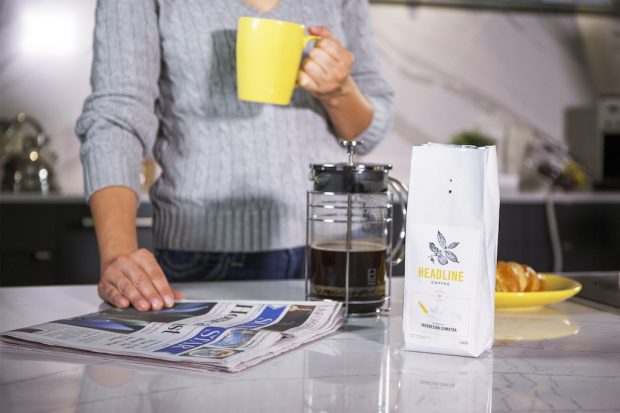 "In this digital age, traditional print news publications are turning to other forms of retail to generate revenue in order to keep their newsrooms staffed, effective and able to provide their invaluable service to the public."
Traditional Media
Death Wish Dream Comes True with Super Bowl Ad
"The tempest-blown sea is a metaphor for Death Wish coffee itself, which the company boasts of being "the world's strongest coffee" in terms of caffeine content — an attribute owner Mike Brown says results from a unique but undisclosed sourcing and roasting combination involving a Loring S35 roaster."
An Amazing Display of the Dark Art of Ironic Coffee Comedy
"What unfolded from there is arguably the greatest work of coffee irony ever produced, in my humble opinion — and coffee people tend to be a comedically ironic lot — complete with a killer punchline, which I won't spoil for you in words here."
Marketing Beat: Jimmy's Iced Coffee Asks "Who Got The Beans"
"British cartoned RTD coffee company Jimmy's Iced Coffee released the second video last week for what's shaping up to be a series of promotional rap songs. The new video, "Who Got the Beans," is perhaps a slight step up in production value from their earlier effort, "Keep Your Chin Up," released almost exactly one year ago, although the craft of both of these spots, both musically and visually, are as polished as anything else in the professional entertainment sphere."
Marketing Beat: Taster's Choice and the 'Craft' of Instant
"If you were of TV-viewing age in the early 1990s, you may recall the Taster's Choice couple, a pair of modern, sophisticated potential paramours whose flirtations flowed hand in hand with Taster's Choice soluble coffee products in a heavily filtered, soap-opera-like production."
Marketing Beat: Watch 2 Chainz Drink Kopi Luwak through a Blossom Brewer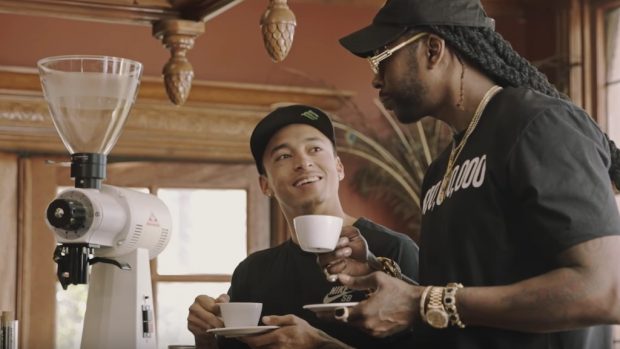 "Condé Nast-owned GQ is now in Season 3 of its predictably droll "Most Expensive Shit" video series featuring rapper 2 Chainz, and it was only a matter of time before coffee's leading symbol of luxury, Kopi Lowak, was introduced."
Segmentation and Studies
Is Specialty Coffee Missing an Opportunity in Cold Brew?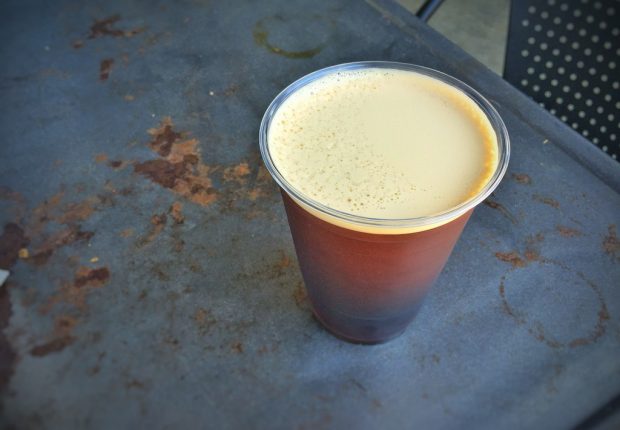 "Is cold brew coffee a category or a craze? This question was posed at the recent Re:Co Specialty Coffee Symposium in Atlanta last week. While those two may not be mutually exclusive, the prevailing presumption was that cold brew is indeed a category — a remarkably fast-growing one, at that — while it is also poorly defined, misunderstood by consumers, and in very real danger of being diminished as a value proposition as quick-adopters of cold brew rush questionable products to the marketplace."
NCA's 2016 National Coffee Drinking Trends Report is Big on The 'M' Word
"In its introduction to this year's report, the NCA focuses a lot on the 'M' word — millennials — the group of younger buyers considered by many market researchers as forever changing the way coffee shall be viewed, purchased and consumed. The NCA shares some hard numbers reflecting how younger buyers have shifted consumption patterns over the past eight years."
Young Adults Want 'Sustainably Sourced' Coffee, Whatever That Means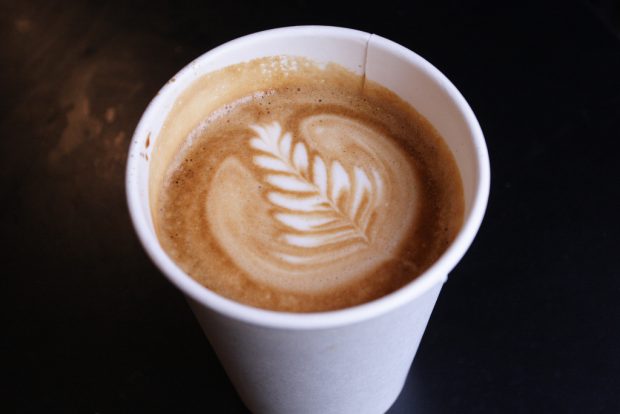 "In short, the study concludes that millennials are a finicky group of conscientious consumers who have deeper emotional connections to their coffee experiences than their generational predecessors."
Boutique Chains to Lead Growth in 2017, According to Allegra's USA Report
"Authentic experiences, 'artisan' coffee products and 'compelling' food options represent some of the biggest opportunities in the growing retail coffee market in the United States, according to the latest report from Allegra World Coffee Portal."