When the Bonaverde Berlin roaster-grinder-brewer emerged from its successful Kickstarter campaign three years ago, it was met by excitement and high expectations on the part of backers, investors and curious consumers, yet also seemingly equal measures of incredulity and skepticism from the peanut gallery.
As changes to the design were required and technical setbacks galore caused considerable delay, it added fuel to the fire of naysayers and invited the ire of some early supporters. At this point, this is an all-too-familiar story from the crowdfunding scene. However, at the end of 2016 there came a startling announcement from the Bonaverde camp: Delivery is nigh!
A European-market (220-voltage) beta-testing round of complete, production-quality Bonaverde Berlin connected roast-brew-grind machines is currently underway. The second round of beta machines — 110 volts, for the U.S. market — is slated to ship in spring of this year, followed by delivery of the rest of pre-ordered machines by the summer of this year, after which time the machine is expected to be available for purchase by the general public for 799€ (about $850 USD, as of this writing).
The Bonaverde Berlin machine is a sort of three-tiered machine, with a roaster on the top, a grinder beneath it, a brewer under that and the pot at the bottom. Green coffees vetted and profiled by Bonaverde ship to consumers in a pouch with an embedded RFID chip that users hold up to a scanner on the front of the machine for it to download its procedural instructions from the cloud for that coffee. Then, utilizing what looks like a Stir Crazy popcorn popper-style circular tray with an agitation arm, the coffee is roasted, then ground in one of five settings for the "meticulously calibrated high-alloy steel" grinder, and then brewed beneath a "rain shower" brew head.
The roasting unit is removable, as is the refillable water tank. The machine also features built-in smoke suppression, chaff collection, and smartphone/tablet app interactivity for altering the prescribed parameters if one chooses.
The machine is only the beginning. By partnering directly with coffee growers for their greens, and then by providing unskilled coffee-lovers with a single-button solution for the roasting, grinding, and brewing of those beans, Bonaverde aims to cut out both the importer and the roaster in a bean's journey from soil to consumption. The company says this shortened chain of supply will result in their farmers receiving compensation for their coffees at least 30 percent higher than Fair Trade minimums.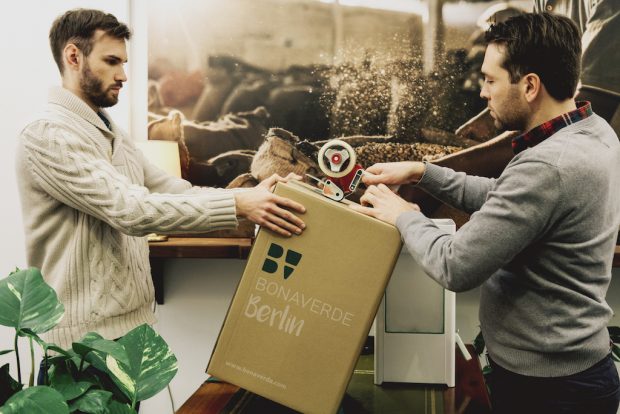 Obviously a machine as complex as this one will surely require an equally complex system of resources for maintenance and support. Bonaverde founder and CEO Hans Stier told Daily Coffee News that another of the long-term goals for the company is to have trained "ambassadors" available in various markets to assist with upkeep and repairs, while in the meantime an NFC-based maintenance kit will be available for users to use at home in conjunction with specialists available by phone or by web, although the company does not recommend users attempt most repairs themselves. "We're looking forward to seeing what users' needs may be in this area during our beta testing process," said Stier.
Without delving too deeply into the particulars of materials and technologies at play under the hood of the Bonaverde, we took the opportunity to chat with Stier a bit more about the journey from Kickstarter to the beta phase, the future of the company, and if and how the machine addresses the notion of rest time, which most home and professional roasters agree is important to the off-gassing process, for flavors to develop and stabilize in coffees fresh off the roast.
What were the most challenging features or parts of the machine to nail down into safe, reliable working order?
Sigh. Well. Many of our issues were with electronics, fine-tuning the wiring of bringing these three components safely together. We also had to solve the problem of accommodating the nuances of roasting different beans, which required going beyond our original 10-setting plan. We were able to solve this with the NFC concept, but that took some serious recalibration.
Do you believe coffee is always best when brewed immediately after roasting, or is there any benefit to a resting period after the roast?
So far, all of our tests and tastings have shown that freshly roasted coffee has a truly unmatchable flavor. Often, people who normally drown their coffee in milk and sugar find they enjoy drinking our freshly-roasted coffee black. Those with discerning palates find the nuances of coffee are better expressed. While there may be reason for a resting period for a specific effects — and particularly for espresso — none of the many coffee lovers who've tasted our coffee so far has missed it.
Can users choose to let the beans "rest" for a period of days, perhaps by removing them from the machine prior to brewing?
There will be a "roast-only" setting available for the machines, that you'll be able to use if you want to let the beans rest or would like to prep for quicker brewing later. Like with wine, we too have identified "breathing" of coffee to be of even additional value to the unmatched body and flavor of your choice of beans. We do highly recommend sampling the fresh-roasted brews, however.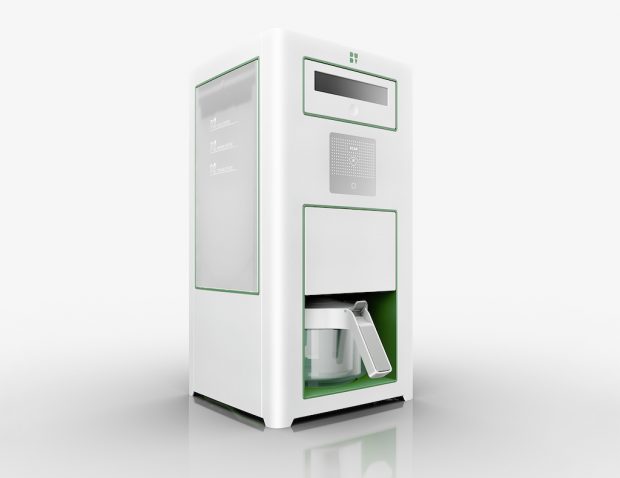 Once all the preorders are fulfilled and production & sales fall into a normal system, what comes next for the company? Any other new machine ideas, either for brewing or roasting, or additional accessories or tools on the way from Bonaverde?
Our next focus is on building the direct trade infrastructure surrounding the roast-grind-brew machines. We envision the Bonaverde Berlin as the catalyst for a whole new way of dealing in coffee – where coffee lovers can purchase beans directly from farmers, cutting out middlemen. Building the marketplace for this, bringing on and empowering farmers with the tools they need, and creating the community in consuming countries, will be our next big focus.
We do have some ideas for a second generation machine brewing as well as an espresso model that is actually in prototyping as we speak — but let's talk about that after the initial machines have found their way home.
Howard Bryman
Howard Bryman is the associate editor of Daily Coffee News by Roast Magazine. He is based in Portland, Oregon.