Multiroaster coffee shop Cafe Moka opened a new location last week in the Waverly complex — a recently established development in Charlotte, North Carolina that includes shopping, restaurants, offices, and residential units. Nestled within the modern development, Cafe Moka's cozy space harkens back to a different time.
"Ever since I was a kid, I've always loved coffee," Cafe Moka's owner Roark Basham told Daily Coffee News. "I would see the adults sitting around drinking coffee, and the social aspect was fascinating to me. Even though it was bad coffee…it created a sense of community."
Basham, who oversaw the interior design of the space, sought out comfortable, worn-in, vintage Americana decor to help foster that sense of community. He constructed and painted the signage himself, in addition to designing the various logos and handcrafting some of the tables, lamps, and decorative touches throughout the space. Yet the design also addresses volume and bar flow, a clear process for customers, and an easy to read, explanatory menu.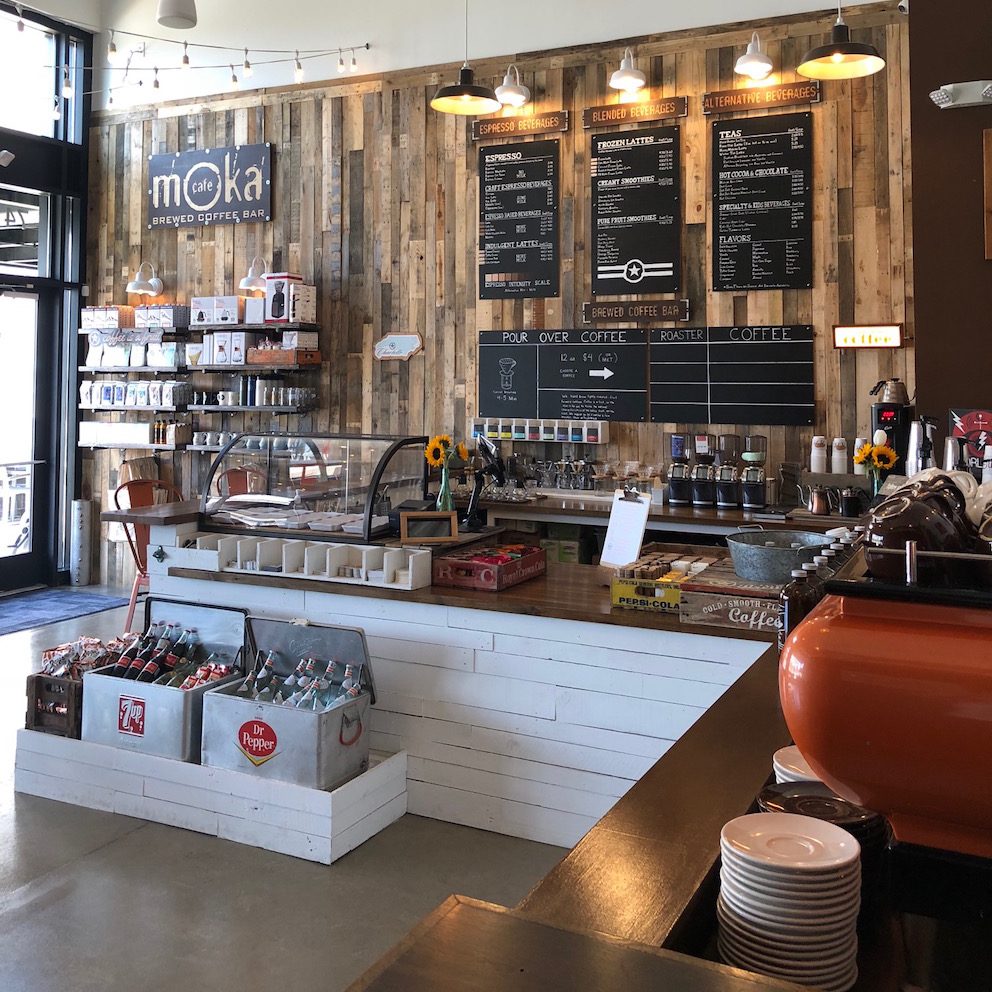 Customers have their choice of seating on church pews, old theater seats, chairs, and bar stools. Basham added, "We are in the terrace at Waverly, so there's tons of seats, tables, swings, and benches galore for our customers to spill out onto."
Roark Basham and his two brothers, Rowman and Rhett, opened their first shop in Virginia Beach in 2010. In 2016, they opened a second location on the campus of Regent University. Around that time, the lease was about to expire on the building for the first location, so they took the opportunity to reevaluate and find a more suitable space.
"My oldest brother Rowman moved to Charlotte in the summer of 2016," Basham said. "Soon after, we realized what an incredible boom was happening there. He contacted Waverly, and it turned out that they were looking for a local coffee shop."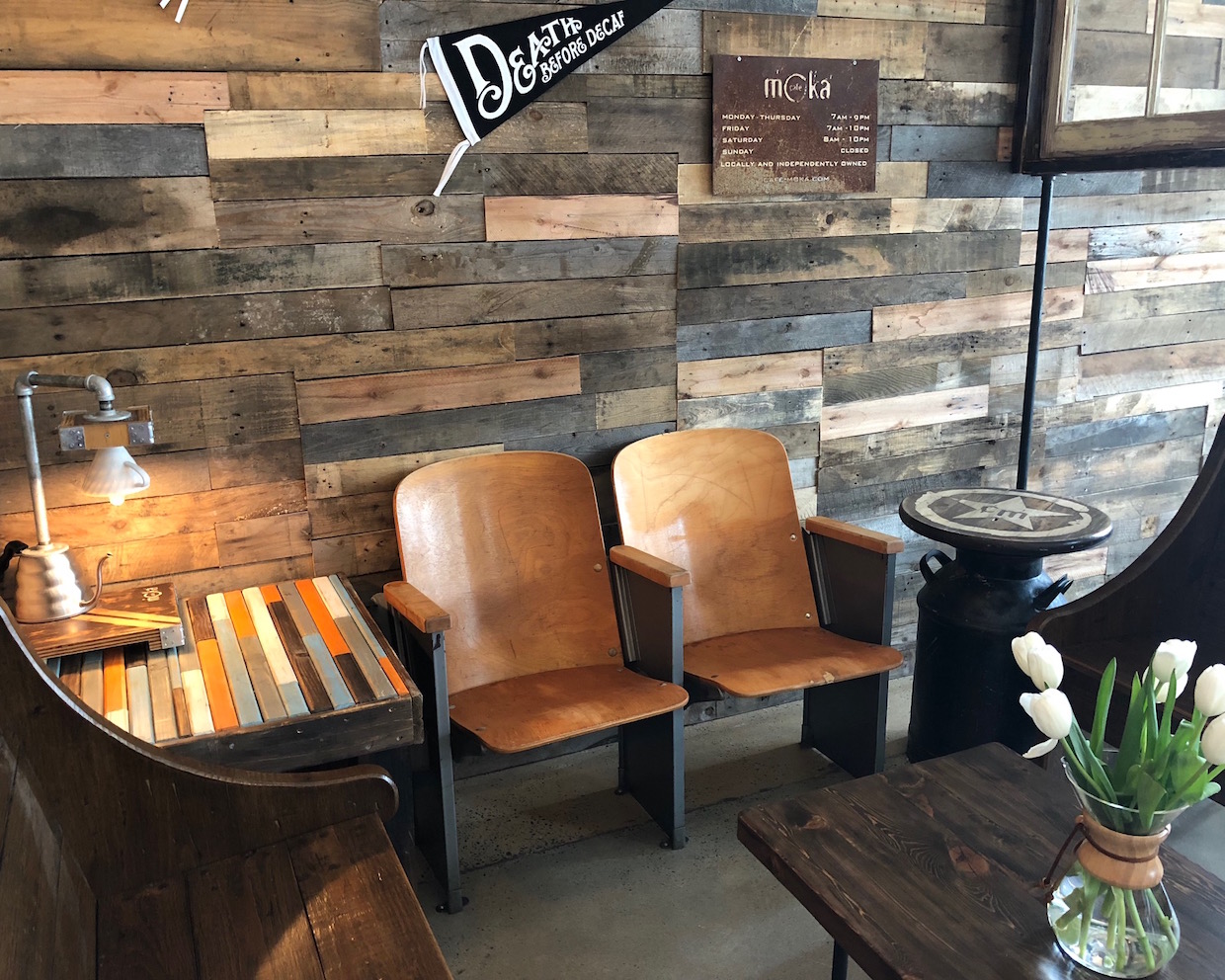 The brothers decided to pack up Cafe Moka's original Virginia Beach shop and relocate their flagship store to Charlotte.
"Charlotte's coffee scene is really growing," said Basham. "Lots of great shops, roasters, and people in the industry here. We're stoked to be a part of it."
The new Cafe Moka location will carry four roasters on the brewed coffee bar each day, with Hex Coffee, Red Rooster Coffee Roasters, Barista Parlor, and Cirque Coffee in the current rotation. Brewed coffees are prepared as pourovers, using Hario V60 as the primary brewing method, Baratza Forté grinders, Acaia scales, and a Curtis water tower.
Espresso-based beverages are made with Dillanos Coffee Roasters' Sumatran/Ethiopian blend, while Red Rooster Coffee Roasters is being used for the craft espresso beverages menu. A shiny, rust-colored LaMarzocco FB70 machine and Mazzer grinders round out the brewing setup.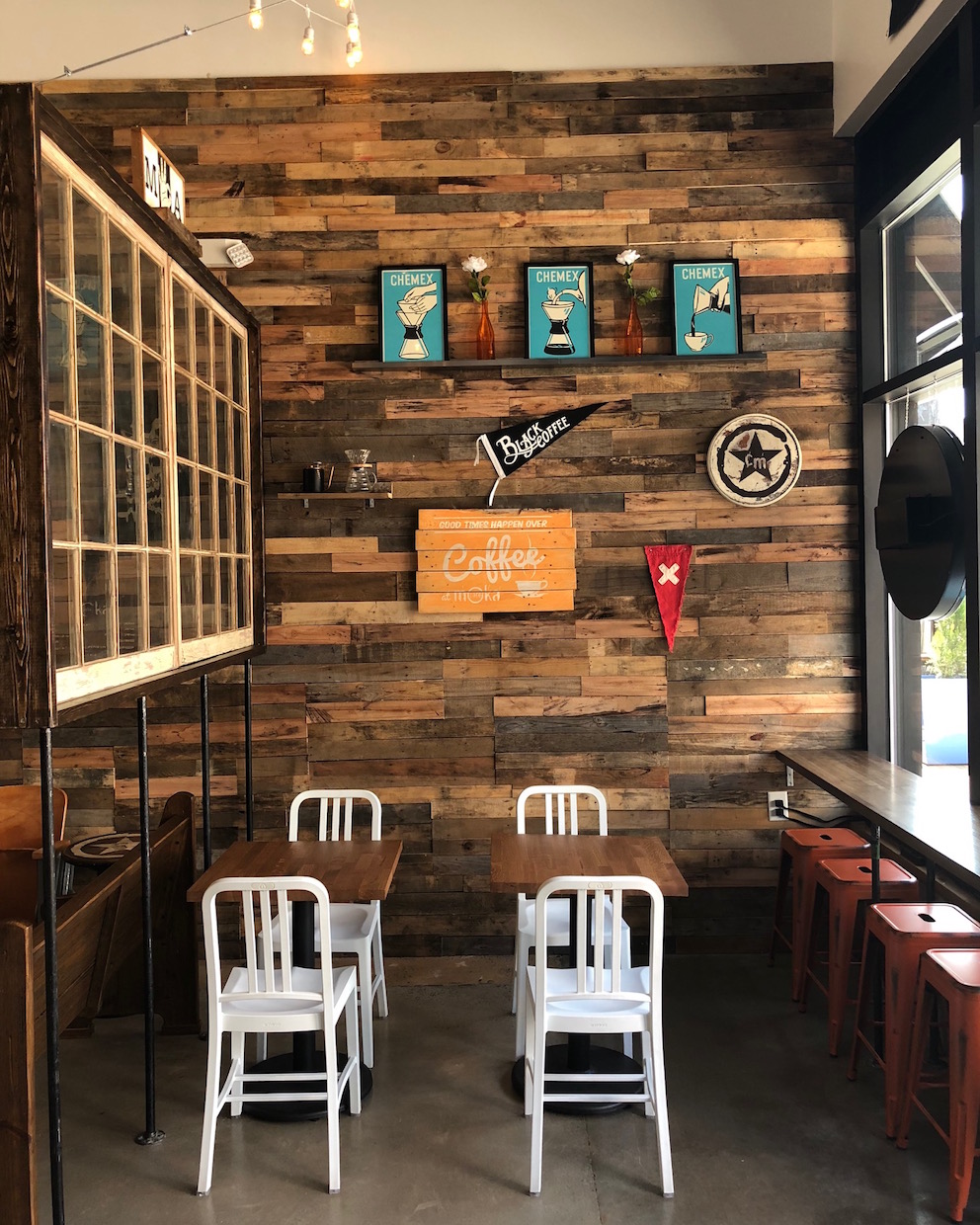 Basham fell in love with coffee and cafe culture after getting his first job in coffee at Starbucks, where he applied after reading "Pour Your Heart Into It" by former Starbucks CEO Howard Shultz. "I read the book in two days," Basham said. "I decided right then and there that I belonged in the coffee industry."
His interest was solidified while on a trip to Seattle, when Basham was able to experience the independent coffeehouse scene in the city for the first time.
"I was blown away. I thought I knew coffee; I did not," said Basham of his revelation in Seattle. "Third Wave coffee was just building up, and I knew I wanted to be a part of coffee on a smaller, more handcrafted scale. The part of Virginia I lived in only had a few local shops, so I decided to create Cafe Moka."
Cafe Moka is now open at 7416 Waverly Walk Ave, H3 in Charlotte.
Lily Kubota
Lily Kubota is the managing editor and digital content manager for Roast Magazine. She is based in Southern California.