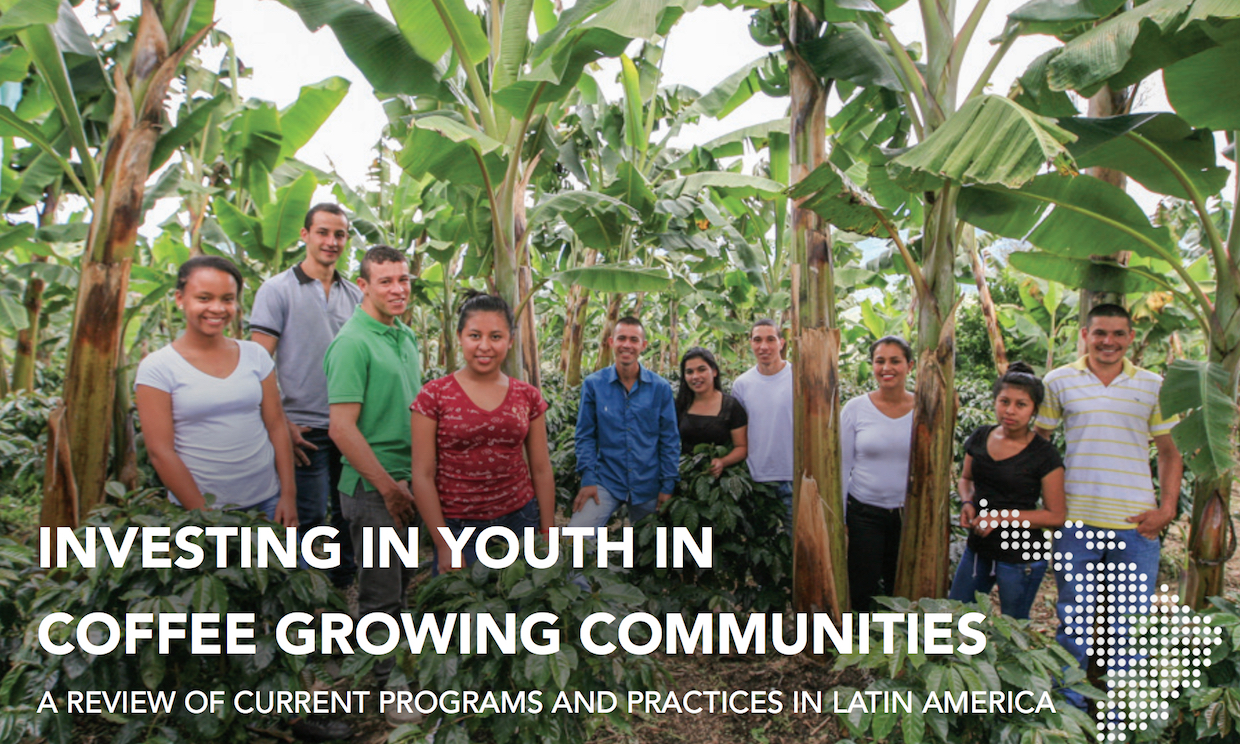 Youth engagement in coffee farming and production has been a hot topic in coffee circles in recent years, as mounting evidence suggests that young adults are leaving rural coffeelands, often smallholder family farms, in favor of better economic or social opportunities.
While much of this evidence remains anecdotal — provided on a farm-to-farm or community-to-community basis — three nonprofit groups have teamed up to deliver the coffee sector's most expansive report to date on youth engagement in coffee farming. While noting existing work, existing gaps, past successes and future challenges, the report is if nothing else a thoroughly reasoned argument for the private sector to increase investments in youth-focused programs.
Hanns R. Neumann Stiftung (HRNS), the SAFE Platform and the Vermont-based Sustainable Food Lab have released the 50-page report, "Investing in Youth in Coffee Growing Communities: A Review of Current Programs and Practices in Latin America."
Tailored to a range of actors — including other NGOs, nonprofits, government organizations and, perhaps most importantly, the private sector in consuming countries — the report focuses on existing programs on coffee and youth in four countries in Central and South America: Guatemala, Honduras, Nicaragua, and Colombia.
Based on research and interviews with more than 20 different organizations from throughout the coffee sector, the report outlines 37 existing youth-focused regional or national initiatives, while exploring many of them in detail through advanced program descriptions or case studies.
While recognizing its own geographic and data-related limitations, the report when taken in full provides a broad view of existing youth-involvement-related programs, while offering an unprecedented level of guidance for NGOs, industry actors and governmental organizations wishing to advance on this critical front. It's worth noting that one of the "major challenges" noted by the authors is that, "the private sector does not see the immediate business case for investing in youth programs."
In a summary of the report — based on the work of lead authors Christina Archer, Verena Fischersworring, Joanna Furgiuele and Jan von Enden — the groups identify the following three key messages:
There is a common concern across the sector of an aging farmer population and that young adults are not as interested in continuing in this field.
The authors wrote, in part: "Uncovering the reasons for this generational shift requires more in-depth understanding of the context of individual coffee communities and a clear picture of the barriers for youth. In many cases young adults are feeling undervalued, not trusted, and excluded from family and community decision making. The ability for youth to be successful in rural coffee communities hinges on a range of diverse factors such as the impact of climate change on agriculture, violence in communities, basic connectivity, and availability of health services."
In Latin America there are strong producer groups and NGOs working on this, but they need support.
The group wrote, in part: "Currently, there is limited coordination among existing programs and learnings between private companies and NGOs. There is also a lack of clear monitoring and evaluation data to drive proven models that have succeeded in supporting youth to continue in the coffee sector."
Collaboration is key to build a holistic approach to community development and create an attractive environment for young people.
The group wrote, in part: "Expert youth NGOs are a central component in the success of interventions. Private sector companies provide an important outlet to elevate the importance of youth to customers and consumers to raise interest and resources, as well as bringing in market specific skills and expertise. Governments agencies ensure interventions are addressing fundamental community and regional development challenges. And industry associations like the SAFE Platform can create the space for dialogue, cross-sector coordination, and channel resources."
Nick Brown
Nick Brown is the editor of Daily Coffee News by Roast Magazine.