Welcome to DCN's Weekly Coffee News. Keep up with all the latest stories by subscribing to DCN's newsletter, featuring breaking coffee industry news and fresh coffee job listings.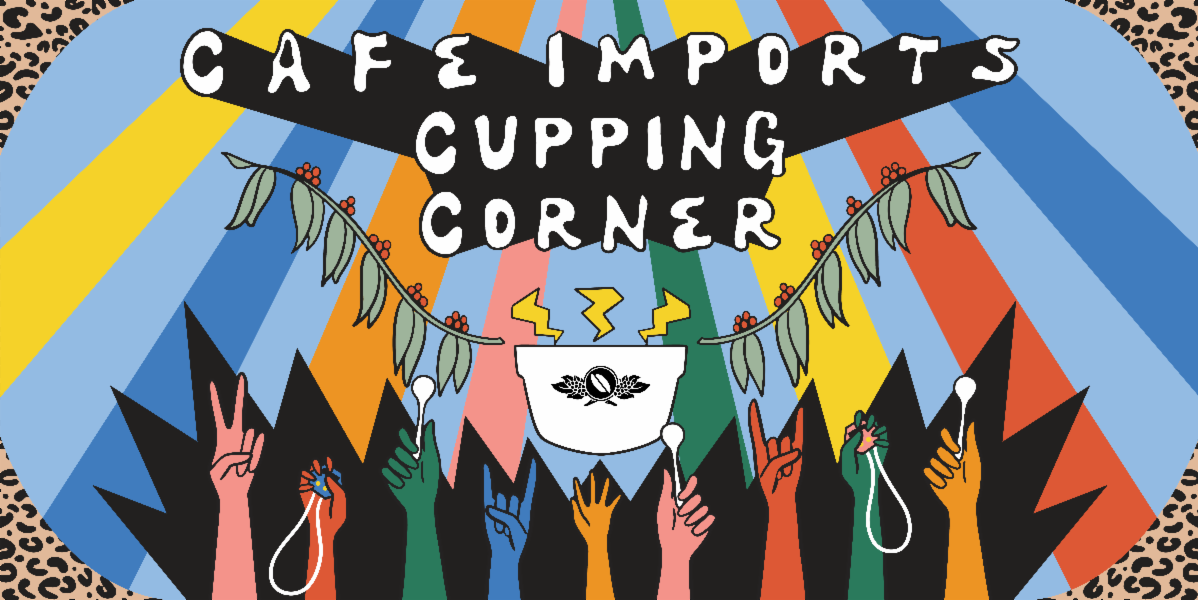 Cafe Imports Hosting "Cupping Corner" at Coffee Fests
Minneapolis-based green specialty coffee trader Cafe Imports is sponsoring a "Cupping Corner" at four upcoming Coffee Fest events in the United States, including New York (March), Louisville (June), Anaheim (August) and Orlando (November).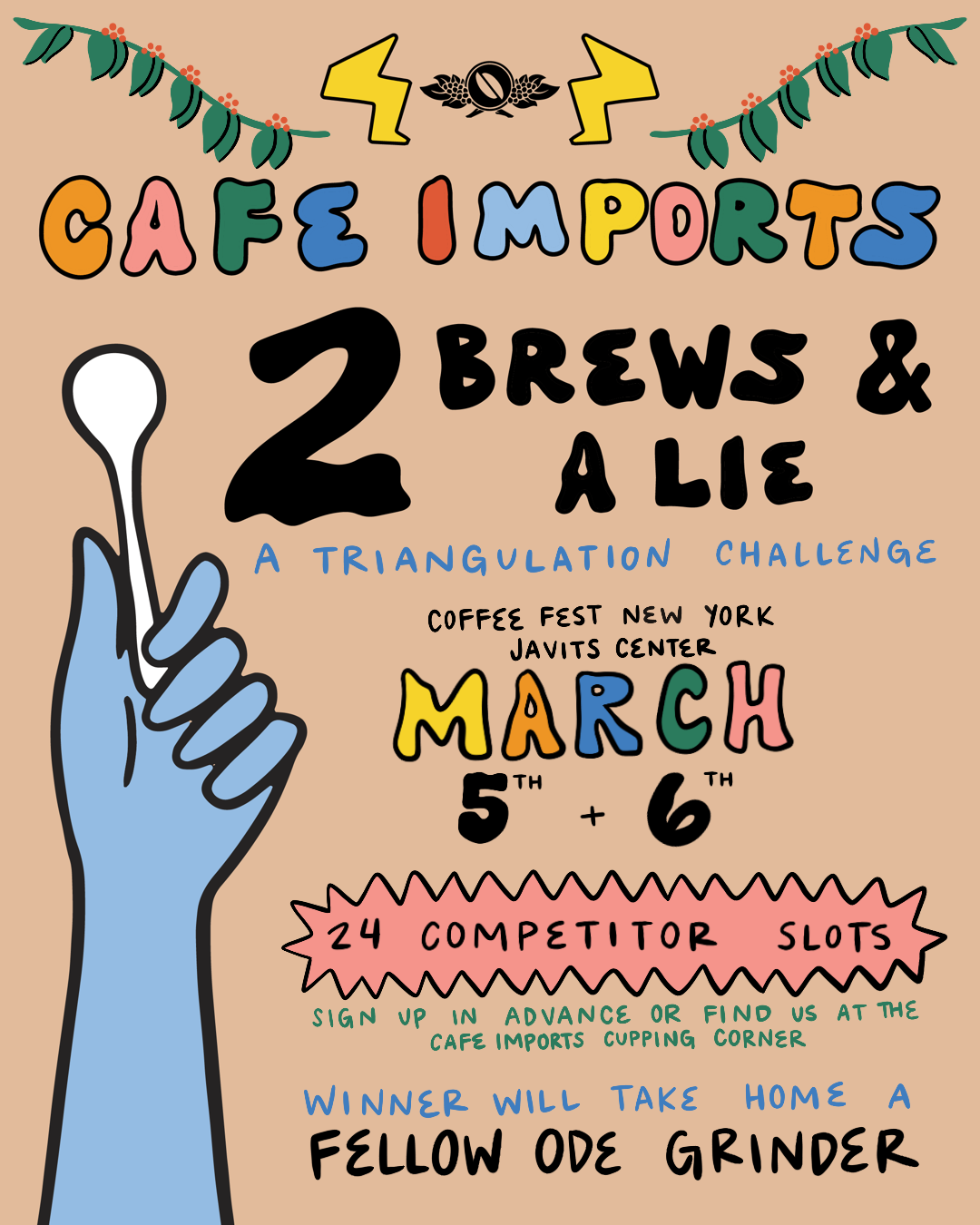 In addition to hosting cuppings of fresh-crop and soon-to-land coffees at the Cupping Corner, Cafe Imports is also hosting a competition called 2 Brews and a Lie. Competitors will cup through three flights of three coffees, choosing the outlier cup (the lie) as fast as possible. The winner will take home a Fellow Ode grinder. The first Cafe Imports Cupping Corner will occur March 5-6 at Coffee Fest New York inside the Javits Center.
Blue Bottle Coffee Selling Three Servings of Instant Coffee for $65
California-based Blue Bottle Coffee is exploring the farthest boundaries of de-commoditization and exclusivity, offering three servings of instant coffee in a $65 package that includes a sipping glass. The single-origin coffee from Yemen is part of Blue Bottle's "Exceedingly Rare" line of products.
Starbucks Introduces Coffee With Olive Oil
Coffee giant Starbucks has introduced a new arabica coffee infused with Partanna-brand olive oil. The Oleato line was introduced at the Starbucks Roastery Reserve in Milan and other Starbucks stores in Italy. The line — which includes a latte, cold brew and shaken espresso — is expected to debut in other markets this year, including Southern California this spring.
Intelligentsia Closing Two Chicago Shops
Chicago-based coffee roaster and retailer Intelligentsia Coffee is closing two prominent Chicago shops on April 19 — Wicker Park and Logan Square — according to an Eater report. The stores, which are both unionized, have been open for 10 years. An Old Town location of Intelligentsia inside Plum Market also closed last year.
Costa Coffee Appointing Philippe Schaillee CEO
Philippe Schaillee will be the new CEO of Costa Coffee as of April 10. Schaillee has held various marketing roles in the snack and beverage industry, including a role as president of the professional coffee division and a member of the executive committee at Jacob Douwe Egberts (JDE) Group. Costa Coffee has been owned by Coca-Cola since 2018.
James Hoffmann and Bellwether Roast Coffee With Sunlight
Coffee author and YouTube star James Hoffmann teamed up with electric coffee roaster maker Bellwether to roast coffee using solar power in the desert. Hoffman documented the experiment in a video on his YouTube channel. Bellwether launched the second generation of its innovative electric coffee machine and green coffee platform a year ago.
Jusuf Nurkić Blazes Trail With Portland Coffee Roasters
A coffee collaboration between Jusuf Nurkić of the Portland Trail Blazers and Portland Coffee Roasters has culminated in the release of Bosnian Beans. Available in 2-pound bags, the coffee will be available through June 30, with $3 from every purchase going towards the Jusuf Nurkić Foundation, which assists women and children in Nurkić's home country of Bosnia.
UNIC Launching TANGO XP Espresso Machine Line
French espresso machine maker UNIC, which is part of Electrolux Professional Group, is introducing a new line of super-automatic espresso machines. The TANGO XP range will include both single- and double-output models. There are three different models in the line: TANGO XP Duo, TANGO XP Solo and TANGO XP Compact. The models will be unveiled at the Host Milano show in October.
OKAPI Reusables Seeks To Reduce Waste
A new Portland-based company aims to tackle excess waste with a seamless reusable cup service. Through an app, users of OKAPI Reusables can borrow a cup from a participating cafe and return it to any other cafe in the network. The company currently partners with coffee shops in the Portland and San Francisco Bay areas, with plans to expand to Washington.
Salt Lake City's Publik Coffee Hosts Puma Shoe Launch
Hundreds of thousands of people visited Utah last week for the 2023 NBA All-Star Game, and Salt Lake City-based Publik Coffee got in on the action, hosting a Puma sho launch event. The event took place at Publik Space, an event venue adjacent to Publik's sustainability-driven flagship cafe and roastery.
Fairtrade and ITC Expand Sustainability Partnership
Fairtrade International and the International Trade Centre (ITC) are expanding their partnership to accelerate their work helping farmers and agricultural workers around the world while promoting greater sustainability. The partnership includes a focus on empowering women and youths and helping farmers adapt to climate change.
In Case You Missed It
Here are some of DCN's top stories from the past week…
Victoria Arduino Picking Up the Pace with the Eagle Tempo
The nest of commercial espresso machines in the Eagle line from Italian brand Victoria Arduino is soon to become more crowded with the hatching of the Eagle Tempo… Read more
Black Rifle Coffee Company is Being Sued by an RTD Beverage Consultancy
A once chummy relationship between an Ohio-based beverage consultancy and Black Rifle Coffee Company (BRCC) appears to have soured, with the former suggesting in court that the latter has not met a "multi-million-dollar financial obligation" … Read more
ICO Launching Living-Income Benchmarking for Four Coffee-Producing Countries
The International Coffee Organization (ICO) is launching living-income benchmarking studies for four of the group's member countries — Honduras, Rwanda, Togo and Angola — with more expected to follow… Read more
Roest Unveils Control Upgrades, Plans 3-Kilo P3000 Launch
Norwegian coffee roasting equipment maker Roest (formerly Røst) has launched new digital tools for its sample roasting machines… Read more
Neptune's Fury Makes a Mighty Splash With Norfolk Roastery Cafe
A welcome wave of new guests have flooded the ground floor of one of Norfolk, Virginia's most recognizable structures with the opening of Neptune's Fury Cafe and Roastery… Read more
Fairtrade Introduces Living-Income Reference Price for Honduras
Fairtrade International has released a living-income reference price for Honduras, designed to help inform green coffee buyers of minimum prices required to allow coffee farmers and their families… Read more
Bean for Bean Coffee Industry Mentorship Program Back for 2023
United States-based nonprofit Go Fund Bean is reprising its Bean For Bean mentorship program for 2023, with applications closing Tuesday, Feb. 28. The coffee-industry-focused organization launched a beta version of the program in 2021… Read more