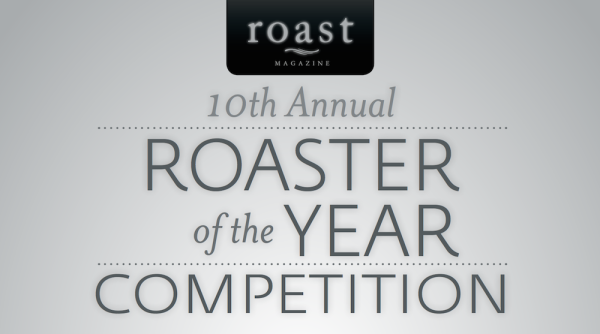 Time flies when you're roasting tons of coffee.
Roast Magazine's Roaster of the Year program is now in its 10th year, with each year surpassing the previous one in volume of quality of submissions — a reflection of some of the amazing work being done by roasters throughout North America.
Applications are now being accepted for the 2015 Roaster of the Year awards, as always in two categories: Micro (roasting less than 100,000 pounds a year), and Macro (roasting more than 100,000 pounds). PFDs of the application are currently available here: Micro, Macro. For more on the program, click here.
The Roaster of the Year awards package includes:
A full length feature story in the Nov/Dec '14 issue of Roast, a cash prize of $500 and an inclusion to the Roaster of the Year hall of fame on the Roast magazine website. Of course, there is also the associated fame and glory.
The deadline for submissions is July 31st, 2014.
Here is a list of past Roaster of the Year award winners, all of which we're proud to say are still in business while promoting community, sustainability and quality.
Past Roaster of the Year Winners
2005 winner—Counter Culture Coffee
2005 runner up—Taylor Maid Farms
2006 winner—Stumptown Coffee Roasters
2006 runner up—Intelligentsia Coffee and Tea
2006 runner up—Dillanos Coffee Roasters
2007 winner—Micro—Metropolis Coffee Co.
2007 winner—Macro—Intelligentsia
2008 winner—Micro—Higher Ground Roasters
2008 winner—Macro—Zoka Coffee Roasters
2009 winner—Micro—Coffee Klatch
2009 winner—Macro—PT's Coffee Roasting Co.
2010 winner—Micro—Kickapoo Coffee
2010 winner—Macro—Equator Estates Coffee
2011 winner—Micro—Conscious Coffees
2011 winner—Macro—Dillanos Coffee Roasters
2012 winner—Micro—Bird Rock Coffee Roasters
2012 winner—Macro—Portland Coffee Roasting
2013 winner—Micro—Olympia Coffee Roasting Company
2013 winner—Macro–Gimme! Coffee
2014 winner—Micro—Pilot Coffee Roasters
2014 winner—Macro—Coda Coffee Company
Nick Brown
Nick Brown is the editor of Daily Coffee News by Roast Magazine.