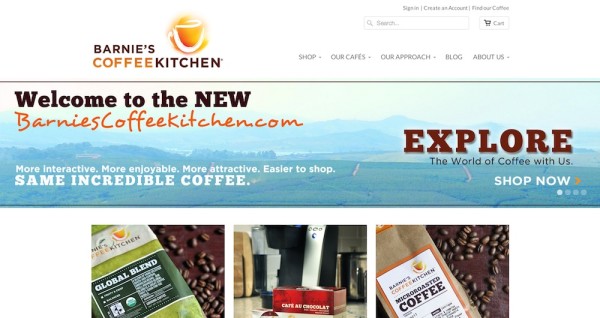 (Press release from Barnie's CoffeeKitchen. Claims not verified or endorsed by Daily Coffee News.)
Barnie's CoffeeKitchen, a 34-year leader in specialty coffee, announced today that it has launched its new website, www.BarniesCoffeeKitchen.com. The site is live, and has a completely new look and feel that will excite existing Barnie's CoffeeKitchen guests and highly engage new visitors with one of the most unique coffee selections anywhere.
With a completely updated functionality, the site utilizes the latest technology to make online shopping convenient and easy. Customer account setup is easier than ever and offers unique benefits including the new "BCKLoyalty" program, where shoppers can earn points towards savings. Navigation has been improved so that discovering more about the world of coffee is simple and fun. An improved checkout process reduces hassle and makes shopping a breeze.
To make the site more enjoyable, it is visually exciting and content-rich in both writing and photography. Since Barnie's CoffeeKitchen has a legacy in specialty coffee and cuisine, there is a new "Recipes and Ideas" area that shares insights from the company's leadership, coffee and culinary teams that are meant to enrich the lives of guests. The company's newly created blog, "BCKBlog", hosts a wealth of information and ideas from leaders within Barnie's CoffeeKitchen as well as guest blog posts from partners and icons in the food and beverage world.
New interactive features include a social media and blog feed on the home page so guests can easily join the conversation. On the "BCKblog," registered guests can share and comment on blog posts. When guests create a profile, other personalized features become available, including shopping suggestions that are matched with guests' likes and interests.
"Barnie's CoffeeKitchen is thrilled to launch our new website which is completely focused on delivering a wonderful online experience for our guests," said Jonathan Smiga, CEO of Barnie's CoffeeKitchen. "We built BarniesCoffeeKitchen.com so that guests in our online store can easily discover our rare microroasted coffee, hard-to-find origins and blends, sustainably-sourced coffee, naturally flavored coffee and beloved fan-favorites. Most importantly, we have given great attention to making it a visually appealing, interactive and an enriching experience."
The website was created in partnership with .Com Marketing, a leading digital marketing agency headquartered in Orlando, Florida. Discover more at www.commarketing.com.
About Barnie's CoffeeKitchen®
Barnie's Coffee & Tea was founded in 1980 and renamed Barnie's CoffeeKitchen in 2011, bringing its rich coffee heritage to the market in a fresh, innovative way by treating coffee as food. The company offers more than 40 hand-selected coffees, many of which are single origin, organic, Fair Trade Certified™ or Rainforest Alliance Certified™. Under the leadership of CEO Jonathan Smiga, Barnie's CoffeeKitchen now operates in three functional areas: retail cafés, its website and consumer products division. The company's cafés create an elegant, yet accessible, experience, inviting guests to elevate their expectations surrounding coffee and cuisine. The website and consumer products business offers individuals and wholesale customers a category-wide assortment of products, including packaged coffee, single-serve brew cups and a host of other items. For more information or to shop, visit www.barniescoffeekitchen.com. Follow the company on twitter @BarniesCoffee.
Nick Brown
Nick Brown is the editor of Daily Coffee News by Roast Magazine.