Murfreesboro, Tenn.-based roastery and retailer Just Love Coffee Roasters is readying three new shops for opening, with ambitious franchising plans for approximately 150 locations, primarily throughout the South, over the next five years.
"150 is just a number we've put down as a goal," says Rob Webb, who launched Just Love with a $100,000 loan in 2009 in a small warehouse, and soon after moved to a much larger Murfreesboro location after feeling some burnout from a Nashville music career. "By no means do we have all those places planned out over five years, but my partners have done something like that with another brand."
Webb declined to disclose who else is in the partnership group, saying he is one of four people representing a diversity of skill sets, including retail operations, franchising and marketing. He's the coffee guy.
The first three new locations — one planned for just off Music Row in Nashville, one in Brentwood, Tenn., and another in Huntsville, Ala., that will be co-branded with Gigi's Cupcakes — are not part of the franchise model, but all three are expected to open this Spring. Webb says the performance of those stores and 10 to 15 other Just Love-branded stores in the South will guide the scope of further development.
Webb tells Daily Coffee News that he never set out to be in the retail game, but unlikely success developing a retail component at the Murfreesboro roastery has made market demand clear.
"It's in a horrible location — on the back side of the building in a part of town that does not have a lot of commercial retail," Webb says of the Just Love HQ. "We never intended to be a retail store. We started as a roaster. It was an online model only, and we really focused on supporting adoptive families and nonprofits. That was really the model. We outgrew our first facility and grew to a 2,400-square-foot facility. People would just kind of trickle in wondering what we did. About six months in, I realized I should have built a coffee shop there."
The new stores will largely replicate the retail plan of the original Just Love location, offering all manner of cutting-edge manual brewing equipment, alongside a more traditional bar for a wide range of coffee, espresso-based drinks. The food menu is based around the use of waffle irons, where sweet and savory items are created throughout the day (only four of the 20-something waffle iron items actually have waffle batter in them, Webb notes).
Webb suggests Just Love's success in an out-of-the-way location in a market like Murfreesboro is predicated on an inclusive approach: If you want a rare, single-origin Ethiopian coffee brewed in an Aeropress or a nitrogenated cold brew, you can have that; If you want a syrup-sweetened, milk-heavy latte, you can have that, too.
"We are going to give the customer what they want, and we're going to make it the best we possibly can," says Webb. "We're not going to tell them that something is right and something is wrong. How do you tell someone who's eaten chicken nuggets their whole life that a whole roasted fresh chicken tastes better. You can't. They like chicken nuggets. They grew up with them. Nobody instantly likes wine. Nobody instantly likes black coffee."
That's not to say Just Love tries to offer everything to everyone, but Webb hopes anyone who walks into the shop can find something appealing on the menu.
"There's a place for being uncompromising in coffee quality — for being cutting edge," says Webb. "Barista Parlor in Nashville does a brilliant job of what they do. They really captured a market, and I frequent them, because I'm a coffee guy. But if I can create a similar experience at Just Love and I can bring a friend along who doesn't know coffee like I do, and they come away with a new coffee experience, then I think I've done a service."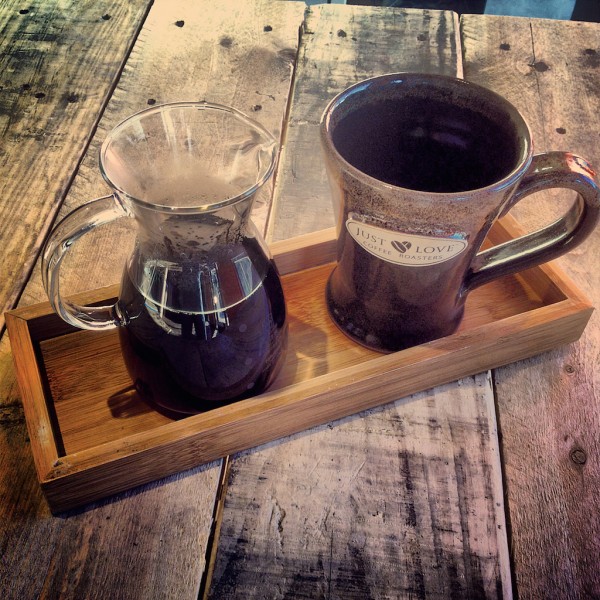 Webb says a large part of that service and drink menu approach is simply driven by demand.
"In coffee, I think roasters and retailers need to have a specific purpose: A third-wave shop needs to offer a high-end, perfect-quality service; then there are big box shops that are just driven by the dollar, and they do what they do," Webb says. "I've found there was something missing there. We're in the South, where it's not exactly cutting edge. We're not New York, or LA or Seattle. We have people who come in and say 'I just want a regular cup of coffee.' You have to shift gears to speak to that."
Webb and his various ownership partners are currently working with Paul Biggers of Nashville-based nFusion Design Studio. The existing roastery will supply the new shops, although Webb says he is in the process of upsizing to a 50-kilo Dietrich roaster to help spell the 12-kilo Probat that has been "running around the clock."
As for the longer-term retail development plans, Webb says, "We've had interest all over the map, but the hardest thing to do is just to say no when opportunities arise. Just in the bordering states of Tennessee, there's plenty of market opportunity."
Nick Brown
Nick Brown is the editor of Daily Coffee News by Roast Magazine. Feedback and story ideas are welcome at publisher (at) dailycoffeenews.com, or see the "About Us" page for contact information.