In print, to begin a new paragraph is to begin a new idea. It signifies the end of an introduction or the beginning of a conclusion. It pauses the reader, and generally serves as a pivotal point in any kind of narrative or treatise.
A pilcrow is the typographical symbol used by editors to indicate where a paragraph break occurs. It's also the name of a new coffee roaster and retailer in Milwaukee, Wisc., whose fresh brick-and-mortar tasting room at 1739 N. Martin Luther King Jr. Dr. in the city's Bronzeville neighborhood represents an important pivot on coffee's path from farm to consumer.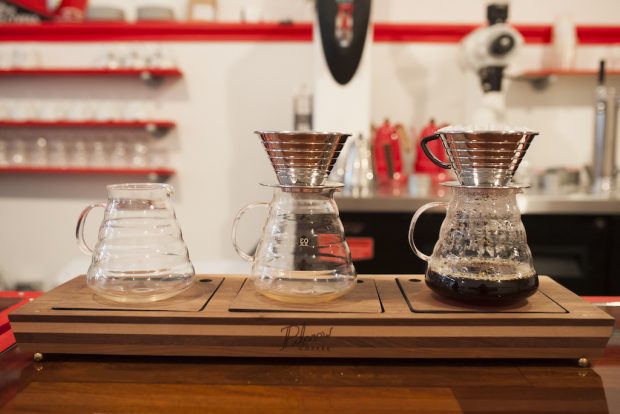 "When you're sourcing your own coffee, and you're also serving that coffee, you are seeing that coffee through most of that chain," Pilcrow Coffee owner Ryan Hoban told Daily Coffee News. "There's a lot of work that gets done before I touch it. I get that and I appreciate that so much. But then I see it through from roasting to brewing it, and that's not easy either."
It was a few years back in Chicago while using the Ipsento Coffee shop as his window-washing company's de facto office space that Hoban discovered his true passion for craft coffee culture. He pursued an apprenticeship there, learning the ropes under Ipsento owner Tim Taylor, during which time an unexpected personnel shuffle had him roped into actual employment at the roastery.
"I was going to start Pilcrow three years ago here in Milwaukee, and then Tim at Ipsento wanted me to take a job," said Hoban, adding that it couldn't have been a more beneficial, educational detour.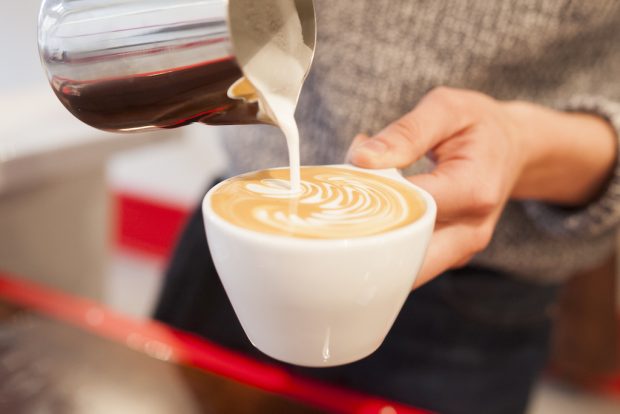 Hoban cut his teeth on the Ipsento Diedrich, honing skills in roasting and sensory analysis. He traveled with Taylor to Rwanda and Panama, learning volumes about cupping, sampling, and the ins and outs of sourcing. Then, upon returning to Milwaukee to set roots and start up, he continued to roast on Ipsento's machine during their off hours for Pilcrow's stylistic R&D purposes, to supply the early Pilcrow pop-ups and to send samples to prospective wholesale clients.
Pilcrow's own Diedrich IR7 arrived back in September at their Bronzeville facility, where an 1,800-square-foot production warehouse adjoins the 700-square-foot storefront. A wall with doors separates the space for now, though Hoban said he'd like to eventually have an operational garage door be the separator.
"Originally we got into this thinking we were just going to do production out of it," Hoban said of the space. "Then the neighborhood got really excited about a coffee spot going in. Then, as all businesses do, we evolved with the market a little bit even before we got into the market."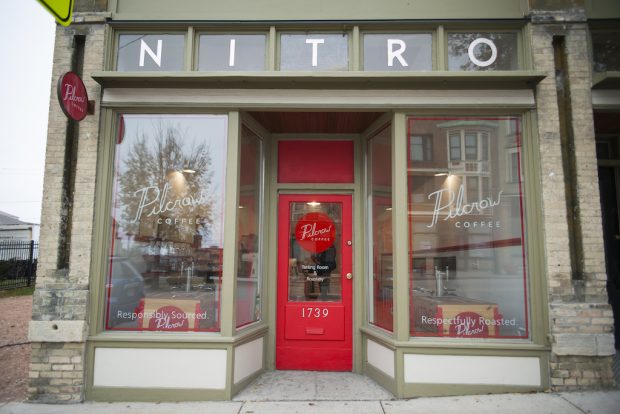 They realized early on that they'd need a coffee service set-up for training wholesale clients anyway, so the decision was made to put that same set-up to work serving the public to the best of its ability. That bar is now centered on a single-group Slayer paired with a Mahlkönig Peak grinder. Two white Mahlkönig EK43 grinders stand tall for filter brew both manual and Fetco, while an inventive multi-method cold coffee will be served on tap.
Two nitro-tapped service trikes are also getting set to spread the cold coffee and the brand around town. Pilcrow's cold coffee is the combination of a 16-hour-steeped concentrate blended with a flash-chilled hot brew that's kegged, nitro-infused, shaken vigorously to better integrate the gas for a more vivid cascade effect in the cup, and then chilled for another 48 hours before tapping. It's a recipe Hoban said he developed along with Taylor back at Ipsento.
"Tim hated cold brew, like so many others in the specialty world," Hoban said. "And I get why, but it's not going away, I don't think. It's a gateway drug for specialty coffee."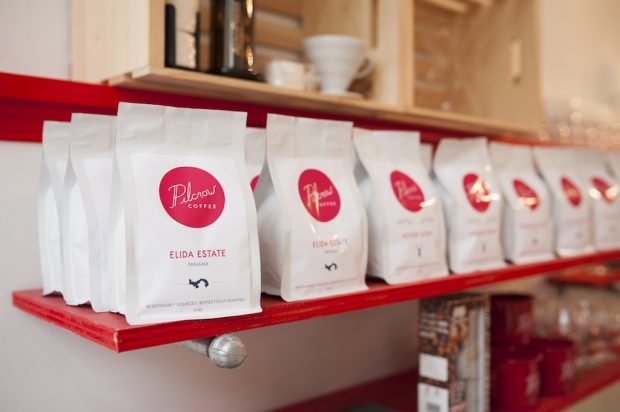 So together they came up with a recipe that got the best of both worlds, combining flash-chilled hot brew with the body and chocolates of cold brew, and yet the Chicago café didn't have enough space in their production area to scale up the whole procedure. Ipsento went instead with a pure flash-chilled brew for their nitro product. "We never were able to execute our favorite recipe at Ipsento. So I'm taking it, and doing it now," laughed Hoban.
Green coffees for Pilcrow are coming at first through the same direct trade relationships he helped established at Ipsento, with the exception of a Guatemalan bean brought in by Onyx Coffee, though Hoban hopes to get to Guatemala himself sometime in February of 2017. His inclination in browning them is to develop the sweetness as fully as possible, which is a position he evolved into over his time at Ipsento.
"When I landed there I was trying to be really cool and trendy and push everything super light," said Hoban. "And I slowly learned what development does to coffees, and just really fell in love with well-developed coffees."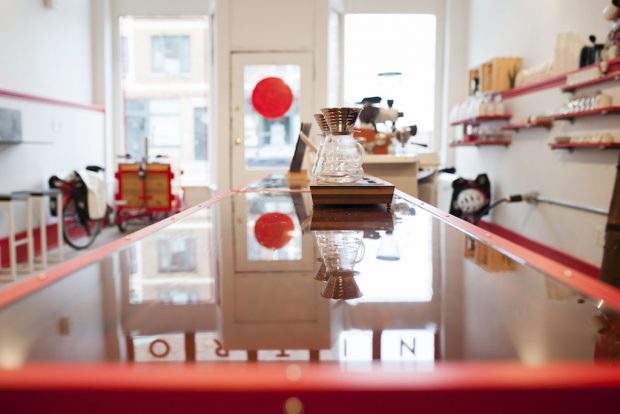 Pilcrow is currently doing a public soft-open season in the tasting room Fridays, Saturday and Sundays from 8 a.m. to 2 p.m., which they hope to expand to more days and hours as demand increases. They've also taken on a few small wholesale accounts around the Milwaukee area and at Everybody's Coffee in Chicago. Roasting is expected to go live in the backroom by the spring of 2017.
From there Hoban hopes to grow the Pilcrow Coffee wholesale department and eventually add a 12-kilo Probat to the production line, all while forging more and deeper direct trade relationships.
"What gets me excited about coffee is that relationship at the beginning of the chain, working with farmers, getting to know their lives, and then communicating that story at the end of the chain," said Hoban. "Especially in a market like Milwaukee where it's slowly just starting those kinds of conversations, we hope to help bridge that gap."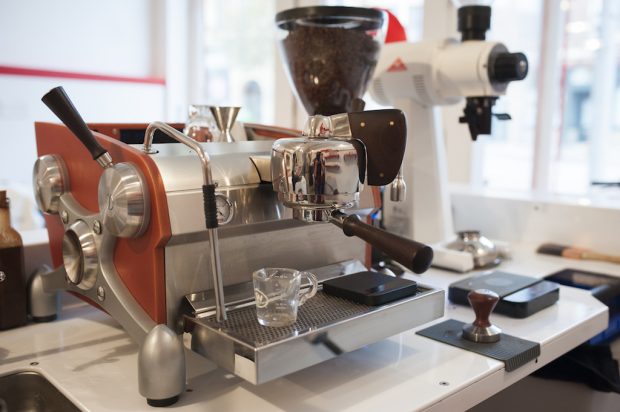 Pilcrow Coffee is located at 1739 N. Martin Luther King Jr. Dr. in Milwaukee. 
Howard Bryman
Howard Bryman is the associate editor of Daily Coffee News by Roast Magazine. He is based in Portland, Oregon.