Both in physics and in business, force and momentum are very different things. When a seasoned specialty coffee professional with decades of experience roasting, sourcing and training moves into an underserved market and starts a new company, there's certainly a lot of momentum there, but it isn't forced.
Q-grader, SCA-accredited Lead Instructor and immediate former chair of the Roasters Guild Allen Leibowitz left his position as founding partner and roastmaster of Ann Arbor, Mich.-based Zingerman's Coffee when he moved recently to Houston, Texas, where he was surprised by what he discovered as a new resident of the sprawling central Lone Star metropolis.
"Both by population and geographically, it's gigantic. You could travel 60 miles, end to end, and still be in Houston," said Leibowitz. "And it was shockingly underserved by small roasters and independent cafes."
And so by virtue of the fact that you can never keep a good coffee person down, a new business, Momentum Coffee, has emerged with Leibowitz and partners Tia Hoffman, Ethan Elms and Kat Newman at the helm.
"Our goal is that we want to have best-in-class product, best-in-class coffee, best-in-class service, and we want to be a welcoming part of our community," said Leibowitz. "We may start roasting again, but it won't be until we get the café running really the way we want it."
In the Houston suburb of Spring, Texas, Momentum operates an enthusiastic multi-roaster program in part for the excitement of variety and to introduce local consumers to the wider world of micro-roasters both local and from farther afield. For Leibowitz, it's also in part for the fun of being able to work with a wider array of industry friends, those fellow roasters he's come to know over the years but with whom he's never had the pleasure of doing business.
Some of them are well known — Intelligentsia, Mojo Coffee Roasters of New Orleans, Zingerman's of course — and some he hopes to help make better known. "I think there are some unsung heroes in the roasting world, and I want to do my best to given them a little bit of a spotlight," said Leibowitz, citing Topeca Coffee Roasters of Tulsa, Ok. and Vermont Artisan Coffee as a couple that he finds particularly impressive and worthy of wider appreciation.
Another is a local start-up called Vertere Coffee Roasters, based in Porter, Texas, only about 20 minutes from the café. Said Leibowitz, "The guy's only been roasting for two years, and he is doing a spectacular job."
Next week Leibowitz is excited to make space on the bar for offerings by fellow Houstonian Greenway Coffee. "They're really strong barista competitors," said Leibowitz. "He's not as well known for his roasting, but he's an excellent roaster."
Again, with so much quality available in Texas and farther afield, Leibowitz is content for the time being not forcing his way back into the roasting game.
"Roasting works well in scale, but there are so many people here who are doing a great job. I can work with them and get exactly what I want, and kind of help them out at the same time," said Leibowitz, adding, "I really love roasting. But it's been a good experience being able to work with people I've known for years in the industry, being able to source some of their coffees. It's fun. I don't know if I prefer it, but I can tell you I'm very much enjoying it."
For serving all these outstanding coffees, Momentum has a 3-group former Linea that Leibowitz and friends — including Marty Roe of Service Call in Kansas City, Mo. — have thoroughly Frankensteined to include PID temperature control, volumetrics, pressure control, and a custom paint job.
"Fixing machines has been a hobby of mine for about 15 years," said Leibowitz, who's also a strong proponent of the consistency of batch-brewing over single-cup manual brewing, though Momentum offers both. The shop runs the gamut of manual methods, while larger batches are ground on an R2D2-like Mahlkonig VTA6 and brewed by a Curtis G4 brewer.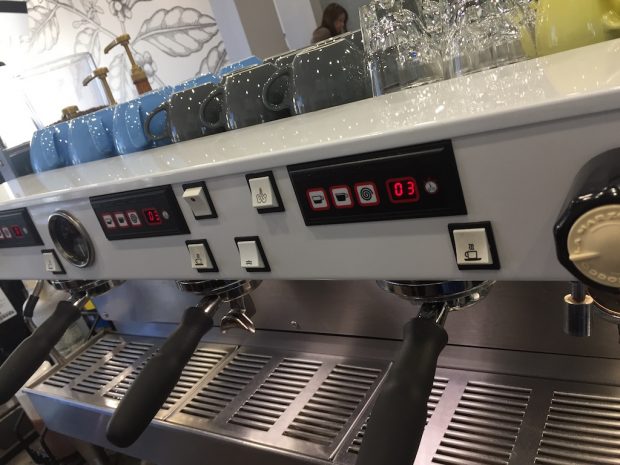 The café is also equipped with a state-of-the-art, high-volume and finely-tuned reverse osmosis filtration system that keeps every drop of consumable water, including ice and straight drinking water, within the SCA range of specific quality, pH and mineral makeup. Leibowitz said the system is robust enough to facilitate brewing as much as 30 gallons of coffee per hour, which allows them to fill large-volume orders for meetings and catering purposes. Next month they'll be bringing in a chef to "punch up" a fresh food menu, and beyond that, Momentum Coffee will carry itself forward at its own natural pace, unhurried and unforced.
"We're coffee people that are in the coffee business. We're not investors who are business people and decided to get into coffee," said Leibowitz. "It's not our goal to expand. But we will look at very careful, very slow expansion."
Momentum Coffee is open at 3555 Rayford Road in Spring, Texas.
Howard Bryman
Howard Bryman is the associate editor of Daily Coffee News by Roast Magazine. He is based in Portland, Oregon.