Bruce Constantine and his small team at Vancouver's 9-year-old coffee company Espro raked in nearly $84,000 last year during a Kickstarter campaign (with a $15,000 goal) to support the manufacture, distribution and marketing of their 32-ounce "micro-filtered" French Press.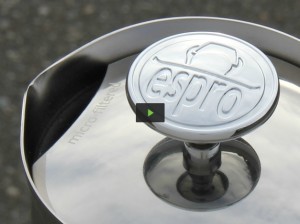 Last month, the company went back to the well, turning to Kickstarter to help support the development of a smaller, 18-ounce version of the Espro Press. Would it work? The answer was a resounding yes, as the group beat its $10,000 goal in just two days. (As of this writing, backers had pledged more than $31,000 toward the project with 45 days still to go in the Kickstarter campaign.)
Does this type of success a second time around speak to the quality of the product? Perhaps (full disclosure: I have not yet tried the Espro Press). Constantine describes the product as having an "innovative" double filtration system that is "nine to 12 times" finer than other French Presses on the market. "Both filters allow the floating aromatic and flavorful oils to seep into the cup, resulting in ultra-clean, full-flavored aromatic coffee without the grit," the company says in a description of the product.
But Constantine must have felt some trepidation before heading back to Kickstarter, as the company's second campaign devotes no less than 1,200 words trying to justify Espro's return to the crowd funding platform.
"We have noticed a variety of discussions — particularly in the coffee community that Espro has been active in for 8-9 years — asking a simple question: Why does a seemingly mature company need Kickstarter?" Constantine wrote. "While I can imagine the answer being different for each company, I do think it is important for each of you that care about supporting grass roots innovation to understand our reasons for coming back and – genuinely – asking for your support again."
You can see those reasons and check out the full campaign here. But the question is, does a company like Espro need reasons beyond "Consumers and other private investors are interested in the product and happy to give us cash"?
Nick Brown
Nick Brown is the editor of Daily Coffee News by Roast Magazine.