Ten independent coffee shops throughout Boston have collaborated to create the Disloyalty program, telling the city's coffee drinkers, "We want you to get around." Patrons can pick up the "disloyalty card" at any of the participating shops, which will provide a free drink after eight drink purchases at any of the participating locations.
Not only is this collaboration bound to be good for consumers and the retail shops alike, it's downright inspirational to see such a high-charging roster of coffee companies come together. The indie consortium has set up the barebones DisloyaltyBoston.com site, and participating shops include: Voltage Coffee & Art, Sip Cafe, Pavement Coffeehouse, City Feed and Supply, Barrington Coffee Roasting Company, Blue State Coffee, Render Coffee, Ula Cafe, Flat Black Coffee Company and Equal Exchange Cafe.
While we wish Boston luck, the disloyalty card concept for independent cafes is not a totally new concept. Former World Barista Champion Gwilym Davies first introduced the concept in London in 2010, and the Malaysian creative agency Antics spearheaded a similar disloyalty campaign among independent shops in Singapore in 2011.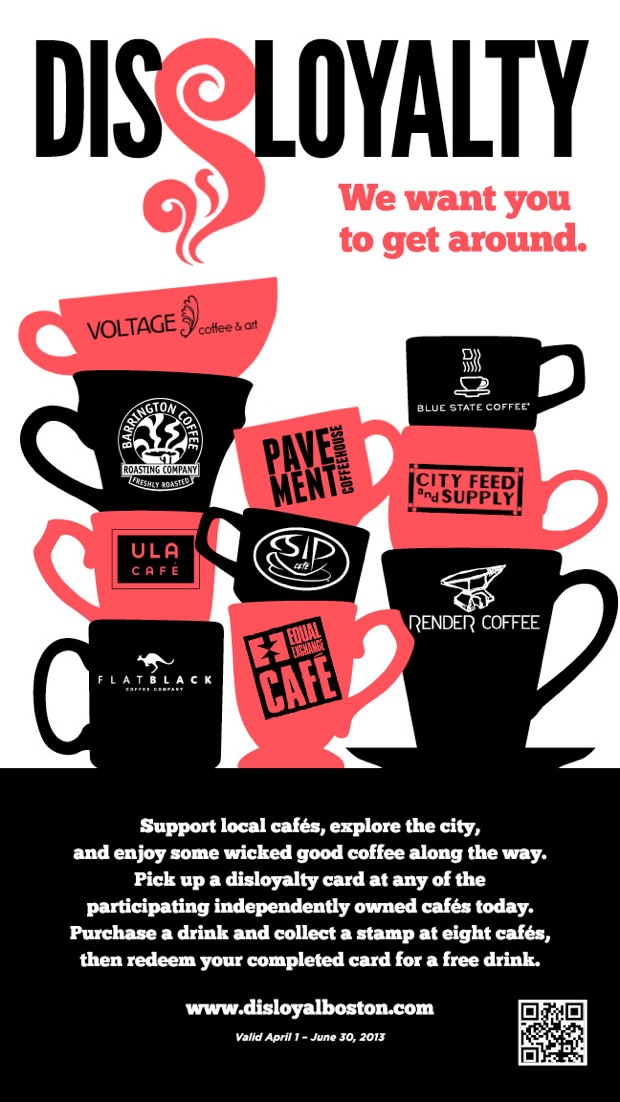 Nick Brown
Nick Brown is the editor of Daily Coffee News by Roast Magazine. Feedback and story ideas are welcome at publisher (at) dailycoffeenews.com, or see the "About Us" page for contact information.