While Joh A. Benckiser Group (JAB), the German owner of Peet's Coffee & Teas and Caribou Coffee, has remained tight-lipped about the conversion of 88 Caribou stores to Peet's stores, some are wondering if the change might result in a massive downgrade in corporate sustainability practices.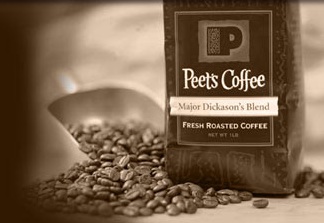 The conversion of those stores is in addition to the closing of some 160 Caribou locations — representing more than a quarter of the total number of Caribou-branded shops in the U.S. — in numerous Midwest and Southern states.
University of Michigan bird ecologist and editor of Coffee & Conservation, Julie Craves, for one, says the conversion from Caribou to Peet's may represent a kind of philosophical change regarding sustainability. As a company, Caribou has made great strides over the years in its corporate sustainability plan, ensuring that all of its shops have recycling programs, and that all of its coffees are 100 percent Rainforest Alliance-certified. Such initiatives have not been priorities at Peet's, Craves suggests in a recent piece:
Peet's is not a major purchaser of Rainforest Alliance coffee, or much of any certified coffee, for that matter. Of the 34 varieties currently listed on its website, only one is certified organic, while one is Fair Trade. Peet's is also known for their very dark roasting (29 of the 34 are designated as "deep roasts") and rather generically-labeled blends and "single origins." Just what we need — more over-roasted mystery beans.
Craves goes on to question JAB's 15 percent in the Dutch company  D.E. [Douwe Egberts] Master Blenders 1753, one of the largest coffee buyers in the world. As reported here, JAB is currently in negotiations to take over more of the Dutch company. What might that mean for responsible buying practices? Craves writes:
The Douwe Egberts certifier of choice is UTZ Certified, not a bad certification, butvery lean on environmental criteria and thus one which I do not consider an eco-certification. In 2012, Douwe Egberts sourced 65,000 tons of UTZ Certified coffee. Their goal is to have 25% of their coffee purchases "certified as sustainable" by 2015. Douwe Egberts gets a "D" grade on sustainability from RankABrand.
Fore Craves' full post, visit Coffee & Conservation
Nick Brown
Nick Brown is the editor of Daily Coffee News by Roast Magazine.