Kyle Glanville and Charles Babinski, who recently opened the G&B coffee bar in the Grand Central Market in downtown Los Angeles, will soon be opening a second coffee bar, Go Get Em Tiger, in Larchmont Village.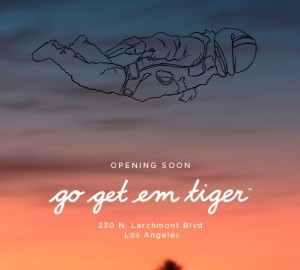 "Feels a lot like Thursday for opening," G&B tweeted last night. "People of Larchmont! We can not wait to serve you!" The new shop will be inside a renovated Baskin Robbins ice cream shop location on 230 North Larchmont Blvd.
"When we began G&B almost a year ago, we knew there were two distinct concepts we wanted to pursue — the reserved and elegant G&B Coffee and another brand with so much energy it bursts at the seams," the G&B team recently wrote on its Facebook page. "Today, after dodging this question for months, we proudly give you Go Get Em Tiger, which is opening really, really soon."
The Los Angeles Times recently sat down with Glanville and Babinski to discuss the new shop, which they said will have more of a wine bar feel:
Glanville says he and his partner, Charles Babinski, in some ways set out to achieve the feeling of a wine bar. The La Marzocco espresso machine is all the way at the back of the space. "We are sort of embracing and evolving this notion of maybe the espresso, maybe the coffee prep, is back of house and there's a real front of house sentiment. We wanted to create an environment in which you order something from somebody who takes some time to make contact and greet you well."
For more:
Nick Brown
Nick Brown is the editor of Daily Coffee News by Roast Magazine. Feedback and story ideas are welcome at publisher (at) dailycoffeenews.com, or see the "About Us" page for contact information.