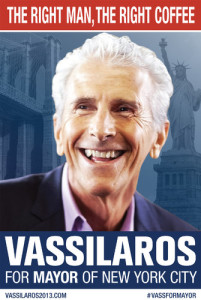 New York's Vassilaros & Sons, a 95-year-old Flushing-based company specializing in wholesale accounts to restaurants and diners, is turning to politics.
John Vassilaros, the company's president since the 1960s, is running for mayor of New York., with the slogan, "The Right Man, The Right Coffee." Vassilaros has even gotten the endorsement of comedian Lewis Black, who voiced his support for Vassilaros in the video below.
So what's driving this mayoral candidacy? Coffee sales. In fact, it's not a candidacy at all, but rather a mock candidacy and a rebranding designed to increase the company's public profile and sales direct to consumers. Vassilaros & Sons worked with the New York ad agency NSG/SWAT on the appoximately $1 million campaign, creating videos, slogans, posters, and even pictures of posters. In the end, it's about the coffee. Here's more from the campaign:
John Vassilaros is a real New Yorker. As a businessman, he makes deals on a handshake. As the third generation owner of Vassilaros & Sons Coffee, he's been serving New Yorkers longer than any other candidate.

Vassilaros Coffee is not hipster coffee. For nearly 100 years, all New Yorkers have been drinking Vassilaros & Sons Coffee. It is the authentic New York City Coffee. Your life needs it.
Nick Brown
Nick Brown is the editor of Daily Coffee News by Roast Magazine. Feedback and story ideas are welcome at publisher (at) dailycoffeenews.com, or see the "About Us" page for contact information.