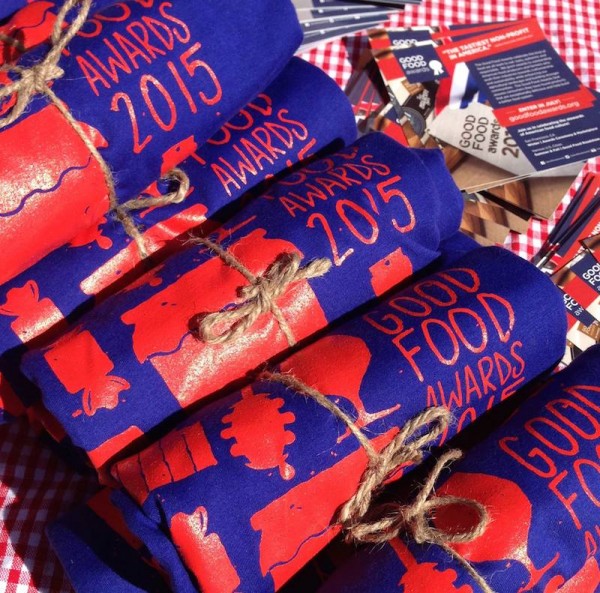 The Good Food Awards, now in its 5th year as a leading awards program that places equal emphasis on quality and responsible food sourcing, recently announced the 2015 finalists in the coffee category, including 26 coffees from 26 roasters in 15 U.S. states.
Winners of 2015 Good Food Awards will be honored at a January ceremony and gala in San Francisco, receiving the awards directly from the skilled knife hand of renowned progressive chef and food activist Alice Waters. Fifteen coffees from 14 roasters took home awards last year.
Following the 2014 awards, we received numerous questions along the lines of "How does this thing work and how do I win?" We attempted to answer those questions by reaching out to someone far more knowledgeable, Blue Bottle Coffee head roaster and Good Food Awards Coffee Committee Chair Jen Apodaca. See that interview here. 
Here are your 2015 finalists, from Bean Fruit to Verve:
Bean Fruit Coffee Co., Ethiopia Yirgacheffe Chele'lektu, Mississippi
Blue Bottle Coffee, Ethiopia Sidama Homacho Waeno, New York
Buddy Brew Coffee, Ethiopia Yirgacheffe Aylele, Florida, Florida
Cafecito Organico, Nuevo Montecisto Huehuetenango, California
Case Coffee Roasters, Kenya Muthonjo AA, Oregon
Commonwealth Coffee, Ethiopia Yirgacheffe Konga, Colorado
DOMA Coffee Roasting Company, Ethiopia Suke Quto, Idaho
Four Barrel Coffee, Ethiopia Bulga, California
Flying Goat Coffee, Ethiopia Kochere, California
Gimme! Coffee, Honduras Las Penitas, New York
Kaldi's Coffe Roasting Co., Ethiopia Dama, Missouri
Kuma Coffee, Panama Carmen Estate, Washington
Madcap Coffee, Ethiopia Reko, Michigan
Magpie Coffee Roasters, Kenya Gondo AB, Nevada
Metric Coffee Co., Ethiopia Yirgacheffe Grade 1 & Kenya Kayu AB, Illinois
Metropolis Coffee Co., Ethiopia Sidamo Suke Quto & Ethiopia Yirgacheffe Aylele,Illinois
Montana Coffee Traders, Ethiopia Sidama Shilicho Red Cherry Project, Montana
Noble Coffee Roasting, Ethiopian Shilcho, Oregon
Onyx Coffee Lab, Julio's El Zapote Gesha, Arkansas
Panther Coffee Roasters, Kenya Kirura, Florida
ReAnimator Coffee, Ethiopia, Aramo, Pennsylvania
Square One Coffee, Ethiopia Kore Kochore, Pennsylvania
Verve Coffee Roasters, Elida Estate Green-Tip Geisha, California
Nick Brown
Nick Brown is the editor of Daily Coffee News by Roast Magazine. Feedback and story ideas are welcome at publisher (at) dailycoffeenews.com, or see the "About Us" page for contact information.