Having called it home for two years in a previous life, I have a soft spot in my heart for Manchester, N.H., a city where the vestiges of a severe post-industrial hangover are visible in the forms of abandoned and occasionally redeveloped red brick mill buildings lining the Merrimack River.
It is also the kind of place where you can get the world's best chicken parm sandwich for $5 from an unassuming corner shop, or you may find yourself irritated with the busier-than-normal lunchtime line at Pappy's Pizza caused by one of the presidential hopefuls in the endless parade leading up to the primaries.
Outside of a few independent roasters, specialty coffee retail in Manchester has largely existed in the shadow of New England king Dunkin' Donuts. In this shadow, Amherst, N.H.-based A&E Coffee Roastery has opened its second shop, tucked into a plaza along the city's main downtown artery, Elm Street.
"Although there is a lot of coffee consumed in Manchester, hardly any of it is considered specialty grade," says A&E owner and licensed Q-grader Emeran Langmaid. "We face a challenging environment. People here are traditionally slow adopters, and fiercely loyal once that loyalty is gained."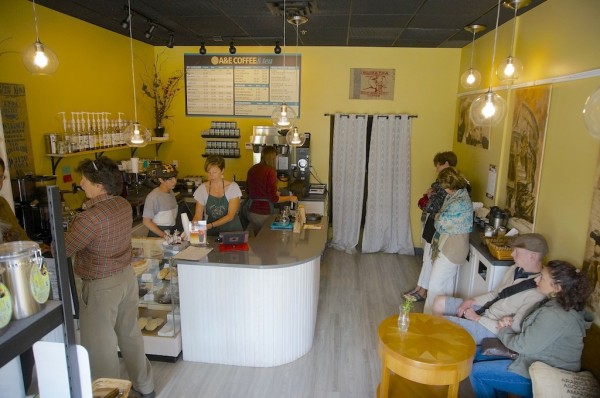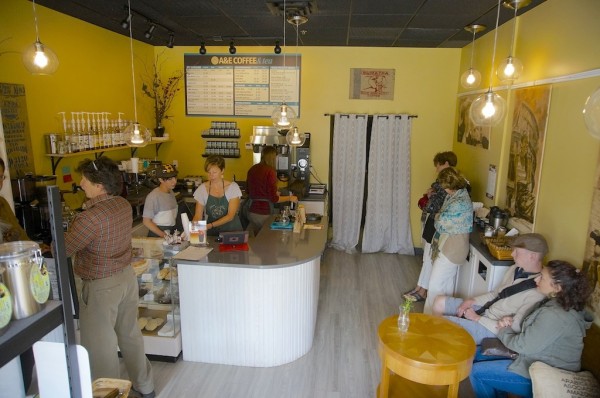 The shop's primary mission is to "showcase the complexity and quality of coffee and tea," and in doing so, it hopes to tap into some of that fierce loyalty.
"We take an overarching view as ambassadors of specialty coffee," Langmaid tells Daily Coffee News. "We do engage customers in the craft and quality of coffees, but on a non-condescending level."
The shop's drink menu consists of a range of traditional espresso beverages prepared with a three-group La Marzocco FB70, filter coffees and coffees brewed in a pourover bar. All the coffee comes from A&E's Amherst roasting headquarters. Says Langmaid, "Interestingly, the Manchester cafe has more people purchasing pour-overs than or more established Amherst cafe."
In addition to the more standard fare, A&E Manchester is also offering rotating specialty espresso drinks line, including a latte with homemade caramel that has been infused with Rosemary, and a latte with turmeric, cinnamon and sweetened coconut. Says Langmaid, "The mixology approach to our beverages and the transparency in sourcing and quality in roasting all give us a nice distinction from other roasters and cafes."
Of course, time will tell whether such distinctions translate into loyalty. Langmaid is frankly cautious with his expectations for the Manchester shop.
"I think a big challenge for us is, we look within our own walls and compare ourselves to other roasters and cafes within the specialty community nationwide," says Langmaid. "On that level, we are doing a fantastic job. But, we could fall into the mentality of, 'We are doing all these amazing things. People will be lining up to get inside.' It's not that way here. Just because you build it, does not mean people will come."
Nick Brown
Nick Brown is the editor of Daily Coffee News by Roast Magazine. Feedback and story ideas are welcome at publisher (at) dailycoffeenews.com, or see the "About Us" page for contact information.