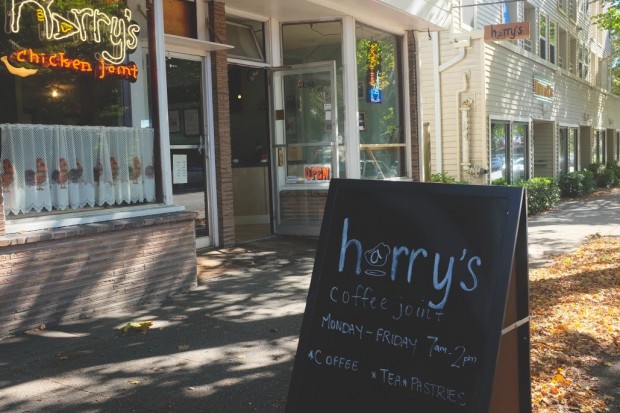 Given their potential to keep a compact footprint and shut neatly down in off hours, coffee popups make for tidy co-ventures alongside and within other existing businesses. Seattle has its share, including coffee bookstores, a coffee postal-and-shipping store, barber shop coffee services, and more. As of this week, the much-loved Harry's Chicken Joint in the Morgan Junction area of West Seattle now has a fresh coffee flipside to its coin: Harry's Coffee Joint, open 7am to 2pm on weekdays.
At the helm of the new coffee program is a team that includes Catherine Cougan, daughter of Bruce Cougan, owner of Harry's Chicken, and Jared Harkness, who met the younger Cougan as roommates in a shared Seattle apartment. There they discovered a mutual obsession with coffee — one that led them to try roasting at home, in the oven.
Initially they started packaging the coffee for friends and family under the banner of Goodness Gracious Coffee Company, which remains an active side-project. Drinkers loved the results, and so they've scaled up, slightly to serve the general public at their own coffee counter inside the chicken joint.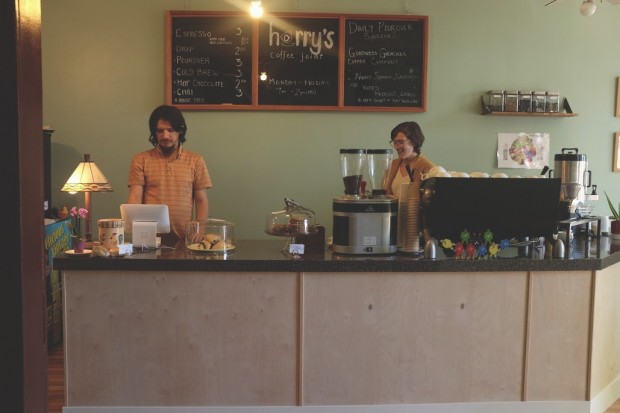 "For Harry's Coffee Joint, we're doing it the same way in the oven, in very small batches," Harkness told Daily Coffee News. Harkness and Cougan roast half-pound batches on a perforated baking pan inside Harry's commercial-grade oven set to 500 degrees. They monitor each batch's progress vigilantly, agitating the beans manually and frequently. "It's not a perfect process, but it's a fun thing that we really like to do."
Sourcing small quantities of greens from Portland's Mr. Green Beans, the duo keeps their pourover roasts on the lighter side and tend to go a bit darker to bring out the chocolates in coffees bound for cold-brew. "I don't think there's anything about it that we'd say makes it a superior method of roasting. It's more just an interest that we have in trying to do things ourselves," said Harkness, adding that a regular commercial coffee roasting machine would be great, but isn't in the cards right now, financially.
Harry's Coffee Joint also serves espresso roasted by the Vashon Coffee Company on Vashon Island, just across the Puget Sound. They prepare that espresso on a commanding Slayer espresso machine — another hometown connection. "It's cool to be able to support the local industry," Harkness said, noting that Catherine Cougan is actually acquainted with one of the Slayer craftsmen responsible for the machines' wood detailing.
And yet it was ultimately the machine's advanced functionalities that appealed to them most. "We're both really curious and exploratory people by nature, and I think that really is a machine that rewards that kind of mindset." The espresso menu display is kept aesthetically compact, providing simple options such as "espresso" or "espresso with milk" while letting personal interactions fill in the blanks of what size and style of milk-drink a customer might want. The coffee shop shares one table, a window counter, and an L-shaped lunch counter with the chicken shop, with earlier but inevitably overlapping hours of operation. In that situation, it helps to keep their details simple, tidy and solid.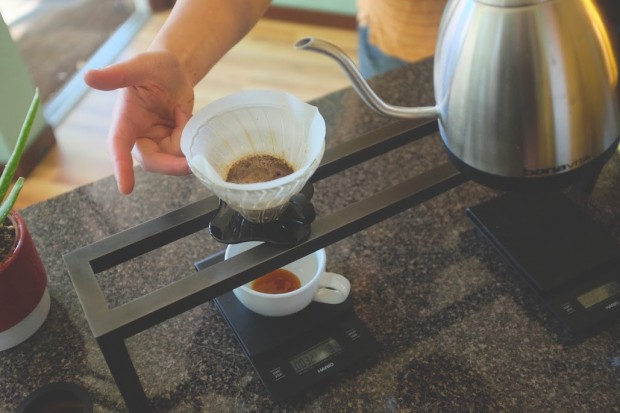 Having just opened on Monday, September 21, the Harry's Coffee Joint team is focused on gaining sure footing and mastering their environment as it currently stands. "Expansion isn't our goal right now," said Harkness, noting that in the long run, it's not impossible that they'd consider branching out into an additional standalone Harry's Coffee Joint someday.
In the short-term, however, that kind of planning is shelved, so as not to let anything interfere with the pursuit of top quality coffee in the here and now. "Quality is really important to us," said Harkness. "Above all, we want to make sure that we're doing what we're doing the best that we can."
Howard Bryman
Howard Bryman is the associate editor of Daily Coffee News by Roast Magazine. He is based in Portland, Oregon.