With a population hovering around 5,000, McGregor, Texas sits on the western edge of McLennan County, a short drive down Highway 84 from its nearest big city, coffee-rich Waco.
Surrounded by farms and ranches — with the notable exception of a rocket engine testing and development complex owned by aerospace manufacturer SpaceX — McGregor may seem an unlikely place for a quality-focused coffee roasting operation. Nonetheless, former barista colleagues turned business partners Dylan Washington and John David Beard have set up shop there under the name Pinewood Roasters, opening earlier this year with a Diedrich IR-12 in a 120-year-old former Masonic Lodge just off Main St. at 403 W. Second St. Said Washington, "We got the Diedrich in March and it just felt like Christmas had come to McGregor in the Springtime."
Calling McGregor home, and with several years of work experience in the Waco coffee scene, the business partners are taking a fiercely local approach, hoping to help turn McGregor residents on to quality coffee, while developing wholesale accounts on a regional level.
"As far as McGregor goes, that's where JD and I are trying to push the third wave and push the kind of coffee we believe in," Washington told Daily Coffee News. "It is a battle, and it is kind of exhausting. We're not going to roast it any darker, but we will do a lot of education and say, 'hey, this is why we do what we do.'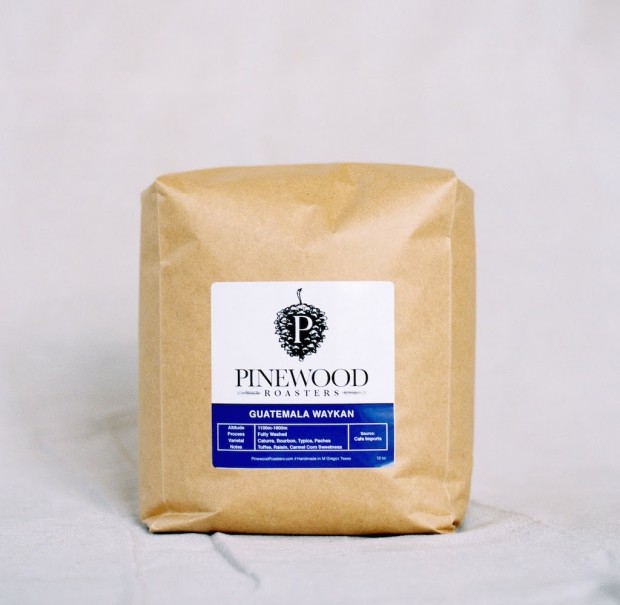 Rewarding are the "ah-ha" moments, when consumers new to higher-end coffee find some personal connection. "It's a lot of fun to get that corn farmer who comes in and says, 'what the heck is this? It tastes like strawberry jam and hibiscus. I've never even tasted hibiscus,'" Washington said. "But when they hear us explain that it's the best representation of what a farmer produced, they really like that idea. It doesn't happen a lot, but it's happened with farmers and ranchers here."
Washington and Beard have been routinely opening the roastery to the public for cupping and tasting events about once a month. Said Washington, who met Beard while working at the Waco multiroaster café Common Grounds, "That allows us to be baristas again."
Washington said that when he worked as a barista, he noted roasters were often given "rockstar-like" reverence within professional circles, and that he and Beard hope instead to present their roastery in a down-to-earth, approachable manner, using some of the people skills they've developed as baristas. "We get really excited about the service side," said Washington. "Our edge is cultivating really strong relationships on both sides of our industry, either on the cafe side or with our green coffee."
Green coffee is currently coming largely through Minneapolis-based importer Cafe Imports and representative Matt Brown, who Washington and Beard met while at a roasting seminar put on by Diedrich.
"We look for coffees that shine completely on their own — we try not to touch it too much," said Washington. "On the cupping table at Pinewood, if we have the slightest sense that maybe this is not the strongest coffee, we'll pretty much throw it out. On the other hand, if we believe in a farmer's story, and we can get the coffee to a place that is good enough, then we'll definitely pitch in."
Coffees tend to be roasted lighter than most McGregorans may be accustomed to, although the approach varies with each green. "Our roasting style is pretty minimalist," said Washington. "You will rarely find a coffee at Pinewood that tastes contrived — like we've worked it to a pulp. That doesn't just mean, for lack of a better term, dark. I've seen coffee that looks really good but they seem like they've been worked dry."
In addition to a rotating selection of single-origin coffees, Pinewood has a rotating seasonal blend, and the company is also hoping to push its new subscription program direct to consumers.
Nick Brown
Nick Brown is the editor of Daily Coffee News by Roast Magazine.