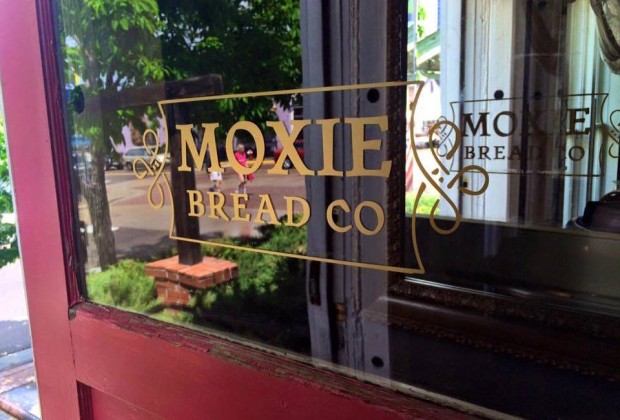 Since first firing up earlier this year, Moxie Bread Company's ovens have been cranking out sweet and savory breakfast pastries, flatbread sandwiches, and hearth-baked breads for the good people of Louisville, Colo., a short drive southeast of Boulder.
While coffee was always a big part of Moxie Founder Andy Clark's vision for the young venture, until recently the coffee program itself has lacked a bit of verve, vigor, punchiness, spark… What's the word? With one eye always on the ovens, Clark recently enlisted the help of Boulder barista Sullivan Cohen — formerly of local establishments Boxcar Coffee Roasters and Wonder Press — to help shape and refine the coffee program, while leading training efforts to achieve the same kind of consistency found in Moxie's baked goods.
"I really wanted Moxie Bread Co. to be a best-in-class coffee experience, but did not have the time to dedicate to it at the onset," Clark told Daily Coffee News. "We are an artisan bakery and had our hands full getting the bakery opened, and were not able to find a barista in time to lead the program from the start. We did dedicate resources to buying great equipment and beans, and logged in some training time with our front-of-house crew, but lacked an individual to hold down the espresso bar with the same sort of experience with coffee as most of our bakers have with breads and pastries."
Moxie's coffee bar includes a workhorse La Marzocco Linea supported by Kony grinders. Space limitations don't currently allow for pourover coffee brewing, but Clark said coffee experimentation will be driven by the espresso program.
"We are a playful and curious bunch, so I think it is fair to expect some more creative flavored drinks as the seasons come and go," Clark said. "This summer we had an iced horchata ole, which consisted of house-made horchata drizzled over ice with an espresso shot. Currently for the fall we are showcasing our Orange Zissou, and that is essentially a latte made with a dash of our house made elixir made from crushed oranges and fresh ginger, honey, clove, cinnamon and nutmeg."
The coffees themselves are coming from Denver-based Allegro Coffee, who Clark says was instrumental in helping establish the café's coffee program, as well as from one-woman roastery Snow Street Coffee. Founded by Neige LaRue just blocks down the street from Moxie, Snow Street is providing the lion's share of the coffee for batch brews, contributing 3 percent of its own proceeds to micro-financing for women-led coffee businesses in Honduras.
Clark said he hopes the complementary relationship between coffee and bread — particularly when consistency is matched in both departments — can translate to increased sales as the nascent company heads into a long Colorado winter.
"I can see our coffee sales increase every week, and their share of our total bakery sales is climbing," he said. "We are receiving lots of direct feedback from our customers that they are noticing our efforts and liking the results. So, I think that the hard work is paying off."
Nick Brown
Nick Brown is the editor of Daily Coffee News by Roast Magazine.