Many coffee-lovers simply prefer to have coffee made for them rather than to prepare it themselves, just as there are plenty that are drawn to the stimulant it delivers as much as to its flavor.
A new Minneapolis cold brew start-up is aiming squarely at the nexus of all these concerns with their rollout of Bizzy Coffee concentrate, a pure, organic and high-quality energy-booster delivered directly to consumers through the mail.
Bizzy Coffee Company launched in January of this year with an exclusively online sales model, which is unusual for a bottled beverage concentrate start-up. Based on the first few weeks of sales and consumer feedback, the company quickly retooled its website and on March 1 rolled out a subscription service. People evidently loved the product and came to depend on it so quickly that it wasn't enough to be able to reorder with the click of a button. They want a steady flow of Bizzy shipped and billed automatically.
"We think this product is being consumed by millennials, and they're looking for healthy, convenient foods," Co-founder and COO Andrew Healy told Daily Coffee News, adding that third-party research reinforces what their own customers have indicated. "There was a very large Nielson study that came out that said 31 percent of 22 to 30-year-olds purchase groceries online," said Healy. "So we shifted almost 100 percent of our energy into the direct-to-consumer subscription model."
The model is certainly convenient for customers, although it hasn't exactly been easy for the startup. "It's a different challenge. We fulfill ourselves right now; we are transitioning to a third party to do the fulfillment logistics," said Healy, who stands by the online system as a viable alternative to selling in stores, at least in the short term. "The way we look at it is, distribution in retail is very challenging. It's very expensive, and a lot of retailers work very slowly."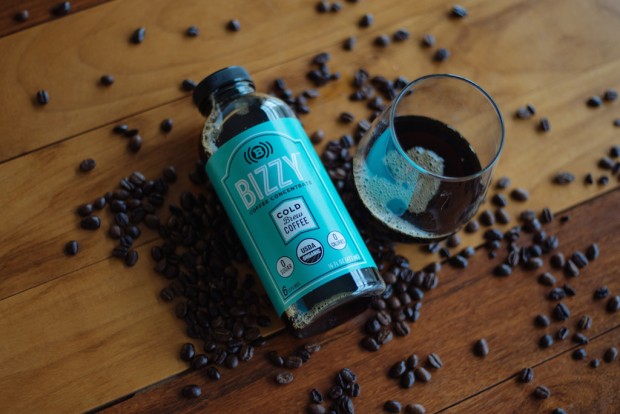 Neither Healy nor co-founder Alex French had ever worked in coffee prior to Bizzy, although they brewed and drank quite a bit while simultaneously working full-time corporate jobs, running a group fitness company together, and training to compete in the World's Toughest Mudder 24-hour endurance race.
"We weren't sleeping much and we were looking for healthy forms of energy," said Healy, adding that they preferred the concentrated caffeine and reduced acidity of cold brew. "Coffee was one of the few ways we were able to take in caffeine without a lot of the added junk."
Recognizing the commercial potential of their new favorite drink, Healy and French set out to deliver what they and so many of their friends had been looking for.  "We were looking for healthy alternatives — our friends were," Healy said. "We were like, 'this thing could not only replace how people drink coffee, this is going to replace energy drinks for this younger generation. This is going to replace sugary juices, this is going to replace pop and carbonated drinks.'"
With the SCAA Flavor Wheel as their guide and the California-based wholesale roaster Alvin's of San Francisco on board as their sourcing and roasting partner, the burgeoning Bizzy crew prepared a bevy of straightforward immersion steep-and-strain cold brew samples of various origins and various roasts for public taste-testing by dozens of self-described cold-brew fanatics. The result was a formula of three different origins roasted in three different profiles, steeped for 18 hours and then subjected to a proprietary filtration method that grants shelf-stability of several months.
"It's very smooth, and people get a lot of sweet caramel, mocha, chocolatey tones out of it. That's really what's resonating with a lot of people out there," said Healy, who still intends to get the product on box stores shelves eventually.
Beyond that, Healy foresees and expansion of the product line to include single-origin cold brew concentrates, as well as teabag-like DIY cold brew "bean bags" for the hands-on home brewer that still enjoys a simplified experience. "You throw it in for about 18 hours, which is what we recommend, then you pull it out, throw it in the fridge and you got a pitcher full of Bizzy cold brew."
Howard Bryman
Howard Bryman is the associate editor of Daily Coffee News by Roast Magazine. He is based in Portland, Oregon.