Living just outside a major city has its plusses in terms of spaciousness and relative tranquility. Yet it also has its minuses, in that it can be tantalizing to be so close to a diverse, high-quality metropolitan food culture without immediate, day-to-day access to it.
In the small town of Boonton, N.J., roughly an hour's drive outside of New York City depending on traffic, coffee drinkers familiar with the Big Apple's good stuff need no longer cross the Hudson River for satisfaction, as the Boonton Coffee Co. has arrived to provide fresh-roasted, passionately crafted coffee right there at home, at 516 Main St.
"To get what we're providing, you would have to go to New York, I think," Boonton Coffee Co. owner Frankie McDonald told Daily Coffee News.
McDonald knows well the pros and cons of life outside the city. In a thick Scottish brogue, McDonald spoke of hailing from a tiny mining town called Stoneyburn, situated almost exactly at the halfway point between Edinburgh and Glasgow, about a 45-minute drive from either.
After some extensive traveling including a year in Syria and several months in India, McDonald returned to Scotland yet hadn't shaken the travel bug. He was planning a trip to Italy when an opportunity sprang up for him to travel to New Jersey, and he took it.
"The intention was to come to New Jersey, spend some time, then make our way over to the West Coast, but New Jersey's one of those places that once you're in, you don't really leave," McDonald said, adding with a laugh, "It's like joining the mob."
It was roughly a year ago that the first Boonton Coffee Co. products reached the public through online sales, at which point McDonald was still working the job he'd held for 14 years with GSH Group, a facilities and energy management company. An avid, longtime home-roaster, he had finally decided that the town of Boonton deserved a better coffee shop, and so the brick-and-mortar shop took shape.
"We do have a lot of commuters here, people that work in the city. They're saying that it's just like what they can get in the city," McDonald reported. "One of our customers said you can walk off the streets of Boonton and enter a store in Brooklyn. It has that Brooklyn feel, it has those brick walls. I think that comparing us to other coffee shops in the city is probably a fair comparison."
The long rectangular space of the Boonton Coffee Co. shop takes up about 1,000 square feet and seats a bit over two dozen people. A classic La Marzocco Linea cranks out espresso from behind the counter, along which a row of lab-like V60 pourover-holders constitutes the brew bar. An avid home-roasting hobbyist prior to going pro, McDonald used to use his Diedrich IR-2.5 for his own private purposes and then for online sales. The Diedrich is now installed on the café floor to supply the shop. "I got into it pretty aggressively right in the beginning," admitted McDonald of his home-roasting history.
"Do you go bit by bit, or do you go the whole hog?" McDonald asked himself. "I just decided to go the whole hog."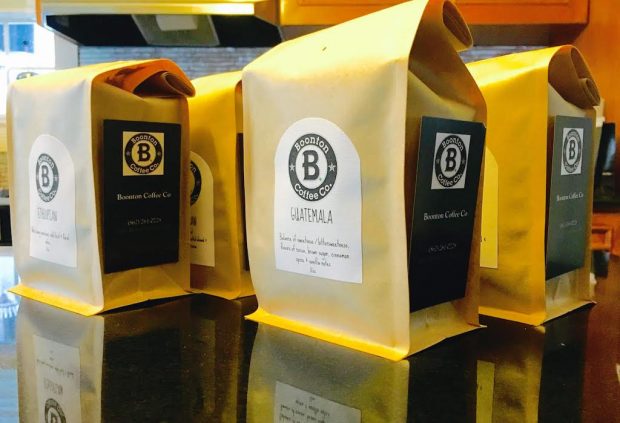 Currently Boonton Coffee Co. offers a variety of single origins sourced through Royal New York, but no blends yet, as McDonald feels as though he's still a bit early in the learning curve of roasting nuance and technique to tackle the craft of blending. The drinks menu is straightforward and does not include any fluffed-up flavor shakes, save for one concoction McDonald was compelled to add in honor of Boonton's rich cinematic history. The drink is a green-colored coconut-lime latte called the Toxic Avenger.
"We just discovered that bit a few months ago — the building that we're in is actually in the movie," McDonald said of the gory cult classic filmed in the small town in the 1980s.
Other plans going forward include getting roasted products out for sale at local farmers markets and onto grocery store shelves. McDonald would like to pursue roasting for wholesale clients and perhaps open an additional retail location as well, although a larger roaster may have to be the very next step, and that step might have to come sooner rather than later to keep up with a demand that's turned out to be far greater than anticipated.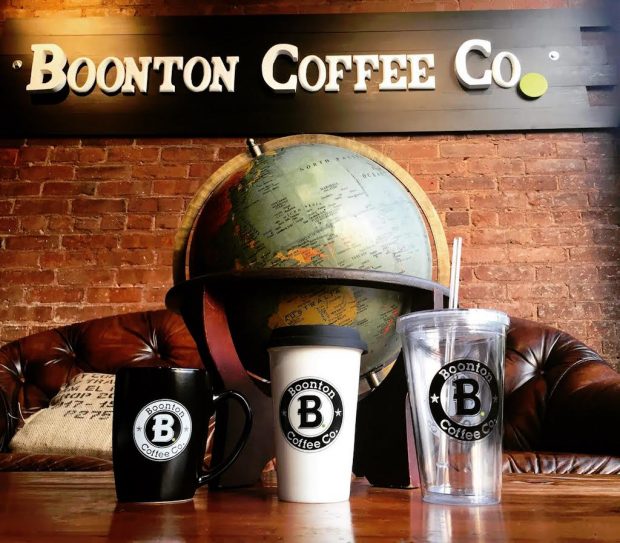 "That's something I've been considering recently, as we're maximizing it right now," McDonald said. "Any more business and we're going to have to upgrade."
McDonald projects another possible retail location to start development in about 18 months. The official grand opening of the flagship Boonton Coffee Co. shop was Friday, May 6.
Howard Bryman
Howard Bryman is the associate editor of Daily Coffee News by Roast Magazine. He is based in Portland, Oregon.