Despite being Pennsylvania's third most populous city, there's a remarkable dearth of independent coffee shops in Allentown. The newest one to open there is Coffee House Without Limits, which is, by founder and owner Billy Mack's count, the city's third. Yet the creative potential inside the shop is infinite.
"There's definitely a hunger and a need for it," Mack told Daily Coffee News in anticipation of the shop's grand opening this Thursday, May 12.
Coffee House Without Limits, which is going by the acronym CWOL, soft-opened weeks ago tucked into a cozy, 430-square-foot space within Allentown nonprofit The Alternative Gallery, a former cigar factory that now houses gallery, performance, meeting and education spaces for the local arts community. It's an ideal spot for Mack, a musician, photographer and occasional painter who has deeply involved the city's independent arts community from the beginning.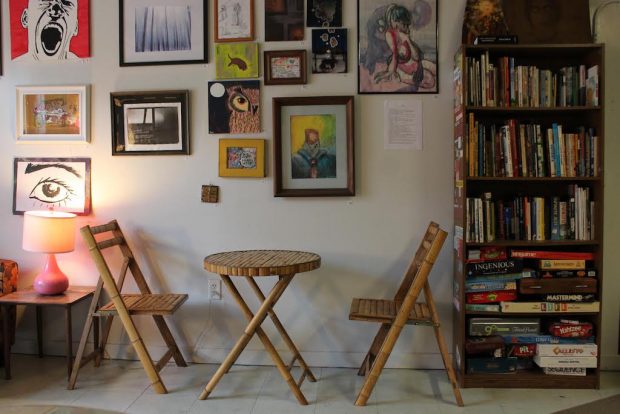 To finance the shop's opening Mack raised funds bit by bit over the course of several months at various music and arts events throughout town. The shop opened more than 10 months after finding the space and receiving donations for critical items such as furniture.
Born from within the arts community, CWOL now intends to be a home for it, providing an ongoing gallery for featured artists, an open-submissions gallery, and holding events such as poetry workshops and live music performances on a nightly or near-nightly basis. "It was really important to me to be able to stay open late," Mack said. "It's been my goal to very deeply ingrain the space into a creative scene."
Some of that creative fuel is being supplied by Mack's wholesale coffee provider, Monocacy Coffee, one of the Leigheigh Valley's only commercial roasters, based in nearby Bethlehem, Penn., led by Matt Hengeveld and Dan Taylor. Said Mack, "I always wanted to work with as many local producers as possible and Matt and Dan are very involved with the arts."
CWOL is Mack's first venture into proprietorship after having previously worked as a barista at four different coffee shops. He worked with Monocacy to develop a custom drip blend, and said that while local tastes lean toward darker roasts, his don't, necessarily. In the end it's an earthy, complex balance struck by one of Monacacy's Indonesian coffees and a Peruvian coffee that find the right notes. A Monocacy espresso blend lends itself to CWOL's straightforward espresso menu, while single-origin coffees are available through pourover methods upon request.
CWOL is open Tuesday through Saturday from 8 a.m. at 707 N 4th St., Suite 101.
Nick Brown
Nick Brown is the editor of Daily Coffee News by Roast Magazine. Feedback and story ideas are welcome at publisher (at) dailycoffeenews.com, or see the "About Us" page for contact information.