The classic American automaker Cadillac moved its headquarters from Detroit to New York City in 2014 as part of an effort to revamp its image and revitalize sales.
This summer the company is inviting the luxury-friendly Big Apple public in to experience the new face of the old brand by way of a groundbreaking multi-retail concept called Cadillac House, an expansive 12,000-square-foot exhibit that occupies the ground floor Hudson Square lobby of their SoHo headquarters.
Cadillac House will host art exhibits curated by magazine publisher and creative firm Visionaire. There will be an apparel retail area stocked by clothier Timo Weiland, and the space will be tinged with its own custom scent by "olfactive branding" specialists 12.29. The space will also contain a full cafe, the coffee partner for which is Manhattan-based Joe Coffee.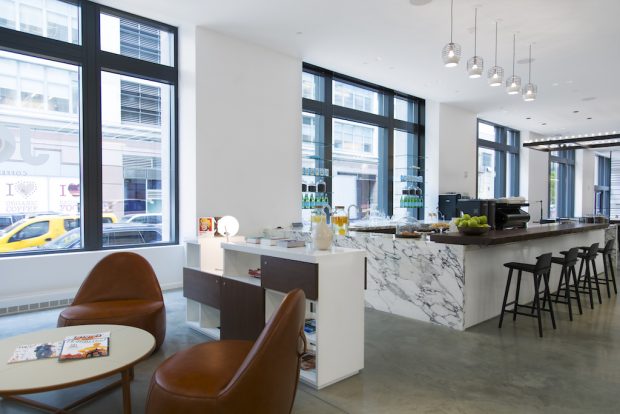 Joe personnel have been the primary drivers for designing, equipping and roasting for the Cadillac café. Joe Visual and Brand Manager Scout Rose told Daily Coffee News that while the overall stylistic ethos of the place is "American luxury" first and foremost, with the art, fashion, scent and coffee all contributing, there's a lot going on. "The creative energy of the space is undeniable," said Rose. "It's certainly an original mashup."
Roughly 200 square feet of the space is taken up by the coffee component, which includes a bar stocked with a custom black-on-black 2-group La Marzocco Strada EE paired with two Nuova Simonelli Mythos grinders, a small Fetco for batch brewing and a Kalita and Chemex manual brew bar. There's seating at the counter, a nearby communal table and other seating and lounge areas spread out around the space. A small light food menu will include locally-made sweets such as donuts and pastries, as well as some unique chocolates made by Bon Bon Bon, a company based in Cadillac's former hometown.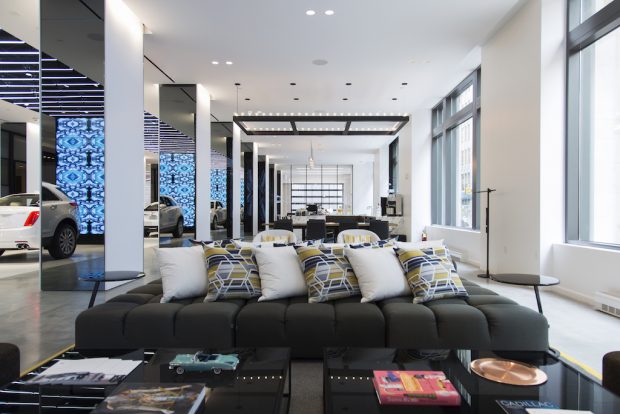 Espresso and pourover drinks will include all the standbys and will feature seasonal single-origin beans as well as a custom blend created by Joe head roaster Ed Kaufmann that was subsequently cupped and approved by Cadillac's own QC team. The new blend has officially been named The Runabout as a nod to the earliest models of "horseless carriage" rolled out by Cadillac over a century ago, and in its inaugural composition incorporates Joe's Peru Cenfrocafe Apukuna, Nicaragua Finca Los Placeres and Colombia El Paraiso.
"Our philosophy behind the blend is to offer something elegant, yet lively, yet appealing to a wide audience," Kaufmann told Daily Coffee News. "As the blend took shape, we realized that a hybrid between our house coffee, The Daily, and our espresso, The Waverly, provided a sweet, caramel-like foundation married to complex, lively but subtle brightness."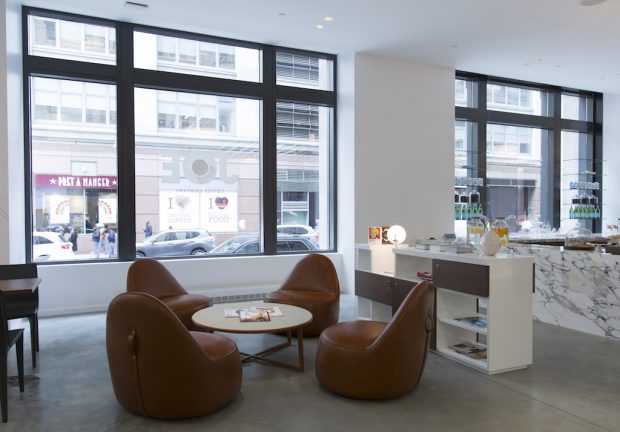 Cadillac is not the only automaker to have ventured into the territory of a café experience in recent years. In 2015 Infiniti was involved in the opening of the Museum of Food and Drink ("food museum with exhibits you can eat") in Brooklyn, and Lexus is slated to open its third Intersect combination café and luxury boutique in New York before the end of this year.
As for the olfactory branding — this may seem confusing to people in the coffee industry that had to this point assumed that the custom scent of any coffeehouse is "coffee." Yet while Cadillac House is no ordinary coffeehouse, it also helps to know that sensory branding is also not particularly extraordinary, having been practiced for decades in a variety of retail industries. Singapore Airlines and Apple Stores, for example, are as keenly aware and controlling of their signature scents as Starbucks.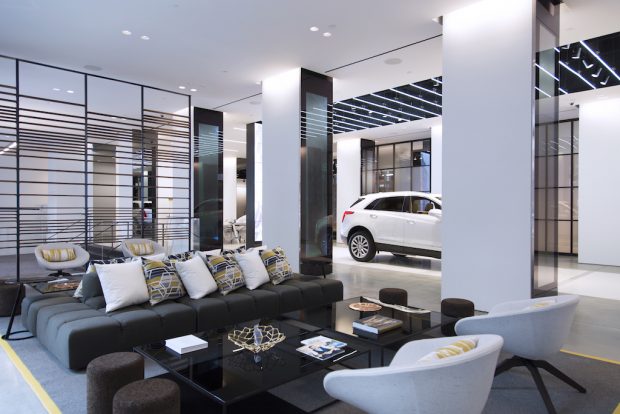 "Every place has a smell, and the scents 12.29 designs are designed to be subtle so that they do not overwhelm," said Rose, of the Cadillac House brand aroma. "You will not feel like you are eating cologne and it will be very different from the olfactory experience of say, passing by an Abercrombie."
Cadillac House is slated to open June 2, at 330 Hudson Street in New York City.
Howard Bryman
Howard Bryman is the associate editor of Daily Coffee News by Roast Magazine. He is based in Portland, Oregon.