For experienced coffee professionals endeavoring to open a top-notch multiroaster cafe, the supplier options these days can seem innumerable. Even if the team behind the recently opened Royal Drummer café in Seattle's Ballard neighborhood contained their search locally, the number of quality-forward potential roasting partners would be in the dozens.
"When we decided to open the store as a multiroaster, we wrote down all the roasters we've ever had that we liked," said Royal Drummer Director of Coffee Neil Oney, who worked hand-in-hand with owner Jill Killen to develop the shop's coffee program. "We picked a few roasters and asked for samples. After a few rounds of cupping we chose the roasters we liked most. And now we'll be working with each roaster for three months, and switching to a new one."
One constant at the café will be offerings from Bellingham, Wash.-based roaster Camber Coffee, who helped developed the shop's milk-optimized Antoinette espresso blend. Other than that, Royal Drummer plans to feature roasters from throughout the country. The shop launched with Camber, QED Coffee (Seattle), Plowshares Coffee Roasters (New York), and Ceremony Coffee Roasters (Annapolis, Md.).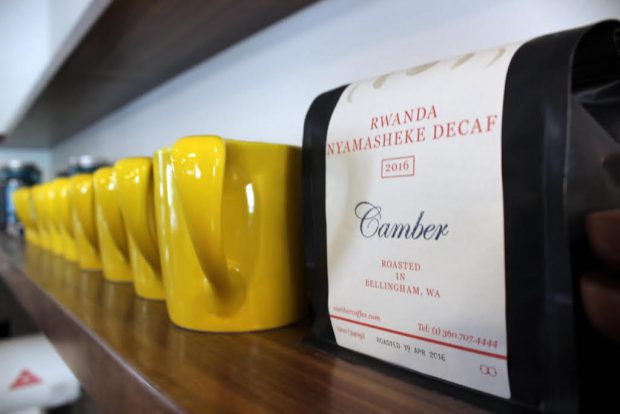 A first-class multiroaster café, Royal Drummer is also the reflection of years of lessons learned in coffee retailing by Killen, who has been running the longstanding café Cloud City Coffee in Seattle's Maple Leaf neighborhood since 2003 before purchasing El Diablo Coffee in Queen Anne in 2012, hiring Oney in 2014 to help develop the beverage program at both cafes. Oney had previously held management roles at Seattle shops including Tougo Coffee and Trabant Coffee.
Royal Drummer fits into the new Ballard Public Lofts & Market development at 6420 24th Ave NW., which came to life after the longtime owners of the beloved neighborhood watering hole the Viking Tavern sold the property and the one adjacent to it for $1.2 million. While Royal Drummer may offer single-origin espressos and delicate pinot grigios instead of cold cans of Rainier Beer, Oney said he and Killeen hope the shop will be a true neighborhood spot.
"The neighborhood is excited to have us here and our reception has been universally positive," Oney said about a month after opening day. "We set our menu up so that we'd be accessible across the spectrum of coffee drinkers, from $1 self serve drip to espresso flights."
Those espresso flights are made possible through the shop's custom Synesso MVP Hydra flanked by Nuova Simonelli Mythos Clima Pro and Mahlkonig EK43 grinders. Filter coffee is being prepared through Curtis Seraphim automated pourover brewers or other manual pourover devices, as well as through a Curtis-made batch brewer.
The café is also offering fresh seasonal menu items with breakfast during the week, brunch on the weekends and lunch and dinner every day, while the kitchen's fryer offered the opportunity for playful donut specials, Oney said, adding that the RD team intends to ramp up kitchen operations once the shop is more firmly established.
While food and especially drink were the team's primary considerations, Oney said they're thrilled with the shop's open, inviting interior, for which they leaned on the expertise of contractors. "Our aesthetic is somewhat organic," said Oney. "We honestly didn't have a design before we started construction. Our contractors, who were amazing, would ask us a question and we'd make a decision. We ended up with a very clean cafe, lots of black walnut, and tons of space for our community to gather. We couldn't be happier with how it turned out."
The Royal Drummer café is now open at 6420 24th Ave NW. in Seattle's Ballard neighborhood.
Nick Brown
Nick Brown is the editor of Daily Coffee News by Roast Magazine. Feedback and story ideas are welcome at publisher (at) dailycoffeenews.com, or see the "About Us" page for contact information.