Milwaukee roaster/retailer Anodyne Coffee has begun rolling out its long-time-coming bottled cold brew to various local accounts and its own stores. Anodyne's leadership has been conceptualizing a bottled cold brew offering since at least 2012, although it wasn't until this year that the product began to take physical shape.
"We started testing bottles and aging about four years ago, but at the time the roastery was still at our Bayview location," Anodyne Wholesale Director Steve Kessler recently told Daily Coffee News.
It was mid-2013 when the company moved into its spacious, brick-walled roasting, laboratory, retail bar and music venue headquarters in Milwaukee's Walker's Point neighborhood. The vastly increased amount of production space allowed the company to fully reconsider a bottled cold brew strategy, one separate from the nitro cold brews on tap the company has been selling in its own cafes for the past two years.
"There were so many different scenarios for how to do this," Kessler said of the product development, which began in earnest in January when the company added its own 6-line bottle feeder to the roastery. "We wanted something that wasn't too aggressive in the bottle, but we also tested a lot of products in the market that tasted somewhat diluted and weak."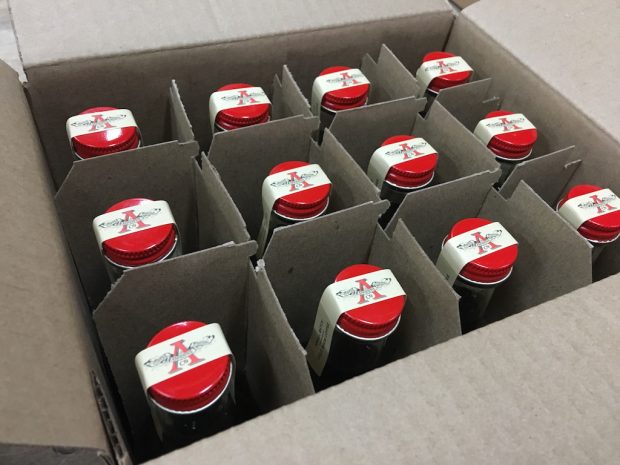 After numerous recipe changes and tweaks large and small, Anodyne settled on an undisclosed blend of Central American, South American and Indonesian coffees, with no immediate plans to offer the cold brew any other way than black. Each long-necked bottle is sanitized and given a nitrogen flush, then given a "born on" date, which Kessler suggested gives consumers a more helpful representation of the freshness of the product than does an expiration date.
In keeping with its slow-and-steady approach, Anodyne is only distributing the bottled coffees to its own stores and wholesale clients in the Milwaukee area for now.
"As a rule of thumb, we don't work with any large-volume discount grocers," Kessler said of the company's wholesale philosophy. "We don't sell coffee to those places because often times the discount they demand is reflected on their floor price. However, if you are organically driven, or natural food driven, we are usually able to work with you."
Kessler cited the four-location local grocer Outpost Natural Foods and the East Side's Beans & Barley as fitting in the latter category. Said Kessler, "We're keeping it in Milwaukee for now, because we like being able to handle each case as it goes out."
Nick Brown
Nick Brown is the editor of Daily Coffee News by Roast Magazine.