A married couple with complementary skill sets in craft coffee and independent marketing has launched Amateur Coffee in Omaha., Neb., a roastery combining a range of single origins and blends with fresh, creative branding that centers around names that appeal to the senses and original, hand-drawn art.
Jacob and Jasmyn Wichert officially launched Amateur in April, roasting with a 1-kilo machine from Mill City Roasters along with the rest of the production and packaging work in a facility just outside Douglas County.
Jacob, a founder of Omaha's Mug Life Roasters before leaving the company two years later, has been roasting personally or professionally for approximately three years, leaving a corporate roasting job to venture into Amateur with Jasmyn, who in addition to her experience as a barista and food retail manager has also worked in the design sphere, Jacob said.
"We took a trip to Kansas City a few years back, and that's when we kind of just fell in love with the cafe culture, the people, the attention to detail," Jacob recently told Daily Coffee News of the couple's journey toward a coffee company of their own. "We also toured around cafes in Portland and Seattle, and that was kind of an inspiration to get us going and launch the company."
Each of Amateur's packaged coffee offerings include large stickers of artwork that are digitally rendered from Jasmyn's original hand drawings, setting a colorful backdrop for the coffees themselves. While Jacob said the sourcing program is expanding to include more importers, the company launched with a small range of coffees sourced through the Nicaragua-based farm and trader Gold Mountain Coffee Growers.
While the Wicherts afford space on each package to describe the origins of each coffee along with vitals such as varietal, elevation, etc., in paragraph form, each coffee also has its own sensory-appealing name that ties in with the original artwork. For example, Amateur's "Campfire" is composed of washed Caturra from the El Diamante farm in Jinotega, Nicaragua, roasted to bring out "citrus sweetness" and "brown sugar" notes for a "warm and welcoming demeanor, reminiscent of a Thanksgiving dinner or a camping trip." Amateur's "Blueberry," meanwhile, is a combination of natural process Bourbon and Caturra from the La Mercedes farm in Matagalpa, roasted to capture "juicy blueberry notes."
"We cup the coffee and what comes to mind is how we approach branding the coffee," Jacob said. "They look kind of like blends, but we wanted artwork that was a little more approachable."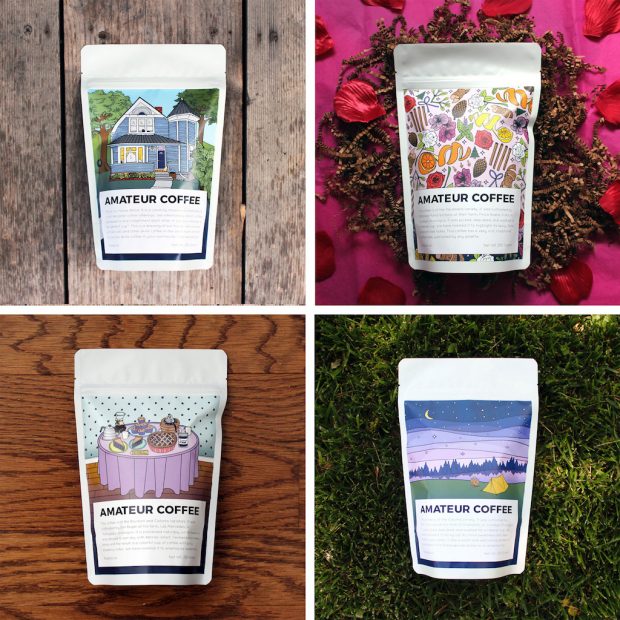 In addition to quality considerations, Amateur's desire to initially partner with Gold Mountain and its cooperative network was part of the fledgeling roaster's larger commitment to traceability and social accountability. "The biggest thing for me when I'm looking for coffees is, I want to know where it comes from," Jacob said. "In this instance with Gold Mountain, I wanted to see all the way to the other side to see where this money's going. Where's the social impact locally for me buying this coffee? Gold Mountain also has really good coffees."
While Amateur's roasting program is likely to follow the creative whims of the couple behind it, whether that be in doing more blending or green coffee conditioning, larger plans for the Wicherts eventually include a potential Amateur Cafe. Jacob credited a number of local coffee companies — including Archetype Coffee, Beansmith Coffee Roasters and Hardy Coffee — with helping to drive coffee quality forward in the Omaha area.
"Things are progressing pretty quickly. I think we're going to see a lot more specialty coffee in Omaha," Jacob said. "We've got a few accounts right now, but I think we're really up for wherever life takes us, whether that's nationally or within our own bubble in the Midwest. We just want to get our name out there and put out some really great coffees."
Nick Brown
Nick Brown is the editor of Daily Coffee News by Roast Magazine. Feedback and story ideas are welcome at publisher (at) dailycoffeenews.com, or see the "About Us" page for contact information.