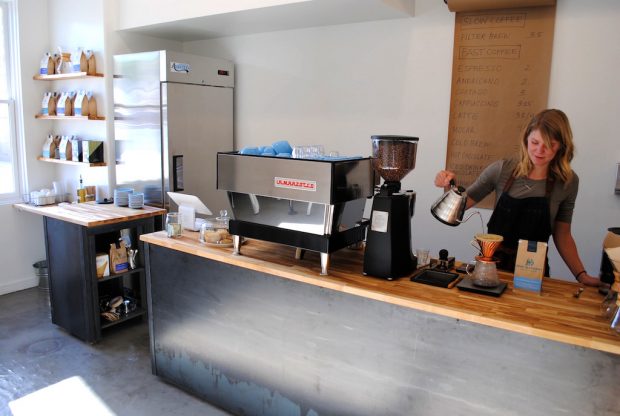 In Park City, Utah, where mountains, rivers and canyons combine with cultural events such as the annual Sundance Film Festival to create a year-round destination for vacationers and outdoor adventure-seekers, the young roastery Pink Elephant Coffee has established its first retail café.
The bright and cozy 200-square-foot coffee shop is accessible through the clothing and apparel boutique Prospect Park City, above which Pink Elephant shares the space at 509 Main St. with a small juicery.
The Pink Elephant proprietors, Kelley and Mitch Baker, were drawn to Park City for their own love of the outdoors, moving there 2.5 years ago and launching a roasting business soon after. Prior to their move, the Bakers began home-roasting coffee in their former home of Millersburg, Ohio, out of sheer necessity. "There wasn't any good coffee to be had," Kelley recently told Daily Coffee News. "Literally, a Starbucks was 30 minutes away. So we started roasting on our own, sourcing from Sweet Maria's."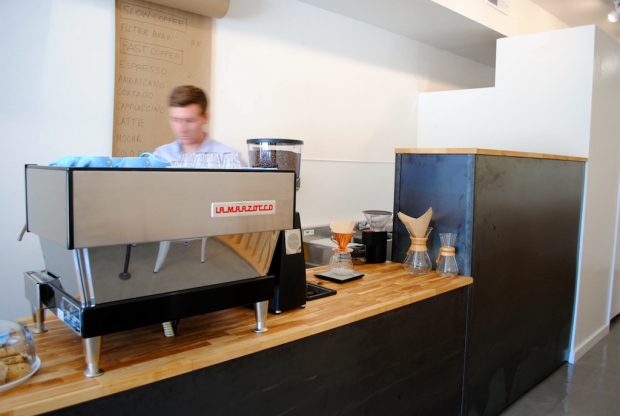 From there the couple developed their passion for roasting and sourcing quality coffee, eventually upgrading to a used 3-kilo Toper roaster and launching the Pink Elephant commercial enterprise about 18 months ago, sourcing greens primarily from Minneapolis-based Cafe Imports.
The café, which opened six weeks ago, is centered around a La Marzocco Linea espresso machine, with brews of Pink Elephant's rotating offerings made to order on manual devices including Hario V60 and Chemex. In addition to traditional espresso-based menu offerings, the café is serving specialty drinks such as house-made horchata lattes, local kobucha on tap, and drinks featuring Ritual Chocolate.
"It's been well received, that's for sure," Mitch said of the shop's first six weeks in business. "Park City doesn't really have a third wave roaster quite like us."
For the time-being, the roastery and café constitute the two-person effort of the husband and wife team. While Mitch does the lion's share of the production roasting, Kelley spends more time manning the cafe, while also leading sourcing operations. Despite the jobs demanding they be indoors, the Bakers aren't likely to forget what made them want to call Park City home.
"Obviously our lifestyle is a big part of what we sell," said Mitch, adding that the couple never heads out camping without an Aeropress packed. "It's all about enjoying the place we live in."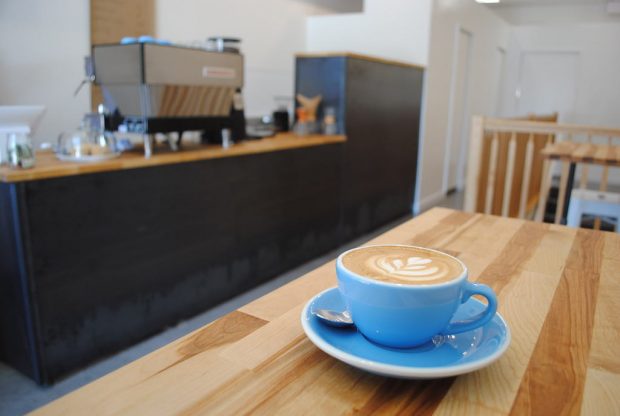 Nick Brown
Nick Brown is the editor of Daily Coffee News by Roast Magazine.