Great coffee often manifests itself in unexpected ways, and with all the various chemical reactions and organic transformations it undergoes from seed to cup, it would seem from an outsider's view to be the work of many conjurers, summoning magical forces that culminate in a tasty cup.
This idea is reinforced inside a new Fort Wayne, Ind., roastery café called Conjure Coffee, whose service bar is centered on a custom white Modbar under-counter installation, a stylish design that's frozen in a perpetually surprising emergence up and out from the countertop.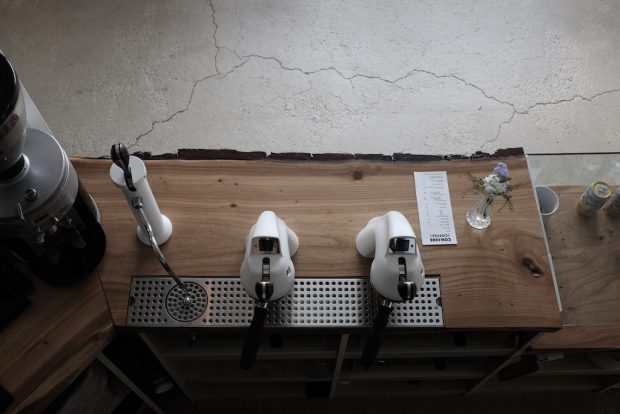 Yet there's a science to essentially every aspect of coffee, and at Conjure Coffee especially, the magic can and will be explained to anyone who asks. Even the Modbar, which was practically invented by Conjure Coffee founder Corey Waldron, who was also a founding partner of the Modbar company, and of the Jet Steam espresso machine company whose prototype never made it to market but did evolve into what's now known as the Modbar.
Waldron maintains an ownership stake in Modbar, which is headquartered just a couple miles down the road from Conjure, but hasn't had an active role in any part of it since about April of 2015.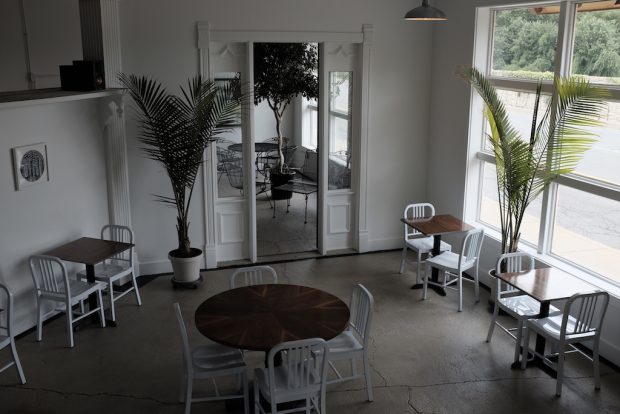 "I started roasting coffee for a local roaster in the year 2000," Waldron told Daily Coffee News. "I had a background in coffee before I did Modbar and Jet Steam. I wanted to get back into 'hands on' with coffee after leaving that as my occupation."
Waldron started roasting on a Diedrich IR3 under the provisional name of Fort Roasting about a year and a half ago, testing the market with a farmer's market stand, developing blends and a nitro cold brew on tap. Upon securing a brick-and-mortar home for the business, he rebranded as Conjure Coffee and soft-opened the café earlier this month.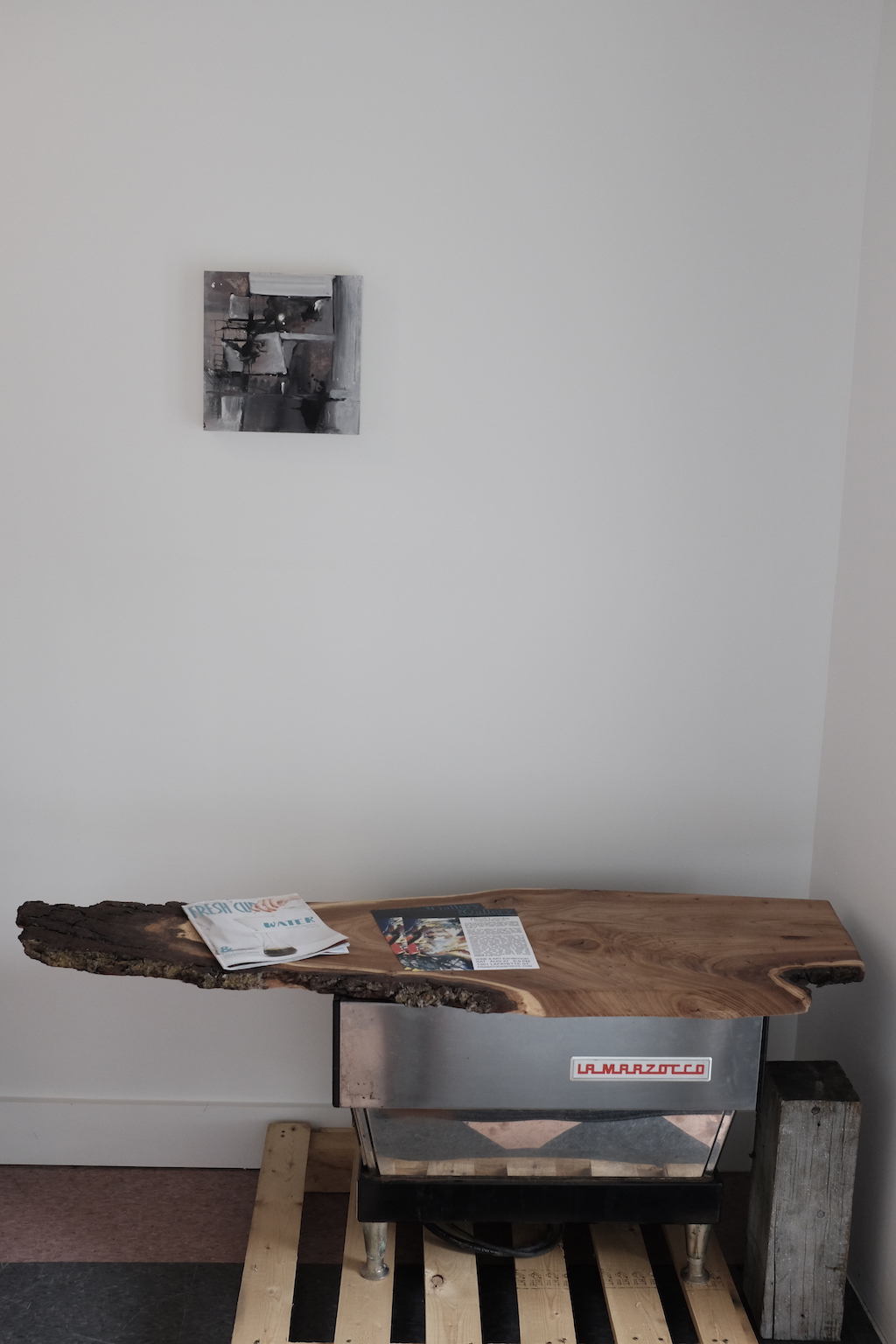 Conjure Coffee currently offers a handful of single origins, two blends and one decaf Waldron sources mostly through Olam Coffee and Café Imports for now, with samples under consideration from Keffa at the moment and an intention to sample goods brought in by smaller outfits such as Onyx Coffee and Red Fox Coffee Merchants in time.
Apart from the sleek white two-group Modbar espresso installation that's paired with a Mahlkonig K30 grinder, 12-ounce beehouse and 24-ounce Chemex manual brews are also prepared at a Modbar pourover station, ground by an EK43.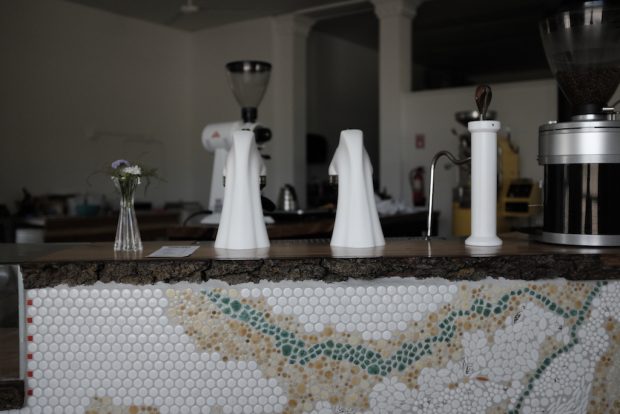 A rotating selection of nitro cold brews is kept on tap behind the tile mosaic-fronted bar, with white walls reflecting lively daylight and some live-edge slab counter seating.
Meanwhile at the Diedrich, the tech-minded engineer, true to form, employs some additional thermocouples and feeds all into the Typica open-source roast monitoring application on his laptop.
"A lot of where I stop roasting a coffee is determined by data that I acquire through the interfaces," Waldron said. "One of my biggest tools is rate of rise."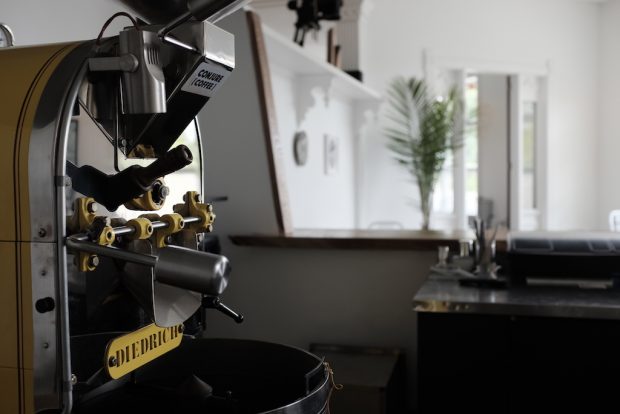 For all the digitization, though, he still has hands on the roaster and a sensory goal in mind. Waldron ultimately described his approach as akin to the Nordic style of roasting but slightly more developed, while still stopping far short of any trace of roast taste.
"I want to develop [coffees] to the point where they're still really sweet and have good acidity, but the body is developed," he said. "I don't want any vegetal or grassy qualities either. We're shooting for balance, but still staying pretty light."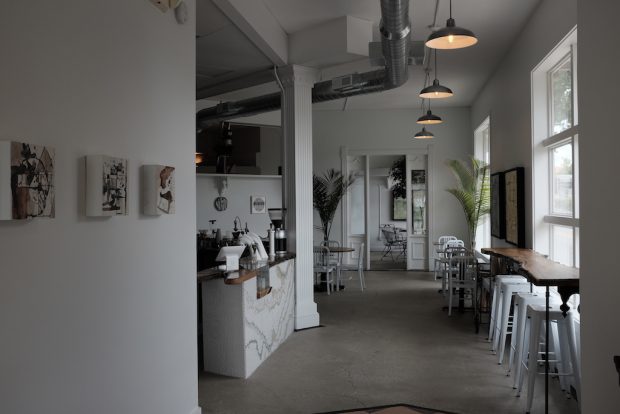 Conjure Coffee is located at 701 Columbia Ave in Fort Wayne, Ind. Situated close by the delta at the junction of three rivers, the shop should have some patio seating finished by this fall and potentially a rooftop deck by next spring, Waldron said. Waldron also has concepts for additional locations he'd like to explore later on down the line, while in the shorter term he anticipates upgrading to a Probat P12 within a year, and is currently working on expanding their wholesale program.
"I would love to have my coffee in select retail cafes and multiroaster shops around the country as long as we're a good fit for them. You know, everybody has their flavor and their brand and what they're trying to do, and we're definitely no exception," said Waldron. "More importantly, we're trying to really stay consistent and learn more about what we know that we don't know."
Howard Bryman
Howard Bryman is the associate editor of Daily Coffee News by Roast Magazine. He is based in Portland, Oregon.