From a competitive standpoint, the whole notion of growing a coffee business by providing private-label or toll-roasting services that ostensibly fuel the development of competing brands may seem somewhat paradoxical.
Yet in coffee, at least, the advantages of these mutually beneficial arrangements tend to far outweigh any potential negatives, which is exactly why they constitute the bulk of business sought by Paradox Coffee, a new South Carolina-based roaster that launched last month.
"We're focusing on some bigger accounts, and mainly we're just trying to use coffee as a way to help the small guy," roaster and cofounder Bryan Schramm told Daily Coffee News, siting the abundance of family-owned-and-operated farms in their area as a prime market for private label coffee, in their small stores where they sell a variety of other farm-branded private label goods. "We're using coffee as a tool to help other people out."
Schramm also has a soft spot for family businesses, given that he's running one along with his mother, Rebecca Schramm, who previously cofounded West End Coffee shop & roastery in Greenville, S.C. Bryan got his start on that company's Diedrich IR24, while also receiving some training directly from Diedrich at the Diedrich facility in Idaho, before the Schramms left the business.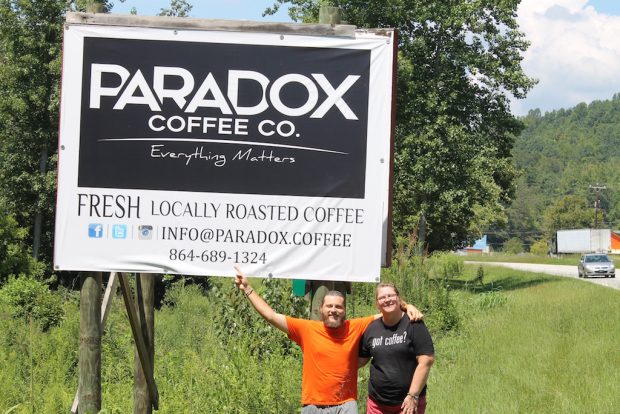 Immediately upon leaving West End, Bryan was hired onto the staff of Taylor, S.C.-based Due South Coffee Roasters, serving as a production roaster up until stepping out with his mom to help get Paradox off the ground. Paradox Coffee now centers on a Diedrich IR12 in a 4,700-square-foot building at 284 N. Old Buncombe Road in Travaler's Rest, S.C., about halfway between Greenville, S.C., and Asheville, N.C.
Schramm says that while they certainly don't turn away business from cafes or restaurants, particularly the ones with dedication to responsible, quality-focused coffee programs, they ultimately don't have the resources to provide and then maintain the kind of high-quality equipment and training a coffee bar needs to carry forth the quality striven for by the roaster.
"I understand why they do it, because you kind of lock somebody in with you," Schramm said of other wholesale roaster's pursuit of retail clientele, adding, "But at the same time, it's a lot of risk up front. It ties up a lot of capital."
By the same token, Schramm also prefers toll-roasting to private label. "It keeps us more liquid, businesswise," said Schramm. "We don't have to go out and purchase as many bags. If they're buying their own green, we might be able to pony together as far as shipping costs on some of that stuff. There's a lot of ways to save money when those companies are taking some of the risk."
The bulk of the coffees turning brown inside the Paradox Diedrich come by way of Cafe Imports, and the profiles Schramm executes are ultimately dependent on the client. For private label and toll-roasting Schramm takes the tastes of the client into account, while for Paradox coffees he's freer to follow his own muse.
Schramm enjoys collaborating with one of his toll-roasting clients in particular, Craig Schaepkens of 6.26 Coffee Company. "He really enjoys the acidity, the brightness, the liveliness of that kind of coffee, bringing out more of the citrus and the grapefruit type of thing," said Schramm.
For Paradox coffees, Schramm makes more of an effort to bridge the gap, as Schramm puts it, between the third wave style and the older school. One way he approaches this is through post-roast blending, such as with a darker-roasted Sumatran and a lighter-roasted Colombian or Costa Rican bean.
"You bring the front side of the cup, you bring the back side of the cup, in one cup. That's why I post-blend everything," said Schramm. "I have two different beans, two different natural characteristics of the beans, and I'm trying to pull the best out of that bean, per roast. Then I mix them together and hopefully that gives me that complete cup."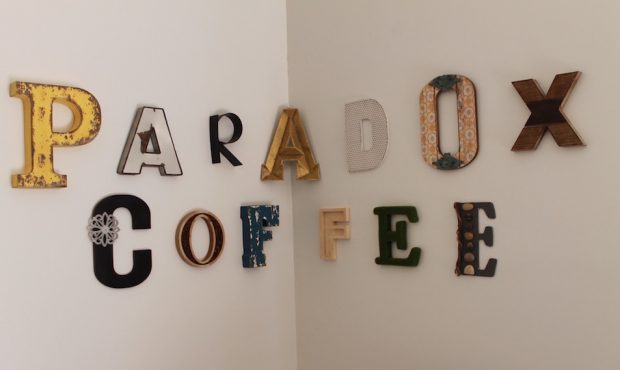 Looking ahead, there's about 3,700 square feet of their building that's going essentially unused, housing only their cupping lab at the moment. The next big decision for Paradox is whether or not to save that space for more green coffee storage, or build their own retail café inside it. The facility is located, after all, on a highway traveled by about 50,000 people every day, according to Schramm, with a college nearby plus two up-and-coming cities.
"We're dead smack in the middle with zero competition," noted Schramm. "People have been begging us to do a café."
Ultimately Schramm thinks the choice will be made for them. Said Schramm, "I think the people and the coffee culture around us is going to choose our direction."
Howard Bryman
Howard Bryman is the associate editor of Daily Coffee News by Roast Magazine. He is based in Portland, Oregon.