In the United States, the coffee shop/art gallery concept extends back through decades of café culture, although few shops make such a dedicated correlation as Urban Grinders, a relatively new shop in the heart of Greensboro, N.C.
Co-owner Jeff Beck, whose partner in the venture is Marcus Moore, has an extensive background in art, beginning with a degree in graphic design before moving on to more tactile media, including eight years of painting on canvas, and sculpting and casting designer toys in resin. About three years ago, Beck's artistic interests drifted toward street art and large-scale murals, a medium that has both informed and literally reflected the shop's aesthetic.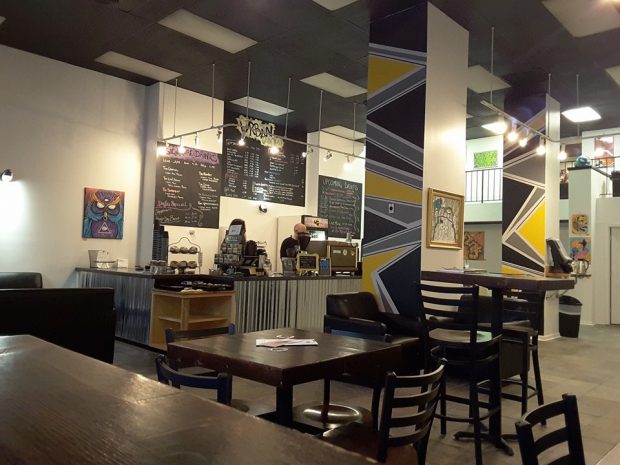 "I immersed myself in this world and found that street art and its culture really appealed to me," Beck recently told Daily Coffee News. "So when I decided to open the coffee shop art gallery, it was only natural to focus on street art, urban and lowbrow art, both by having shows geared toward artists in that genre as well as filling the shop with murals from local artists."
Setting Urban Grinders apart from other dual coffee shop/galleries is a second floor loft with stark white walls and gallery lighting to provide a true gallery experience for patrons.
"As much as we possibly can, we focus our upstairs loft gallery as well as wall space downstairs in the main coffee shop area on local artists who usually do not get gallery space in some of the more upscale galleries in our area," Beck said. "We do, however, sometimes have national artists represented in the shop. We currently have a piece of original art from world-renowned street artist Mr. Brainwash on display."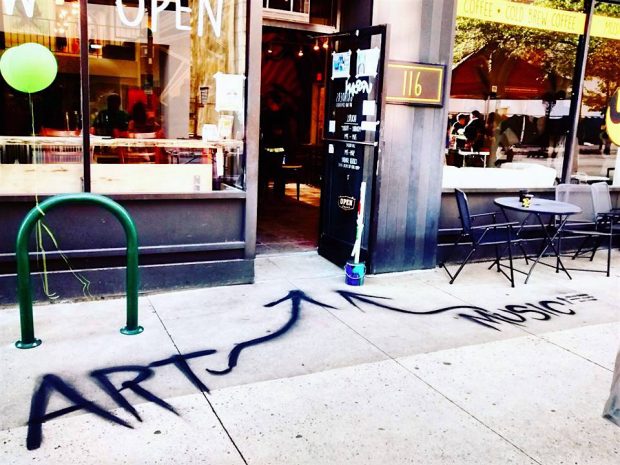 Downstairs, which also occasionally serves as a performance space, coffee from Winston-Salem-based Krankies Coffee is served from behind the bar. Beck said the shop carries about four or five of Krankies' blends and single-origin offerings, depending on the roaster's rotation.
"Krankies is a staple in our area for roasting some of the best coffee around and their business model is one that closely relates to ours," Beck said, adding that the shop is one of only two in Greensboro to carry the roaster's coffees. Many of the shop's espresso-based and other specialty drinks are named after different types of art or art movements, such as "The Graffiti" (a standard mocha), and "The Low Brow" (a maple, caramel and dark chocolate latte). The shop produces many of its syrups and whipped creams in house, while baristas are given license to devise and name new daily rotating specialty drinks.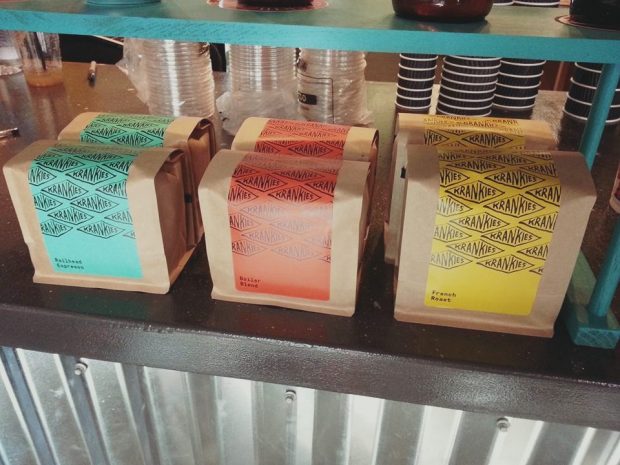 Not surprisingly given recent retail trends, cold brew has also been a wildly popular item, and the shop incorporates a custom recipe that was created before its opening. "We were one of the first coffee shops in Greensboro to really push the cold brew and it has become our staple drink and a favorite of the city of Greensboro," Beck said. "We have just recently brought Nitro Cold Brew to the shop and for that we use our Signature Cold Brew, as well."
In addition to coffee-based menu offerings, there's also an experimental tea tasting program, as well as eight to 10 craft beers available from mostly North Carolina breweries.
All these items constitute the elixir that Beck hopes will inspire artistic creativity in and around the shop. He's been working with local committees and agencies to help usher in what he described as a "new era" for art in the downtown area, including partnering with Ryan Saunders of Create Your City and The Greensboro Center for Visual Artists (CVA) to create a nonprofit called No Blank Walls. To date, the nonprofit has facilitated and curated eight large-scale murals in the downtown area, working with both local and national artists.
On the confluence of coffee and art, Beck said, "I see each going hand in hand, with coffee and conversation fueling creativity for artists."
Urban Grinders is located at 116 N. Elm Street in Greensboro.
Nick Brown
Nick Brown is the editor of Daily Coffee News by Roast Magazine.