In 2016 consumers were greeted with some major strides in the home electric grinder category, with several groundbreaking products contending to offer new levels of quality and performance. Rounding out the spectrum of consumer grinder progress this year, a recently launched German brand has introduced a line of high-quality manual coffee grinders, made from heavy-duty materials and offering some innovative design elements.
In September, Kinu Grinders launched with a line of three grinders, the specific designs for which were three years in the making, while the manufacturing and engineering expertise of the company has evolved over a quarter century. All three products are single-dose grinders with steel conical burrs sourced from Italmill, the same company that makes burrs for a variety of commercial and consumer grinder manufacturers. The burrs are then modified in-house for application into a unique Kinu alignment system.
The models — called m68, m47 and m38 — are named for their burr diameters. The larger of the three models is a tabletop-oriented design centered on 68mm burrs, the two smaller hand-held Kinu grinders are centered 47mm and 38mm burr sets, respectively. In a feat of groundbreaking engineering, the m47 is entirely "screwless." It can be completely disassembled and reassembled by hand, almost like a puzzle.
Apart from fun and easy maintenance, there's also an ergonomic enhancement aimed at ease of use. "We call it our torque stopper," said Christian Biernatek, an engineer and sales manager for Graef GmbH, the parent company of Kinu Grinders. Biernatek explained to Daily Coffee News that a notch at the top of the handheld grinder column operates as a sort of thumb-rest that makes it easier for users to brace the units by hand, diminishing hand fatigue by maintaining stability without too strenuous a grip.
Biernatek's father, Dr. Eduard Biernatek, a dentist by profession, founded Graef GmbH 25 years ago for the design and manufacture of dentistry tools and instruments. Shortly thereafter the company expanded into spice mill and coffee grinder design and manufacture for branding and sale by other companies.
"At the 25th anniversary of the company, we decided to offer a new collection of mills under our own brand," said the younger Biernatek. "We have worked exclusively for well-known worldwide companies that have internationally famous brand names. Now we are continuing to integrate this experience of design and manufacture into the further development of our own mills."
The good doctor, no longer a practicing dentist, is now chief designer, technician and CEO of Graef GmbH — not to be mistaken for Graef, another entirely unrelated German company of the same name that happens also to make consumer coffee equipment, among other wares. Dr. Biernatek came up with the innovative alignment system exclusively for Kinu grinders, which is now patented by the company.
The central point of departure in the Kinu design is that its interior column is not perfectly cylindrical. Inspired by morse cone geometry, it is slightly conical, therefore the outer edge of the outer ring burr is machined especially to fit. The company says this provides both greater stability as well as ease of installation and removal, and contributes to its streamlined, screw-less overall design.
Biernatek said that since beginning sales from Germany about two months ago, with no advertising at all beyond online user experiences and "word of mouth," units have shipped to over 30 countries around the world. They hope to attend and display Kinu grinders at various industry trade shows in the coming year.
Units are currently shipping directly from Frankfurt where the company is based, although a New York office will be established by Spring 2017. After an initial US-introductory pricing special, the M38 is expected to retail for roughly $199US, the M47 for $275 and the tabletop M68 for $799. Currently the company is accepting pre-orders via email and Facebook for their next manufacturing run next month, and a Kinu Grinders webstore will be launching the first week in January as well.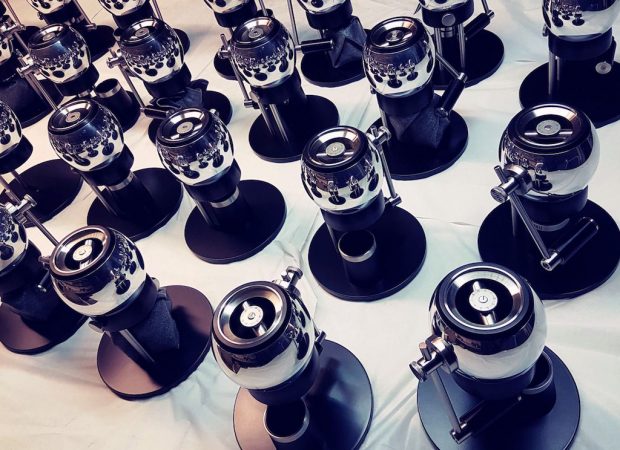 "There will for sure be more and more models and accessories produced in the future, like tampers and tamper stations, etc.," said Biernatek, adding that future iterations of the same designs may come with different material finishes, including a possible leather edition.
There's also a high-end electric version of the M68 currently evolving through the early prototyping phase, for which the small, family-run company may choose to pursue a Kickstarter campaign, for manufacturing. Said Biernatek, "At the moment we are at the beginning with this brand."
Howard Bryman
Howard Bryman is the associate editor of Daily Coffee News by Roast Magazine. He is based in Portland, Oregon.