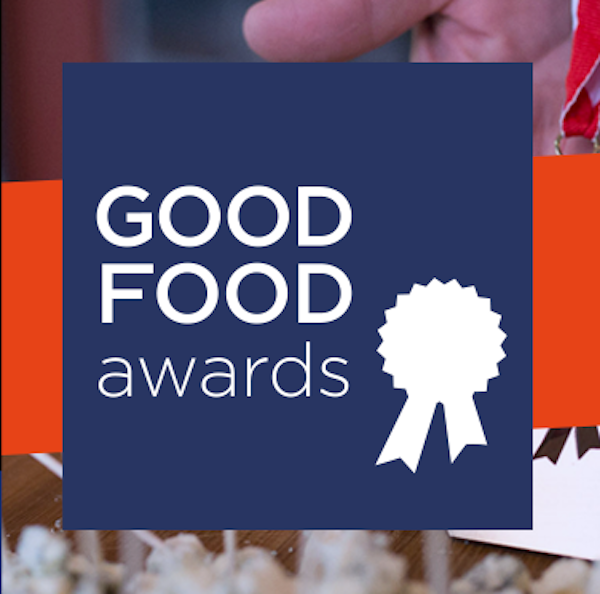 The 8th Annual Good Food Awards ceremony took place this past weekend in San Francisco, honoring coffee roasters alongside craft producers in specialty culinary categories such as beer, cheese, spirits, oils and preserves. Sixteen winning single-origin, sustainably sourced coffees from 16 different U.S. roasters received awards.
Twelve of the winning coffees were sourced from Ethiopia, a fact due not only to the abundance of quality of coffees there, but how well they hold up in roasted form over time, as well as the timing of the competition itself in relation to coffee crop cycles throughout the world. Several roasted Panama Geisha varieties also made the list of winning coffees.
The awards program has become one of the most influential in the coffee world, giving winners a chance to market the GFA seal and trumpet their coffees as the best of the best, both in terms of cup quality and sustainable and responsible business practices. This marked the first year in the coffee category in which coffee entries were required to bear certification from at least of one of several agencies, after GFA noted the inherent difficulties in verifying claims submitted by roasters regarding their sourcing efforts.
Without further ado, here are the 2017 Good Food Awards winners in coffee:
Bard Coffee, Hambela Estate, Maine 
BeanFruit Coffee Company, Ethiopia Adame Gorbota Cooperative, Mississippi 
Bird Rock Coffee Roasters, Panama – Hacienda La Esmeralda Noria Lot, California 
Craft & Mason Roasting Co., Ethiopia Hunkute, Michigan 
Crimson Cup Coffee & Tea, Ethiopia Kossa Kebena, Ohio 
Giv Coffee, Panama – Boquete – Kotowa Geisha Natural, Connecticut 
Higher Grounds Trading Co., Yirgacheffe Idido, Michigan 
Kickapoo Coffee Roasters, Organic Ethiopia Yirgacheffe Charbanta Natural Process, Wisconsin 
Klatch Coffee, FTO Ethiopia Gedeb, California 
Lineage Roasting, Kenya – Kagumoini (Kamacharia Coop), Florida 
Mr. Espresso, Ethiopia FTO Worka Natural, California 
Noble Coffee Roasting, Ethiopian Adisu Kidane & Ethiopian Shilcho, Oregon 
Olympia Coffee Roasting Co., Ethiopia Konga, Washington 
Red Rooster Coffee Roaster, Ethiopia – Washed Hambela, Virginia 
Speckled Ax Wood Roasted Coffee, Ethiopia Bekele Dukale, Maine 
Spyhouse Coffee Roasting Co., Ethiopia – Kayon Mountain, Minnesota
Nick Brown
Nick Brown is the editor of Daily Coffee News by Roast Magazine.