Over the past year, the conversation around equal representation and the treatment of individuals from historically underrepresented and systematically oppressed groups has evolved into public discourse in ways not before seen in the coffee industry. In person and online, individuals from around the country have been creating networks to further this dialogue, while collaborating to organize events and educational opportunities outside of traditional channels.
Over the next month, four prominent new groups in specialty coffee are hosting events to address the issues facing women, people of color, and/or the LGBTQAI+ community, among other professional coffee issues. Here are some details on each of these events, including info on how to get involved.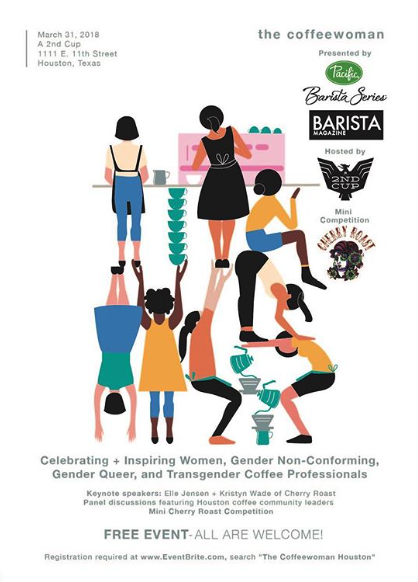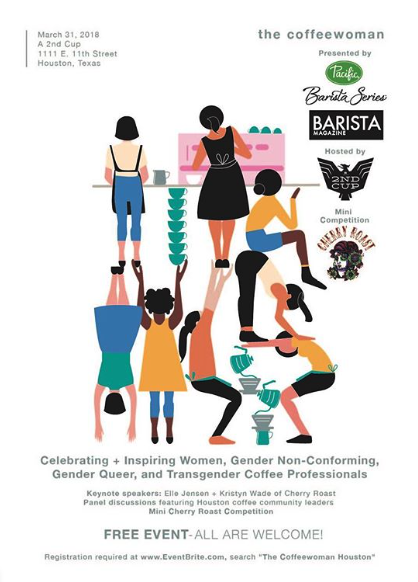 What: The Coffeewoman Houston
Where: A 2nd Cup Cafe, 1111 E 11th St, Houston, TX 77009
When: March 31, 2018, 6 p.m.
Tickets: Free; Register
The Coffeewoman is an event series that has been held in six cities around the world, with a seventh event planned for this weekend in Houston. Celebrating women, gender non-conforming, gender queer, and transgender members of the coffee industry, The Coffeewoman invites coffee professionals from the region to come together to talk about issues of gender equity, marginalization, and empowerment across the specialty-coffee supply chain.
Taking place on Saturday, March 31st at A 2nd Cup Cafe, which also operates as a nonprofit and refuge for victims of sex trafficking, The Coffeewoman Houston will be part educational gathering, part competition and part celebration. Keynote speakers include Elle Jensen of Amethyst Coffee and Kristyn Wade of Dandy Lion Coffee Co. View the schedule here.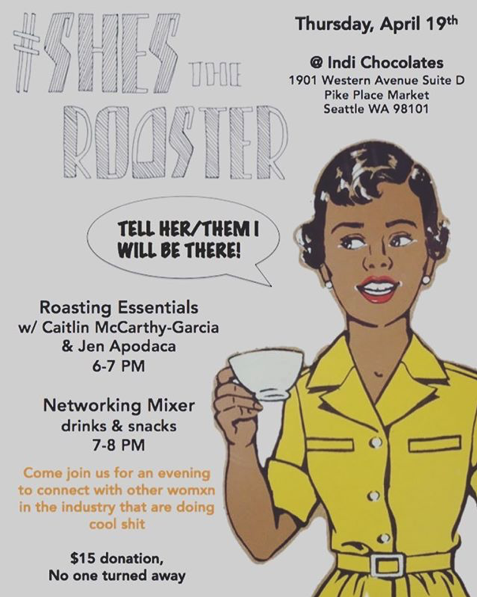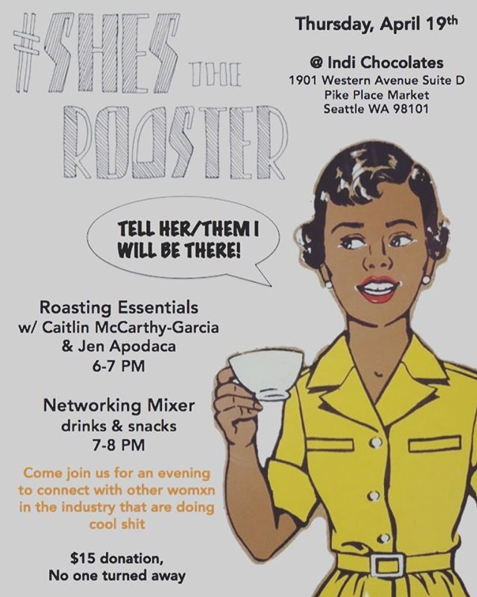 What: She's the Roaster
Where: Indi Chocolate, 1901 Western Avenue, Suite D, Pike Place Market, Seattle, WA 98101
When: April 19, 2018, 6-8 p.m.
Tickets: $15 donation (no one turned away); RSVP on Facebook
Join #shestheroaster on Thursday, April 19, at Indi Chocolate for a lecture on roasting essentials with Caitlin McCarthy-Garcia and Jen Apodaca of Royal Coffee, followed by a networking mixer.
This is the first major event for #shestheroaster, which started as a social media campaign focused on encouraging more women to compete in coffee roasting competitions. Their mission is to promote and encourage more female-identifying persons in the coffee industry to become professional coffee roasters. Supporters of #shestheroaster hope to increase diversity in the roasting community, offer financial assistance to female-identified roasters for roasting courses and to help them become instructors, create safe spaces for female-identifying persons and allies in the industry, and foster a mentorship program/network.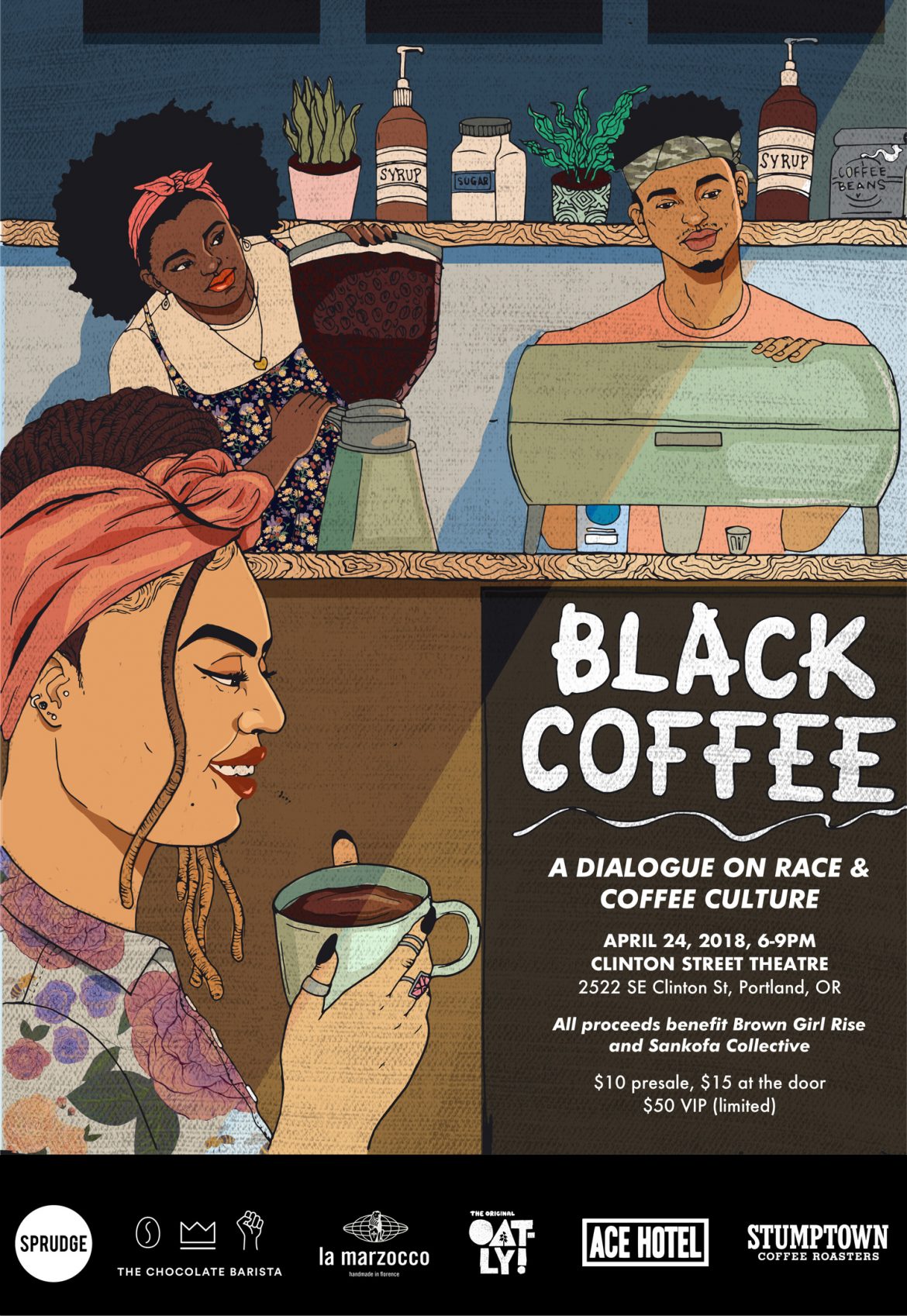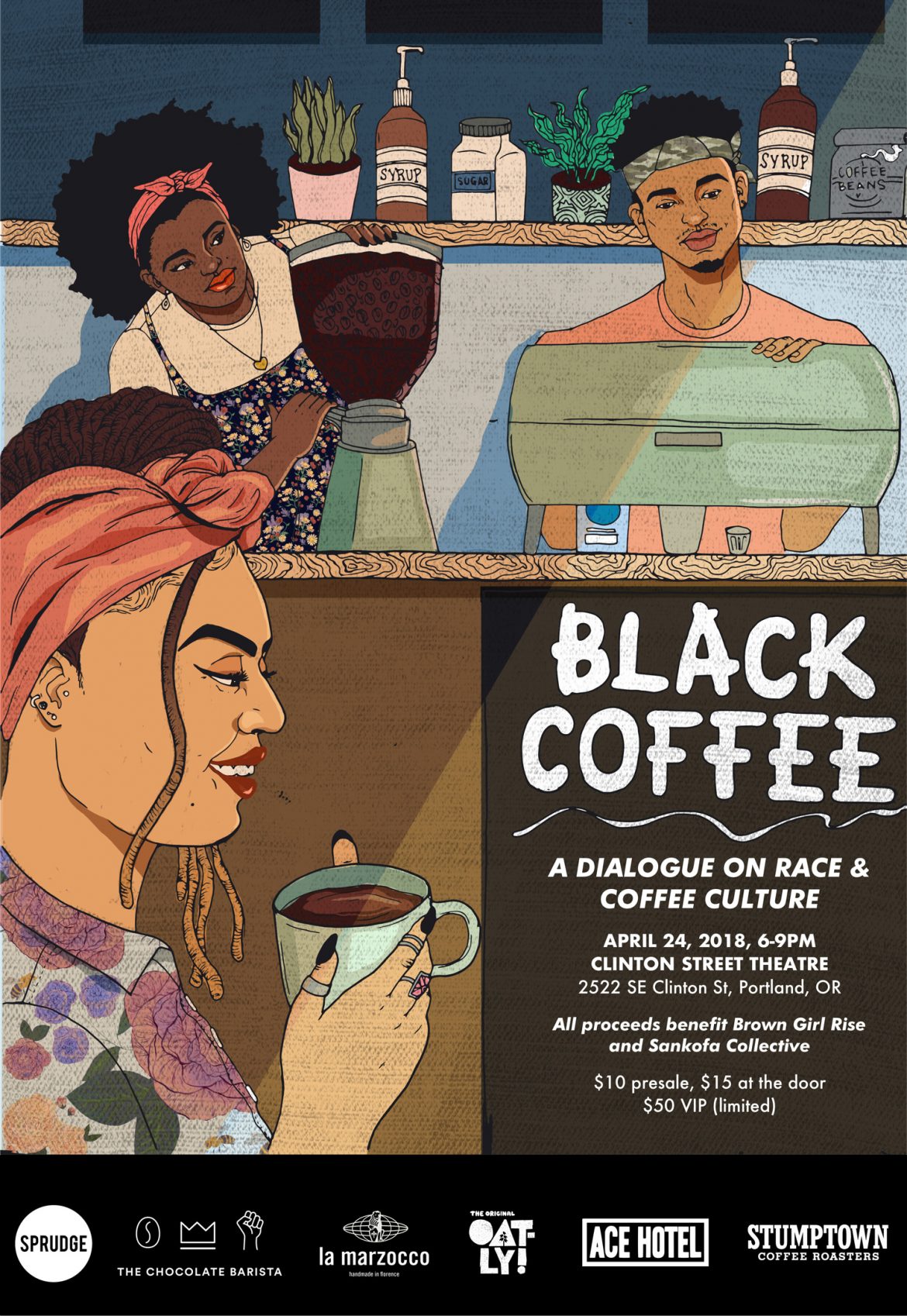 What: Black Coffee: A Dialogue On Race & Coffee Culture
Where: Clinton Street Theater, 2522 SE Clinton St., Portland OR 97202
When: April 24, 2018, 6-9 p.m.
Tickets: $10 Advance, $15 at the door, and $50 VIP. Purchase.
Black Coffee, a live podcast event — the first from creative director Michelle Johnson (The Chocolate Barista) and producers Sprudge Media Network — will be a conversation about race and coffee culture. Hosted by Deadstock Coffee's Ian Williams, Gio Fillari of Coffee Feed PDX, and Michelle Johnson, featured guests will be Dee Stubblefield (Counter Culture Coffee), Cameron Heath (Revelator Coffee), Miles (Ikawa), Zael Ogwaro (Never Coffee), and Adam JacksonBey (The Potter's House).
All proceeds from Black Coffee will be donated to two Portland nonprofits, Brown Girl Rise, an organization dedicated to empowering young girls of color, and Sankofa Collective, who are dedicated to helping Portland's Black LGBTQAI+ community.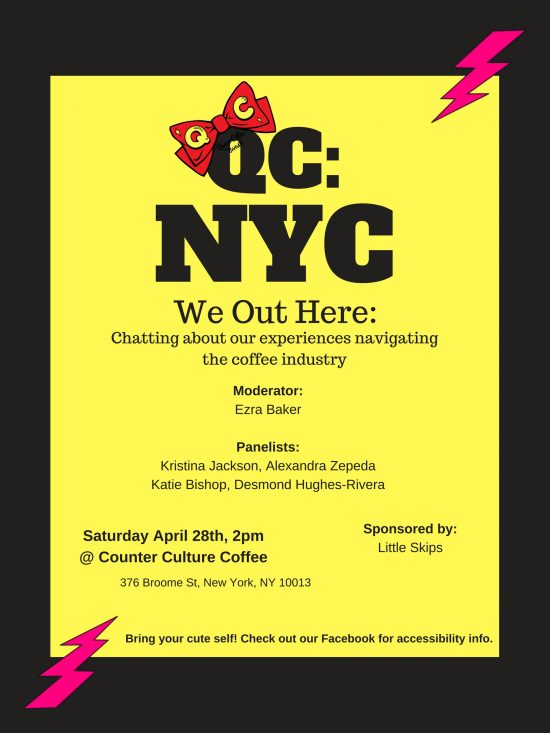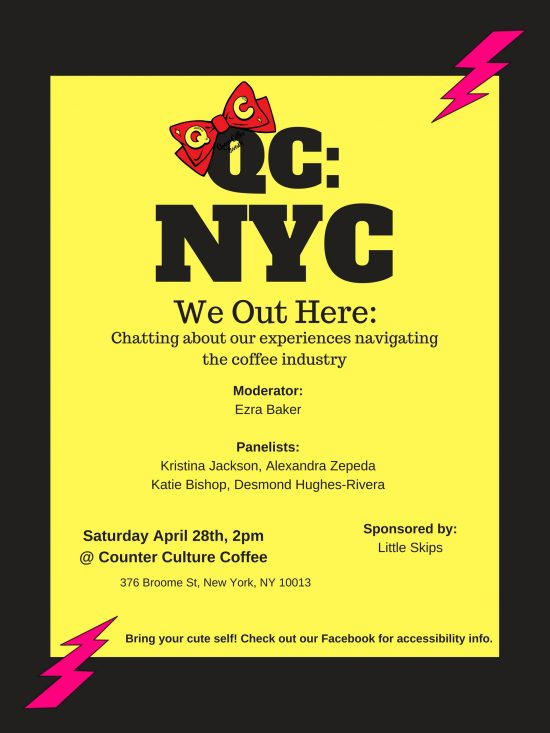 What: QC: Queer Coffee Events NYC
Where: Counter Culture Coffee Training Center, 376 Broome St, New York, NY 10013
When: April 28, 2018, 2 p.m.
Tickets: Free; RSVP on Facebook
Following a successful debut event hosted at Counter Culture's Emeryville Center in the Bay Area, QC: Queer Coffee Events is hosting its first gathering on the East Coast. QC:NYC is being organized by co-founder RJ Joseph, along with James McCarthy of Equator Coffee, Farah Khawaja of Counter Culture, and Ezra Baker of Share Coffee Roasters.
The event will feature a panel discussion, "We Out Here: Chatting About Our Experiences Navigating the Coffee Industry," moderated by Ezra Baker (creator of Coffee, I See You: A Conversation for Progress). Panelists will include Alexandra Zepeda, Kristina Jackson, Katie Bishop, and Desmond Hughes-Rivera. Food will be provided by Little Skips, including vegan and allergen-free options. The event is free of charge, but they ask that all attendees read the Code of Conduct. View the schedule here.
Lily Kubota
Lily Kubota is the managing editor and digital content manager for Roast Magazine. She is based in Southern California.